Is This What Really Saved Cardi B's Marriage?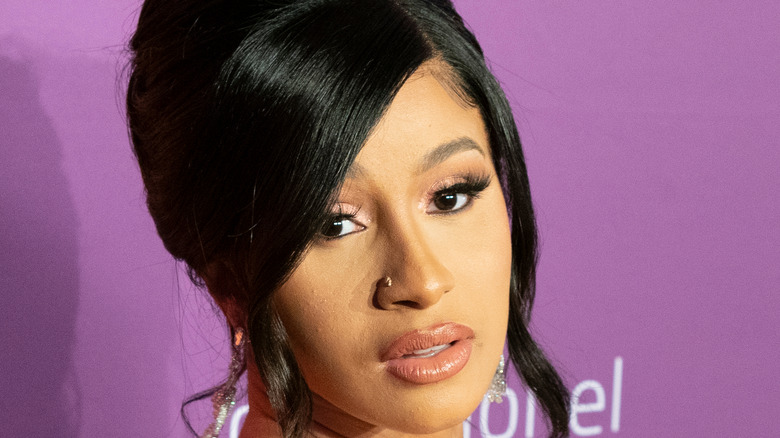 Shutterstock
Rapper Cardi B is making headlines this morning for some racy pregnancy pics she has posted online (via Daily Mail). After announcing at the BET Awards on Sunday that she was expecting her second child (via Teen Vogue), Cardi took to social media on Monday to share some maternity photos, one of which features her topless, covering her "private" bits with her hands, while her husband, rapper Offset, stands behind her, lovingly cupping her growing belly with his bands and kissing her neck (via Daily Mail). 
While the pregnancy and the photos are garnering a considerable amount of attention, fans have also noticed a more subtle message in the caption of the photos. In what appears to be a reference to the marital troubles she and her husband faced after allegations of cheating flew, Cardi shared a loving, illuminating message with her fans about what might have helped the couple make it through tough times to be in the position to welcome their second child into the world and into a happy family. 
Along with the stunning photos of her pregnant body, Cardi posted a caption that read in part, "We listened to each other, communicated, prayed and then God blessed us and our family with another little blessing." She continued, "Our home feels so blissful and very busy but we are ready and so happy!! Thank you soo much everyone for the congrats and well wishes."
Cardi B discusses how she made her marriage work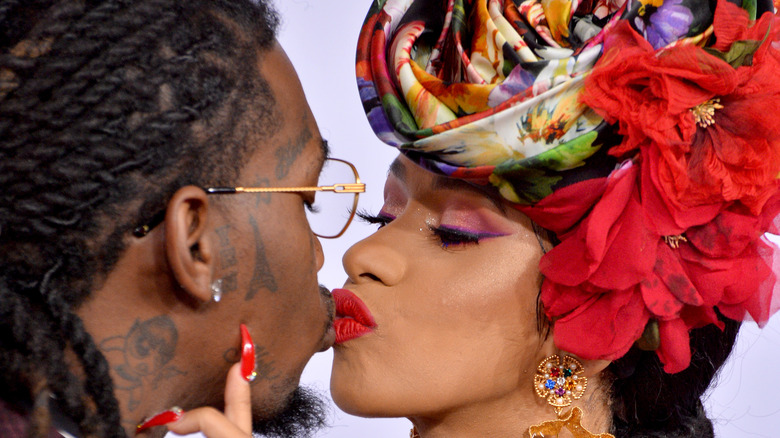 Shutterstock
Cardi, for all her raunchy lyrics and "bad girl" reputation, is, in fact, a true believer in the institution of marriage and in keeping vows, even through difficulty. Back in December she discussed her decision to stay with her husband after she discovered he had cheated on her, saying, "When me and my husband got into our issues — you know, he cheated and everything — and I decided to stay with him and work together with him, a lot of people were so mad at me; a lot of women felt disappointed in me" (via Huffington Post).  
She explained, however, that relationships can be more complex than they appear on the surface, and that love is worth fighting for if both parties are willing to do that work, and if the person who made a mistake is able to own up to it and make amends going forward. 
"But it's real-life sh*t," the rapper said at the time. "If you love somebody and you stop being with them, and you're depressed and social media is telling you not to talk to that person because he cheated, you're not really happy on the inside until you have the conversation." She hammered home that communication is key, and marriage means taking the whole person, mistakes and all. "People that be in marriages for years, when they say till death do us part, they not talking about little arguments like if you leave the fridge open. That's including everything," Cardi said.