Jill Biden's Latest Interview May Have Melania Trump Seeing Red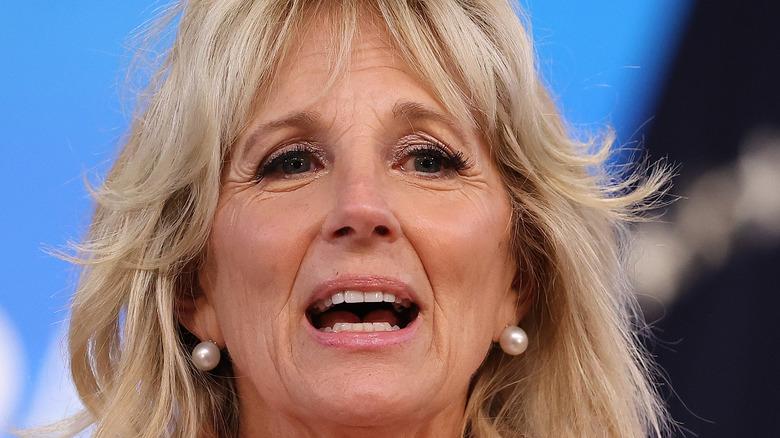 Chip Somodevilla/Getty Images
Anna Wintour has been editor-in-chief of Vogue since 1988 (via Britannica), and for nearly as long as that, a first lady that has either graced the magazine's covers — Hillary Rodham Clinton and Michelle Obama — or has been profiled — Barbara Bush and Laura Bush, per Vogue. For its August issue, Vogue features Dr. Jill Biden on its cover, and comes with a profile interview about the woman who has become not just one of America's favorite teachers, but someone the magazine's writer, Jonathan van Meter, has identified as a key player in her husband's administration. 
The first lady as cover story isn't a new angle — after all, Michelle Obama appeared on 12 magazine covers during her time as first lady — including three for Vogue (via Independent). But Dr. Biden's cover stands out because for the past four years, Vogue actively avoided the White House and its resident first lady Melania Trump, who had been a professional model before she married Donald Trump. And when she was asked about Melania's fashion tastes, Wintour even went out of her way to avoid the question, instead choosing to focus on Melania's predecessor, Michelle Obama, whom she called "the best ambassador that this country could possibly have in many ways, obviously, way beyond fashion" (via CNN).
Melania Trump was never invited to appear in Vogue during her time as first lady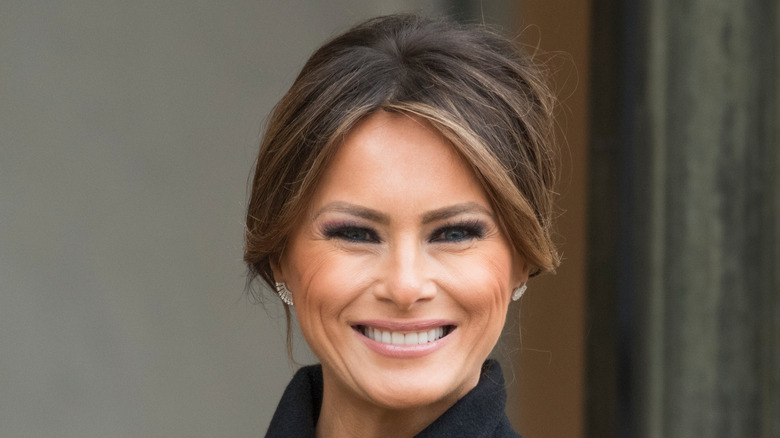 Shutterstock
Melania Trump's absence from the fashion bible during her time as first lady didn't go unnoticed. One of Hollywood's most visible conservatives, actor James Woods, pointed out the omission, even as he rhetorically asked why "the most stunning First Lady in American history never graced our nation's major style magazine covers." Even Trump's spokesperson, Stephanie Grisham, was called upon to defend the former first lady, which she did, saying: "To be on the cover of Vogue doesn't define Mrs. Trump, she's been there, done that long before she was First Lady. Her role as First Lady of the United States and all that she does is much more important than some superficial photo shoot and cover" (via The Independent). 
And while those around her insisted that it didn't matter to Melania in the slightest, a secret recording made by her ex-friend Stephanie Winston Wolkoff shows she might have cared more than anyone was willing to admit. "Anna [Wintour] gave the September issue of Vogue cover — complete, complete, complete, everything — to Beyoncé," Trump said in the secretly recorded conversation. "She hired [a] Black photographer. And it's the first Black photographer ever doing cover of Vogue" (via NBC).
Twitter roasted Melania Trump over the Vogue snub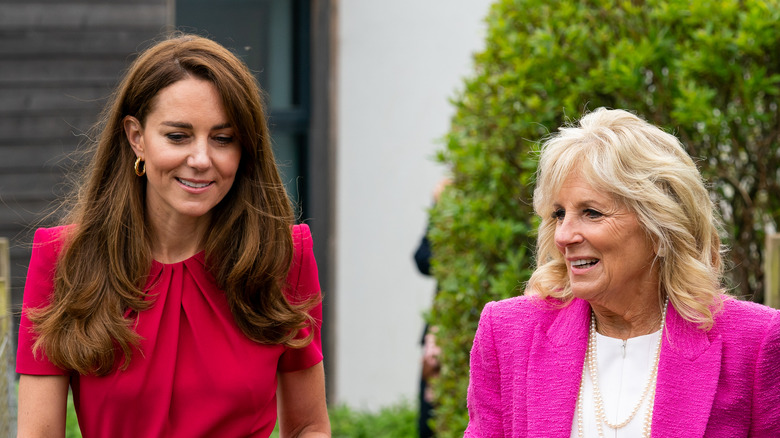 Wpa Pool/Getty Images
Now that she is out of the public spotlight, it's even less likely Melania will be invited to appear in the magazine, and social media took the opportunity to needle the former first lady about what-might-have-beens. One Twitter user posted smiling photos of Hillary Clinton, Michelle Obama, Jill Biden, and Melania Trump looking rather grim with the caption "Raise your hand if you've been on the cover of Vogue as First Lady," to which one user replied: "There's nothing as refreshing as the sweet, sweet smell of pettiness first thing in the morning." 
Another social media user shared photos of Biden, Clinton, and Obama with the caption "When First Ladies make the cover of VOGUE." A third said: "Do you know who still isn't on the cover of Vogue Magazine?"
Even celebrity Rosanna Arquette weighed in, saying "I love First Ladies that make it onto the cover of Vogue Only the BEST ones do. Congratulations Dr Jill Biden."