Meet Amy Schumer's Husband, Chris Fischer
Shutterstock
Comedian and actress Amy Schumer reached notoriety with her hilarious take on modern womanhood. Schumer was determined to make a name for herself in the male-dominated comedy world, and lucky for us, she did just that. Her Comedy Central series "Inside Amy Schumer" ran from 2013 to 2016, securing her three Primetime Emmy Awards, while her 2015 film "Trainwreck" earned a Golden Globe nomination slot (via IMDb).
Even though Schumer has mastered her "unlucky in love" persona, the truth is she's now found wedded bliss with husband Chris Fischer. The couple welcomed their first child, Gene, into the world in 2019, just one year after they tied the knot (via People). In an emotional Instagram post for their son's second birthday, Schumer explained how Fischer continues to win her heart everyday. "In this first photo while I was having a three hour C-section he held my hand and stared in my eyes so I never felt alone," she wrote. "I feel loved and supported always. He takes care of our family and is a husband and father beyond my wildest dreams."
Schumer's deep affection for Fischer is returned ten-fold. After collaborating with Schumer for their Food Network series "Amy Schumer Learns to Cook", Fischer described his wife as "a great student" who "really focuses and listens, and isn't afraid to mess up" (via The Knot). Qualities that we're sure have only strengthened the couple's bond.
Chris is a professional chef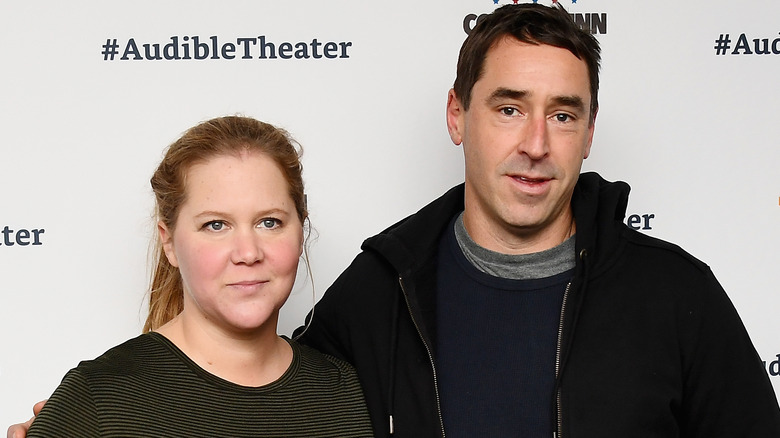 Nicholas Hunt/Getty Images
In a 2018 Howard Stern interview, Amy Schumer detailed her journey to romance. She was in Martha's Vineyard filming 2018's "I Feel Pretty" when she first met Chris Fischer. His sister, Molly, was moonlighting as Schumer's personal assistant and invited him over to cook the pair a meal. Fischer has been a professional chef since 2007, after working under Mario Batali, and was at the time running his family's Beetlebung Farm. 
Fischer and Schumer stayed in touch after their initial meeting and sparks eventually flew when Fischer flew to New York to help Schumer plan a birthday party for fellow stand-up Rachel Feinstein (via The Knot). "I got that feeling where all the blood goes to all the places," Schumer joked. "It just changed." From there, the couple's whirlwind romance spiraled into an engagement and a wedding just a few months later. Schumer's grand wedding invitation to family and friends included a text, reading, "I'm getting married on Tuesday. I hope you can come."
While the brief interlude between dating and marriage may seem unconventional, the couple's love for one another is apparent. And now that they're finally linked for life, Schumer feels relieved. "You're in, you're done. He's mine, I'm his," she explained. "We've partnered up. We've committed to be partners for life and we meant it."
Chris is on the autism spectrum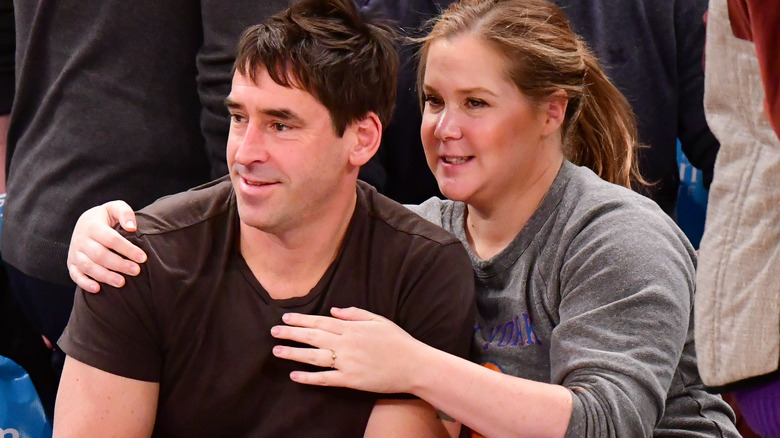 James Devaney/Getty Images
While Chris Fischer and Amy Schumer may seem like your classic romance story, the couple has faced an uphill battle from the start. In Schumer's Netflix special "Growing" she stated, "I knew from the beginning that my husband's brain was a little different than mine." Fischer was diagnosed with what used to be called Aspergers, and is now called Autism Spectrum Disorder (ASD), early on in the couple's relationship. "He says whatever is on his mind. He keeps it so real. He doesn't care about social norms or what you expect him to say or do," Schumer explained. 
According to the CDC, Aspergers is a developmental disability that causes social, communication, and behavioral challenges. The reason for Fischer's late-in-life diagnosis is due to his above average coping mechanisms. Autism Society of America spokeswoman, Anne Nebeker, explained that while autism can be diagnosed during childhood, it's difficult to catch "when people are very high-functioning." She added, "Some people just go through life having more trouble than the average person to connect socially but are never diagnosed," (via Health).
And if their son also shares his father's disability? The couple isn't worried. Schumer wrote in her Instagram post, "If he's anything like his father that is wonderful news."