This Is How Many Times Queen Elizabeth Has Visited America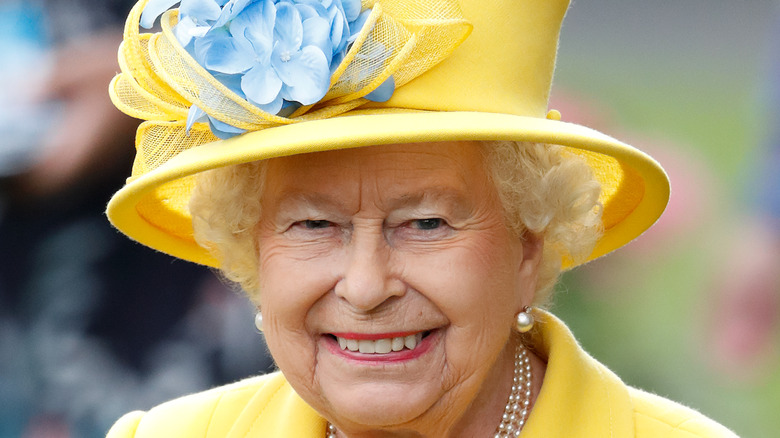 Max Mumby/indigo/Getty Images
During her long reign, Queen Elizabeth has met leaders from all around the world, including 13 out of the last 14 U.S. presidents, with Lyndon Johnson being the only commander in chief to miss out on a meeting with the queen (per Town & Country). "In almost every instance, the Queen has also inspired admiration and respect. These are the qualities that underpin her unofficial title as her government's 'secret weapon,'" noted author Matthew Dennison in a piece for The Telegraph.
Presidents to have visited the queen in her home country include Bill Clinton, Barack Obama, Donald Trump, and Joe Biden, but Queen Elizabeth has been a guest across the pond six times throughout the years. Elizabeth was not yet queen during her first visit to the United States when she was 25 years old in 1951. She and her husband, Prince Phillip, made the trip because her father, Queen George VI, was too sick to meet with Harry Truman in Washington D.C. The young couple clearly made a favorable impression on the president and his wife, with Truman stating "never before have we had such a wonderful young couple, who have so completely captured the hearts of all of us" (per Time).
Four years after she became queen, Elizabeth returned to the United States in 1957, this time to meet with Dwight D. Eisenhower during the Cold War. She wouldn't be back on American soil until 1976 when she traveled to see Gerald Ford for the Bicentennial Celebration.
Queen Elizabeth has managed to charm every American president
Wpa Pool/Getty Images
Queen Elizabeth's last three visits to the United States came in 1983 to visit President Ronald Reagan at his California ranch; in 1991, when she met with George H.W. Bush and planted a tree on the South Lawn of the White House; and finally in 2007, when the queen commemorated the 400th anniversary of the English settlement in Jamestown during George W. Bush's presidency (per the White House Historical Association).
Whether in the U.K. or the U.S., each of her meetings with American leaders has one thing in common: Queen Elizabeth has impressed every president. Barack Obama has called her "truly one of my favorite people" (per Time), while Joe Biden boasted during his June 2021 visit to Windsor Castle that the queen was "extremely gracious, which is not surprising" (via Town & Country). He added that "she reminded me of my mother, in terms of the look of her and just the generosity." 
And even Donald Trump had kind words to say about the royal, stating, "If you think of it, for so many years she has represented her country, she has really never made a mistake. You don't see, like, anything embarrassing. She is just an incredible woman" (via Business Insider).