Who Is Second Gentleman Doug Emhoff's Ex-Wife, Kerstin Emhoff?
Doug Emhoff made history this year as the first-ever second gentleman of the United States when his wife Kamala Harris made history herself by becoming vice president. The couple's story began thanks to a blind date in San Francisco and since that day, they knew they wanted to build a relationship together (via The Knot). Emhoff and Harris got married in 2014 in an intimate wedding in Santa Barbara. 
While this was Harris' first marriage, it was the second one for Emhoff. The lawyer was previously married to Kerstin Emhoff, from 1992 to 2008, and shares two kids with her, Cole and Ella. While divorces can be rocky, Doug and Kerstin are on good terms and even Harris has a good relationship with her. "My children don't call me stepmom, they call me Momala. We're a very modern family. Their mom is a close friend of mine," Harris said in an exclusive interview with People in 2020. 
Kerstin Emhoff has worked with world-known brands and artists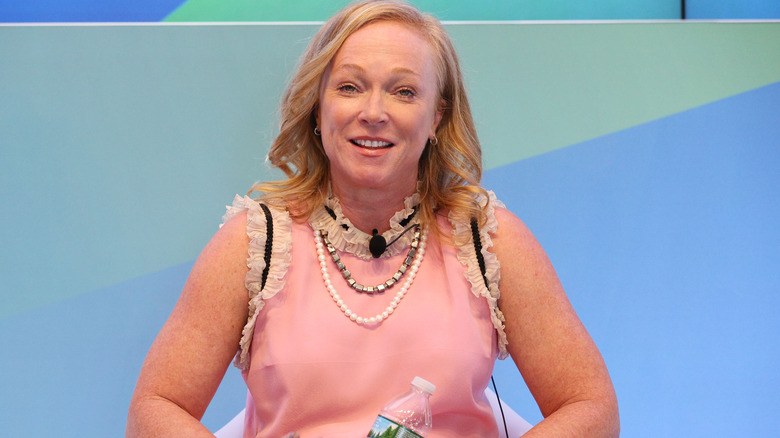 Robin Marchant/Getty Images
While many might know her just as Doug Emhoff's ex-wife, Kerstin Emhoff deserves recognition for her own work. Kerstin is the co-founder and CEO of Prettybird, an award-winning production company that has produced work for Nike, the NFL, and Apple, among other top-rated brands, according to the company's website.
The 54-year-old film producer grew up in Minnesota and later moved to California to pursue a career in film (via Politico). There she met Doug while working as a waitress in the '90s. Soon after they had their first kid, Cole, and Kerstin also got a production role for a Nine Inch Nails' music video. After over a decade in the industry, she co-founded her production company in 2007.
As for her love life in 2021, Kerstin told Politico that "maybe" she is dating someone. "I don't need any people that are in my personal life getting any spotlight. It's already complicated enough."