The Truth About Addison Rae And Bryce Hall's Breakup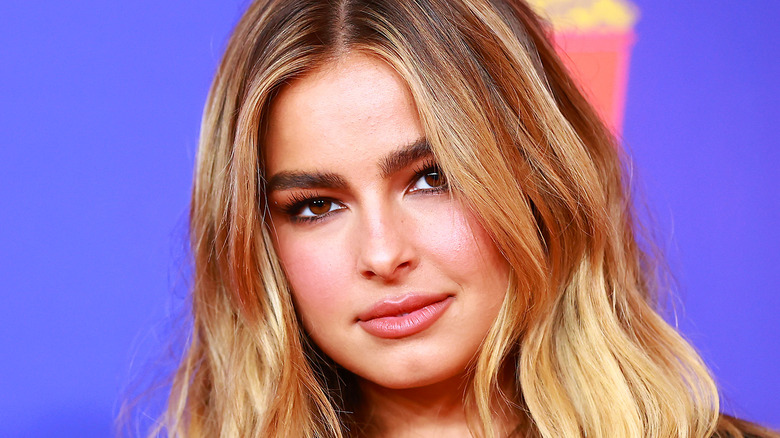 Matt Winkelmeyer/2021 Mtv Movie And Tv Awards/Getty Images
In March 2021, everyone born after the year 2000 had their faith in love tested when Gen Z's "Jen and Brad" officially called it quits (via Vulture). Obviously, we're talking about "She's All That" star Addison Rae and TikTok bad boy Bryce Hall. Hall and Rae were first linked in 2019 when they began collaborating together on social media content (via Cosmopolitan). 
After over six months of claiming to be "just friends" (via Twitter), the pair eventually went public with their relationship in October 2020. Like any influencer couple, their public proclamation of love included matching Halloween costumes and a YouTube tell-all video. Hall explained his initial attraction to Rae was only physical. "Honestly, I was just trying to kiss her," he said. But, lucky for Braddison fans, the couple found love in a hopeless place ... until Hall's February 2021 trip to Las Vegas.
YouTube drama channel KeemStar alleges that, while Hall was in Vegas, he had sexual relations with adult film star Dana Wolf. Cheating rumors followed Hall back to Los Angeles, where he continued to deny them, telling Too Fab, "Everything's fine. I don't know why everybody overreacts, but until we do our own thing or say anything — I don't know, I feel like everyone's overreacting about stupid sh**."
Fans sat on the edge of their seats, waiting to hear what would become of TikTok's Romeo and Juliet. Finally, in March 2021, Rae confirmed the break-up rumors in a TikTok Insiders interview where she referred to Hall as her "ex."
Addison Rae never believed Bryce Hall cheated on her
After Addison Rae's announcement of the couple's split, Bryce Hall took to YouTube to relay his own version of events. "Both of us are going through a sh** ton of things right now behind-the-scenes that we don't necessarily, comfortably want to talk about... With all that stress, we've mutually decided that it would be best if we parted ways." 
While Hall said the break-up was a mutual decision, he later let slip on YouTube series "BFFs With Dave Portnoy and Josh Richards" that ending things with Rae was his decision. "I'll be honest. I ended it," Hall said, revealing that the cheating rumors played no real part in the breakup. In fact, Hall alleges the rumors began as part of a $75,000 extortion attempt, forcing him to pay "so much money" to his legal team in order to "get all this bullsh**" erased from the tabloids and clear his name. Hall further claims that Rae never believed the cheating rumors, stating, "She knows I didn't cheat." But, unfortunately, the relationship's trust had already been broken (via Vulture).
Through all the drama, Hall and Rae have remained friends. According to him, the two "still talk occasionally... Like, every day." Hopefully, these crazy kids can sort out their romantic feelings and find a future happily ever after. Gen-Z is rooting for you! We're all rooting for you!