Eric Trump Speaks Out About The Charges Against The Trump Organization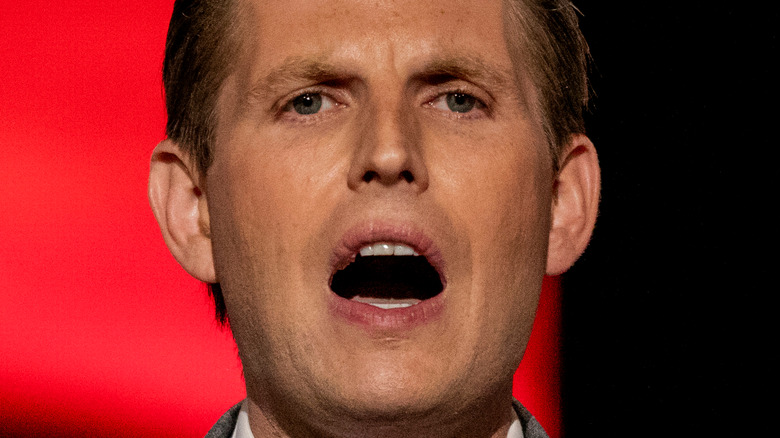 Shutterstock
Donald Trump's children had specific roles when he assumed the presidency: Ivanka, along with her husband, Jared, moved to the White House; Don Jr. went into politics; and it was left to Eric to assume care and control of the family real-estate business. Eric's role was so well defined that a family friend of the Trumps and the co-owner of The Trump International Hotel Las Vegas, Phil Ruffin, once called Eric "the money guy" (via The Wall Street Journal).  
Eric remained glib when rumors of what Manhattan prosecutors had on the family business. He even shared a screenshot of the comments section of the Daily Mail on Twitter with the caption: "Top comments on the Daily Mail, which really say it all. People have seen this movie before."
But it was a more grim, defensive Eric that appeared on TV channel Newsmax to react to the criminal charges that were laid on the doorstep of both the Trump Organization and its chief financial officer Allen Weisselberg. When asked whether he was concerned about whether prosecutors might file indictments against members of the family, Eric said defiantly: "You know what? I'm not. Because guess what? We've always lived amazingly clean lives, and believe me, if they could have, they already would have. I mean, that's what they wanted, that was their end goal" (via Twitter).
Eric Trump said he and family have led 'amazingly clean lives'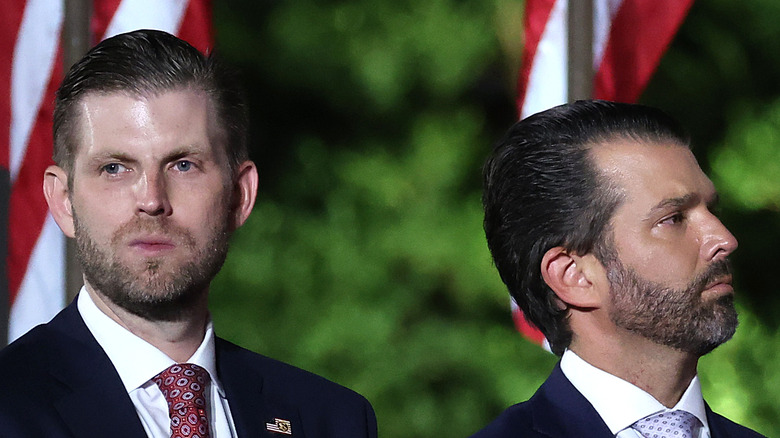 Chip Somodevilla/Getty Images
A visibly agitated Eric Trump continued defending himself by attempting to deflect attention onto President Joe Biden's son, Hunter. He said, "You know, the difference is I'm not Hunter Biden ... Long before politics entered our lives, we [Don Jr., Ivanka and I] were in the business world. We were successful, and we worked very hard."(via Twitter). 
Even if Eric might have forgotten the Trump family's transgressions, social media certainly didn't. One Twitter user wrote: "Other than stealing from charities, we've led clean lives," referring to a case that led to a $2 million fine and the closure of the Donald J Trump Foundation (via NYS Attorney General).  
Another tweeted: "Clean lives — How's that cancer charity for kids? Clean that money fast, boy." 
A third pointed out what she considered another flaw in Eric's logic, saying: "'If they could've, they already would've.' Oh, sweet summer child, that's not how it works."
New York prosecutors allege that the Trump Organization uses "off the books" compensations, which allowed senior management like chief financial officer Allen Weisselberg to hide as much as $1.8 million worth of perks, while claiming tens of thousands of dollars in federal and state refunds at the same time (via CBS). As general counsel for the Manhattan district attorney Carey Dunne put it, "This was a sweeping and audacious illegal payments scheme" (via The New York Times). 
No charges have been filed against the Trump family.