Don Jr. And Eric Trump's Reaction To The Indictment Has Twitter In A Tizzy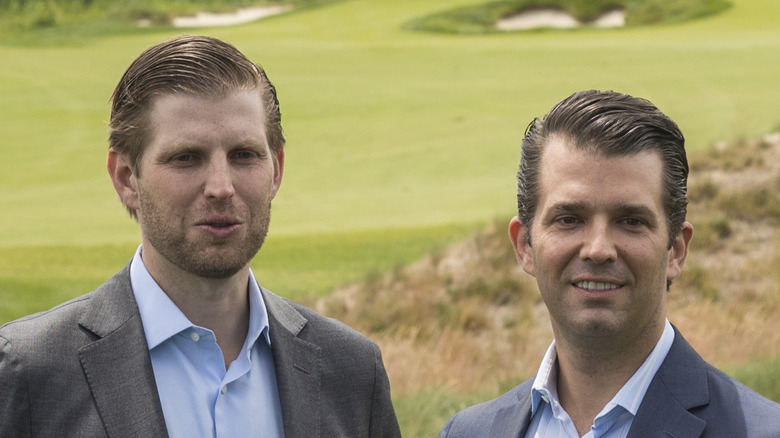 Drew Angerer/Getty Images
Don Jr. and Eric Trump have been doing a media blitz after criminal charges were slapped on the Trump Organization and on its CFO Allen Weisselberg. Together, the two entities were hit with 15 criminal charges which includes conspiracy, grand larceny, as well as tax fraud and falsifying records (via Vanity Fair).
While it seems the Grand Jury convened by Manhattan district attorney Cy Vance has seen enough to smell wrongdoing, it has fallen on both Don Jr. and Eric's shoulders to cry foul, which they did on Fox News on Thursday night. Don Jr. claimed the move was something that Russian President Vladimir Putin would do. Don Jr. He also switched directions, saying that "after ... 3 million documents, countless witnesses and hours of grand jury testimony, outside forensic auditors, this is what they come up with: They're going to charge a guy who's 75 years old on crimes of avoiding paying taxes on a fringe benefit" (via NY Post).
Twitter wasn't buying the explanation that Donald Jr. had to offer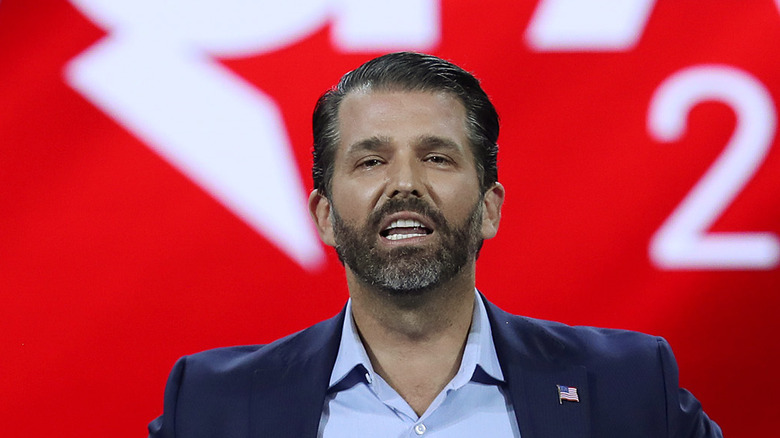 Joe Raedle/Getty Images
It was left to Twitter to explain the seriousness of the crimes to the owners of the family firm at the heart of the accusations. One pointed out the flaw in comparing the United States with Russia, saying: "Russia is pretty hard-core against tax evasion so I don't think Junior has a leg to stand on."
A few others tried to explain that if they knew better, the Trumps should have, too. "The fringe benefits were a lot more substantial than 'a company car picking you up for a ride to the airport.' They included apartments, tuitions, mortgage payments. Tax fraud," one Twitter user said. Another pointed out: "They took out taxes where I worked in the 80's for a toaster I won in a promotional event! It's not like these guys didn't know they needed to claim these "gifts". They just didn't bother."
A third even tried to compare apples to oranges, saying: "I received a $100 gift card at work ('special recognition' they called it). The amount was added to my taxable income. Here we are talking about $1.7M in extra comp, not renting a car for a business trip or having a Diet Coke at the airport."
Eric Trump's explanation involving fringe benefits also raised eyebrows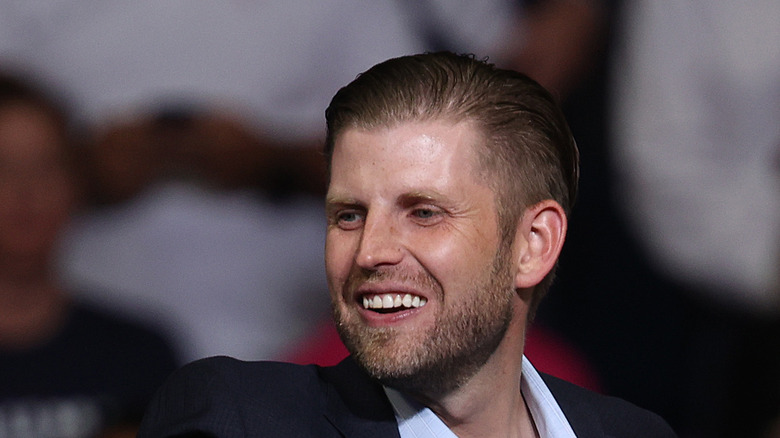 Win Mcnamee/Getty Images
Eric Trump is making the rounds and adapting a similar tack. He appeared on Newsmax where he proclaimed himself and siblings Donald Jr. and Ivanka to have always lead "amazingly clean lives," and also appeared on Fox to explain the mechanics of corporate perks to the show's host. "These are employment perks," Eric told host Raymond Arroyo. "These are... a corporate car which everybody has, I guarantee you... there's people in this network that have corporate cars, there's people in every company in the country that have corporate vehicles. This is what they're going after. This isn't a criminal matter." He then changed the subject and accused the government of failing to prosecute anyone on Wall Street after the financial crisis (via Twitter).
Eric's explanation on Fox News also failed to resonate with social media users, some of whom pointed out again that if they knew fringe benefits were taxable, Eric Trump should know it, too. "It's very commonly known fringe benefits are taxable. I've worked at many companies that have played by the rules on this. Hold them accountable," one Twitter user said. "There's no such thing as corporate perks that are amazingly not subject to taxation. Grifters," another user huffed. A third pointed out, "If we give prizes to associates like $50 gift cards we tax them for it on their paycheck. As their manager I have to have them sign a form. This isn't rocket science. They tried to get away with something and got caught."