The Trump Kids' Reaction To Jill Biden's Vogue Cover Is Turning Heads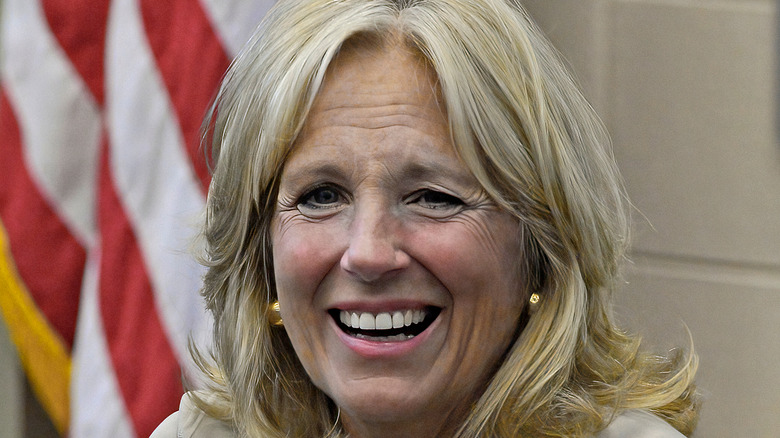 Shutterstock
Dr. First Lady Jill Biden is Vogue's cover for the month of August, and the reveal has Twitter divided – and the division would pretty much be based on along political lines. 
Many cheered, like actress Rosanna Arquette who tweeted, "I love First Ladies that make it onto the cover of Vogue Only the BEST ones do. Congratulations Dr Jill Biden." White House Press Secretary Jen Psaki who wrote, "So fortunate to work for 'A First Lady for All of Us' who is a 'joy multiplier' America won the @FLOTUS lottery." Even activist Amy Siskind pointed out, "Our amazing First Lady. And Vogue correctly refers to her as 'Dr. Jill Biden.'" Adding, "Heads must be exploding over at the Murdoch properties and MAGAt-land."
Sure enough, members of the Trump family were not pleased to find out that Vogue – who didn't feature Melania Trump during her four years at the White House – went all in for Biden just months after her husband's presidency began. 
During an interview with Fox Business, per The Independent, Donald Trump's daughter-in-law Lara Trump said, "It's too bad that we didn't have a first lady who was a model, who was incredibly fashionable, who they could put on the cover of Vogue when Donald Trump was in office. Oh wait, we did! It was Melania Trump!" 
The Internet supports Jill's Vogue cover, despite the Trump's family disapproval
Donald Trump Jr. took the extra step of using his Photoshop skills of creating a new Vogue cover and sharing that on social media. The image featured the body of Dr. First Lady Jill Biden, but the head of rock star Alice Cooper. He then shared the photo on Instagram, along with the caption: "Nailed it. Apologies to Alice Cooper." which received nearly 200,000 likes within the first 24 hours of sharing. 
"Hahahahahahahahahahahahahahah. Omg she literally is Alice Cooper with blonde hair," one follower commented. Another added, "Melania never got any where near this amount of media support.. And she's WAAAY BETTER than this dope."
Readers of The Independent, which chronicled the Trump family's reaction to the Biden cover, were far less supportive of the Trumps' collective dismay at the snub directed at Melania Trump. "Jill Biden looks so gorgeous
. The whole wide world is happier now when there are respected adults in the White House leading the US. I just hope all Trumps disappear into oblivion ASAP and that we'll never hear of them any more," one reader said. Another didn't hold back, writing, "Oh how sad.... the Trumps are having a collective melt down because Vogue decided to grace their cover and content with a well-accomplished woman who made her own way through life, rather than one that's been nothing but superficial, not accomplished anything worthwhile in her life and married Trump for his money. I guess I can see why they're upset."