The Exact Beauty Products Phoebe Dynevor Wears As Daphne In Bridgerton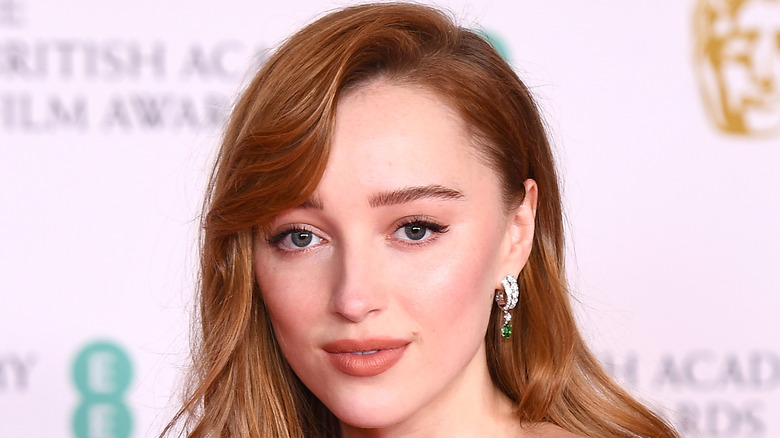 Jeff Spicer/Getty Images
We may receive a commission on purchases made from links.
"Bridgerton" was the must-watch event for a world plunged into lockdown during the COVID-19 pandemic. Hitting at just the right time, the soapy drama — which dropped on Netflix in its entirety, making it irresistibly binge-worthy — ticked all the boxes with its tantalizing concoction of sex, intrigue, and stunning period fashion. British actress Phoebe Dynevor wasn't exactly an unknown when she took on the role of lead Daphne Bridgerton (via IMDb), but her stunning English-rose-style looks were a breath of fresh air, nonetheless. 
The Regency era styling suited Dynevor perfectly, and the actress herself struggled to pick a favorite look when tasked to do so by Harpers Bazaar, admitting there were "104 dresses" for Daphne in total. She finally chose a "dark green, velvety" frock that "hangs really beautifully," which she felt signified how her character was growing into her own sense of self. The actress explained how there "was a shift in who she was as a woman." 
When it came to the "Bridgerton" beauty looks, Dynevor was similarly well taken care of, too. Keep reading for all her onscreen beauty secrets.
Daphne Bridgerton's Regency look was expertly created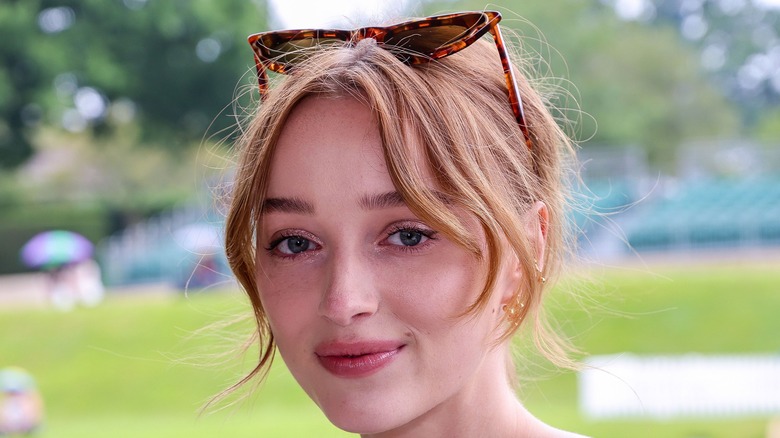 David M. Benett/Getty Images
"Bridgerton" head hair and makeup designer Marc Pilcher gushed: "It was such a pleasure working on Daphne as she needed to be youthful, simple and elegant," in an interview with Glamour. He pointed to iconic actress Audrey Hepburn in "War and Peace" as inspiration for Daphne's look as well as "official portraiture and historical images from England's Regency era." In fact, working on Phoebe Dynevor's glamorous lead character came incredibly easy, and the whole look was typically put together in just 90 minutes.
For the base, the makeup artists prepped with Ole Henriksen Banana Bright Face Primer ($65 from Amazon) before applying Chanel Les Beiges Healthy Glow Foundation ($60 online) and Chanel Vitalumiere Aqua foundation ($50 online) "to create an amazing fresh and dewy look." Elsewhere, MAC's Strobe Cream ($35 online) was used for the all-important collar bone glow so beloved of the "Bridgerton" ladies.
A mixture of high-end and drugstore products was used
Timothy Norris/Getty Images
For Phoebe Dynevor's eye look, as makeup artist Marc Pilcher explained to Glamour, Urban Decay Eyeshadow Primer Potion ($24 online) was applied on the lids followed by Mac Eyeshadow in Malt and Brun ($19 each online). But Pilcher "smudged it in so it didn't look too intense." Dynevor's lashes were given the requisite volume using Clinique Power Lash Mascara in Dark Chocolate ($20 from Sephora) while "that flushed look" on her cheeks was created using the luxuriously textured Stila Convertible Colour in Lillium ($25 from Amazon). 
Finally, Pilcher's go-to lip products included Charlotte Tilbury Lip Cheat in Pillow Talk ($22 online), Dr. PawPaw Soothing Balm ($12.50 from Amazon), and Pixi Sheer Cheek Gel ($19.99 from Amazon), which was used as a lip stain. As the makeup artist stated, these were "all perfect products to create the true Regal look." 
The proof is in the "incomparable" beauty of the character herself.