How This Season Of Good Bones Will Be Different Than Previous Ones - Exclusive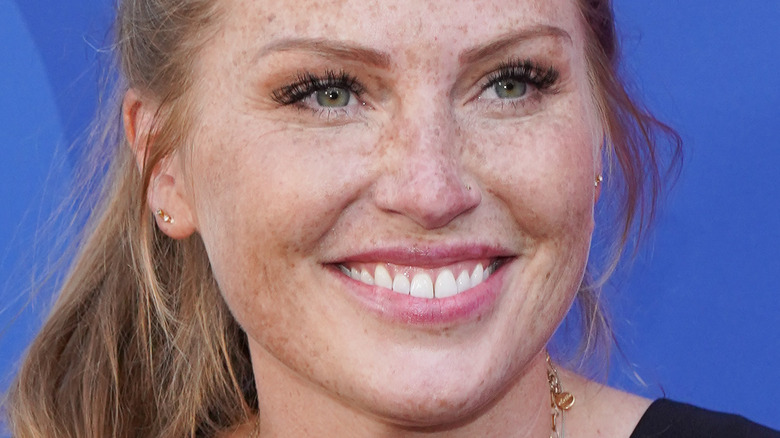 Rachel Luna/Getty Images
According to IMDb, HGTV's "Good Bones" has aired 67 episodes spread over five seasons since it premiered in 2016. The home renovation reality show follows mother-daughter duo Karen E. Laine and Mina Starsiak Hawk as they rehab run-down houses all over their hometown of Indianapolis. While HGTV has a whole host of popular renovation shows, "Good Bones" is extremely popular, raking in more than 22 million viewers in Season 5, as per Discovery. Why the success? Some might argue that it's the loving charm, witty bickering, and endless smiles that come from Laine and Hawk's unique relationship as both family and business partners.
But all that is going to change. According to Mina Starsiak Hawk, Season 6 of "Good Bones" is going to be very different from previous seasons. The reality star and home renovation expert sat down with The List for an exclusive interview in which she revealed how the newest season of "Good Bones" will be different, and why those differences are for the better.
Karen E. Laine's partial retirement led to some big changes on Good Bones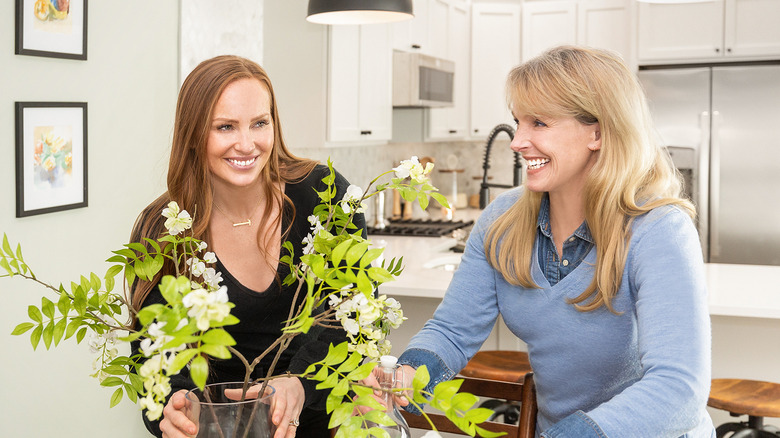 Season 6 of "Good Bones" has a lot of changes. As Mina Starsiak Hawk told The List, one big one is that she and her husband recently welcomed their second child and "that's a new human for [them] both to balance." But, as Hawk said herself, "The biggest difference I think you're going to see is of Mom's retirement, that the rest of the team is taking on more of those roles." Hawk's mom, Karen E. Laine, helped found and run their home rehab business Two Chicks and a Hammer back in 2007, as per their website. However, Laine is taking a step back from the business and the show. "I'm not discussing floor plans with her. It's me and Cory going over that, and then MJ and I doing the designs for the houses," Hawk explained. "And Mom's really having her moment to shine with some pretty awesome landscapes at the houses and her usual fun DIY projects, and they're just bigger and cooler than ever."
While Hawk does miss having her mom full-time, both of them are happy with the new arrangement. "So, although it's definitely been a transition, I think it probably has us both in more comfortable places where we want to be," the reality star revealed. "...she's getting to [spend time with her husband] and getting to travel, and I'm attempting to build an empire."
This season of Good Bones will be different because of the pandemic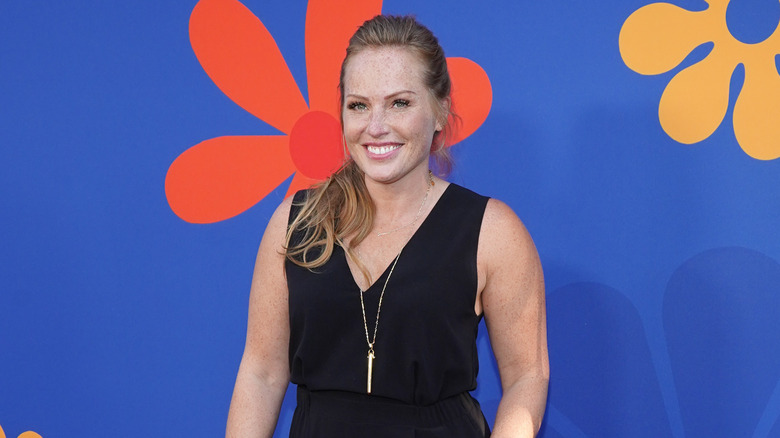 Rachel Luna/Getty Images
Besides having to balance a new baby and her mom's retirement while filming Season 6 of "Good Bones", Mina Starsiak Hawk also had to deal with a global pandemic. "For us, we were in a uniquely tricky position, because a lot of other shows just shut down filming," Hawk explained. "But we're renovating houses." In other words, because "Good Bones" and the Two Chicks and a Hammer team work with full home renovations, they had to keep working. As Hawk said, "Okay, how can you quarantine in your home if your home's not done?" She went on to add that filming during the pandemic was, "this challenging balance of making sure we were still able to make some progress and meet deadlines, and they were able to get the footage they needed to make the show that we have."
But, despite the added pressures of filming, Hawk took 2020 and Season 6 in stride. In fact, she revealed that she didn't even really worry about getting sick. "I'm just not that kind of person," she added. "100% probably could be more of a worrier about that kind of stuff, but I'm more of a workaholic than I am a worrier. So, not getting the job done is more stressful than staying home and maybe not getting sick." But Hawk, her family, and her teams were very safe. As she said: "We were doing [testing] three days a week ... So the network and our production company did a really good job of making an environment that we could still function in." 
"Good Bones" airs Tuesdays at 9 p.m. ET/PT on HGTV and new episodes are available to stream the same day on discovery+.