The Surprising Question Donald Trump Is Asking Mar-A-Lago Visitors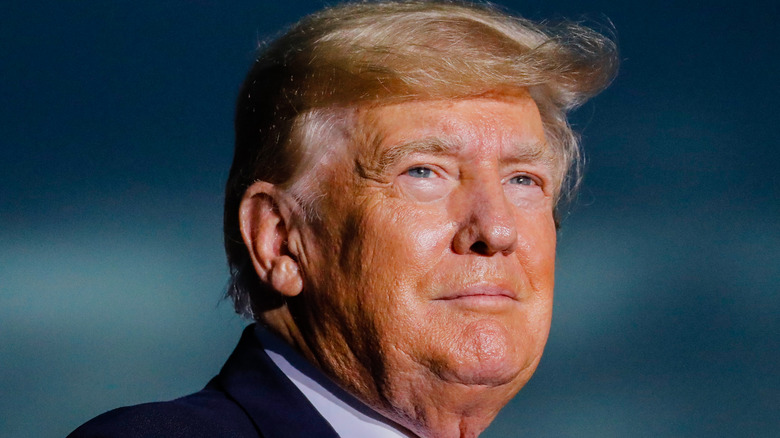 Eva Marie Uzcategui/Getty Images
Back in 1985, former president Donald Trump purchased the Mar-a-Lago estate, located in Palm Beach, Florida. According to Mar-a-Lago's website, the estate remained Donald's private residence until 1995 when he established the Mar-a-Lago Club — now one of the most exclusive clubs in the country and stomping grounds of his political allies. Upon leaving the White House in January 2021, Donald moved into the Mar-a-Lago Club as a resident. The move, however, was contested by residents of Palm Beach who claimed that the former president living on the premises was not permitted due to an agreement that he signed in 1993, per Forbes. However, upon closer inspection, a Palm Beach attorney eventually concluded that Donald and his wife, Melania Trump, could live at Mar-a-Lago.
Donald's rather secretive life inside of Mar-a-Lago has been an area of interest, and excerpts from "Landslide: The Final Days of the Trump Presidency" by Michael Wolff expose some answers. These excerpts, published in The Times of London, revealed several interesting things about Donald and his life in Florida. For example, in the book, Wolff claims that the former president and Melania actually dine at a separate, roped-off table at the Mar-a-Lago Club, where, each evening, their fellow guests will "rise from their seats to applaud the arrival of the former first couple to the dining area," per the Daily Mail.
Wolff also made another surprising claim about Donald's interactions with the guests at Mar-a-Lago.
Donald Trump reportedly asks his Mar-a-Lago guests for legal advice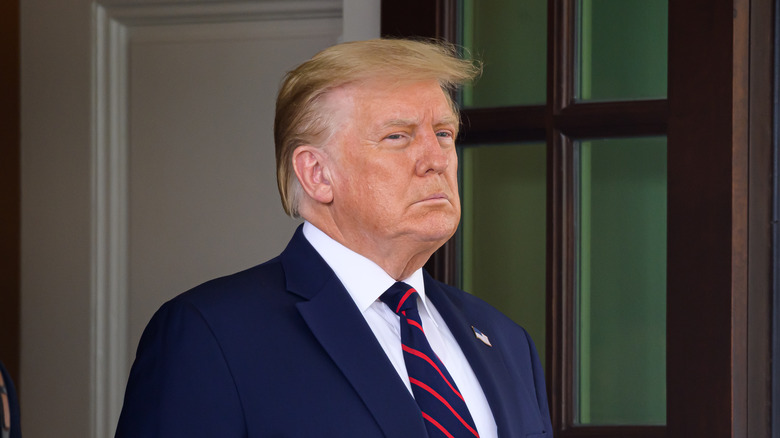 Shutterstock
In Michael Wolff's latest book, "Landslide: The Final Days of the Trump Presidency," he disclosed that former president Donald Trump has actually asked other guests at Mar-a-Lago for legal advice. In the book, Wolff states that in the past few months, Trump has claimed to have no real lawyers working for him. In fact, Wolff asserts that Trump has even asked total strangers at the club if they know any good lawyers that would represent him in future matters, according to Business Insider. In response to this claim, Trump's spokesperson, Liz Harrington, told Business Insider, "This is total fake news. It never happened."
The publishing of the excerpts from Wolff's book comes only a few days after it was revealed that the Trump Organization and its chief financial officer, Allen Weisselberg, were facing 15 counts of tax-related felonies, per The Week. Though Trump was not charged with any felonies in this particular case, he has been warned that he might face legal repercussions for a number of incidents, including his involvement with the January 6, 2021 riot at the Capitol and his attempts to find more votes after he lost the 2020 presidential election, per Business Insider. Depending on the course of events in the coming months, Trump may need all the legal help he can get.