Royal Expert Claims William And Harry Are Still At Odds Despite Heartwarming Reunion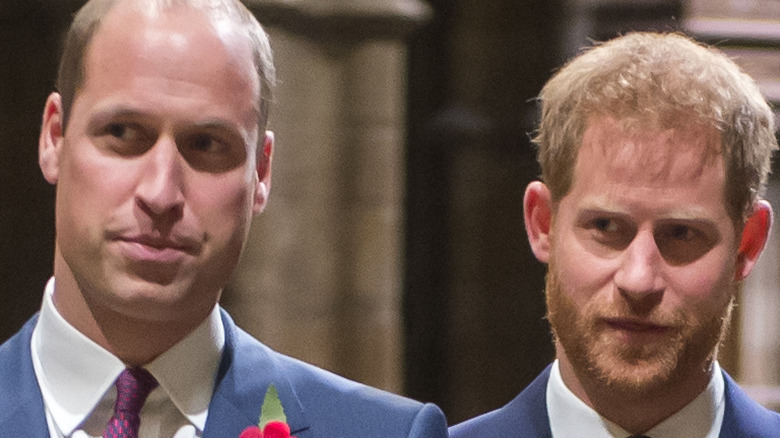 Wpa Pool/Getty Images
Prince Harry recently flew back to the U.K. to reunite with his older brother Prince William for the unveiling of a statue in honor of their late mother, Princess Diana. William and Harry appeared together at the event, where they pay tribute to the Princess of Wales on what would have been her 60th birthday with a large statue set in the Sunken Garden at Kensington Palace (via People). While the brothers released a joint statement about the statue and their mother's impact on the world, neither gave a speech at the ceremony amid rumors of tension in the royal family.
Although the brothers looked happy to be honoring their mother, royal expert Ann Gripper revealed that Harry may have been uncomfortable at the event, per Express. "You can imagine Harry would have been feeling tricky about it. He would have known he was in the spotlight, I mean apart from anything else he has talked about the trauma he has experienced through the sound of photographs and that kind of thing," Gripper said on her "Pod Save the Queen" podcast. "And it's obviously an emotional day anyway, anything connected with his mother will be. So you can understand him being a bit of a nervous bundle of energy, I'm sure, but hopefully what I saw or hoped was warmth was genuine and that they have managed to improve relations through this visit and this time together," Gripper added. Now, another royal expert is weighing in on the situation between William and Harry.
William and Harry put their feud aside to honor Diana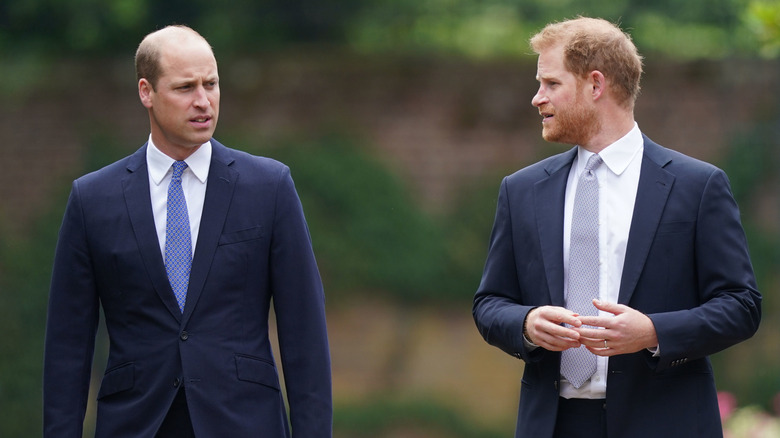 Wpa Pool/Getty Images
The Sun reports that royal expert Omid Scobie opened up about the state of Princes William and Harry's relationship on the latest episode of his "Heirpod" podcast. Scobie, who is a close friend of Prince Harry and his wife Meghan Markle, admitted that the brothers reunion at the statue unveiling was so heartwarming it almost made him forget the two were at odds. "I can't even imagine how powerful and maybe even overwhelming that moment must have been for them, especially in front of the cameras," Scobie said. "I think what was so great about it was that, despite the huge amount of talk about the brothers' relationship leading up to that point, in the moment itself, it didn't really feel like it was about that at all. It sort of went out of the window for the moment," he added.
Scobie went on to reveal that it seems almost impossible that William and Harry could have been thinking about their anger toward one another at that moment. "No matter how you feel about someone, or how strained a relationship might be, it's impossible to still live in that when you're sharing such a special moment," he continued. "Those smiles that we saw on their faces were very genuine. I'm sure there was a huge amount of warmth between the brothers in that moment, simply by the act of what they were doing." However, Scobie says that the moment was fleeting and likely did little to help the brothers mend fences.
William and Harry still have a lot of work to do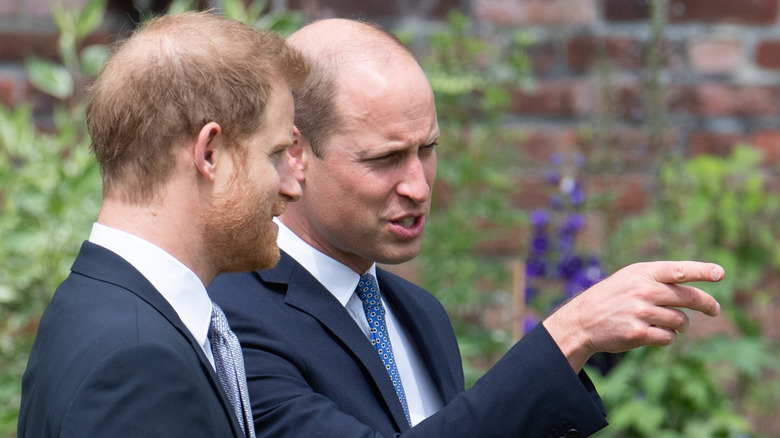 Wpa Pool/Getty Images
Prince William and Prince Harry have reportedly had tension between them for years (via Insider). The brothers are currently on very different paths, with Harry and his wife Meghan Markle leaving the royal family and moving to California as William and his wife Kate Middleton prepare to become the future King and Queen of England. While William and Harry's reunion at Princess Diana's statue unveiling offered a glimmer of hope that the brothers could reconcile, Omid Scobie says that's not the case thus far.
"Does that mean there were conversations and peace talks taking place on this trip? Absolutely not," Scobie said of the brothers united front at the ceremony, per The Sun. "That distance with the brothers remains there as Harry heads back to US and William gets on with his life over here, but ... the moment we saw the brothers together was like the icebreaker that had not happened for over a year," the royal expert stated. Scobie also admitted that the reunion may have been the first step to healing the royal rift. "What we saw was perhaps one tiny step forward, and time is always a healer," he added. With William and Harry currently on different continents, fans have no idea when the brothers may have the chance to work through their differences.