The Truth About Lifetime's New Reality Show Lookalike Love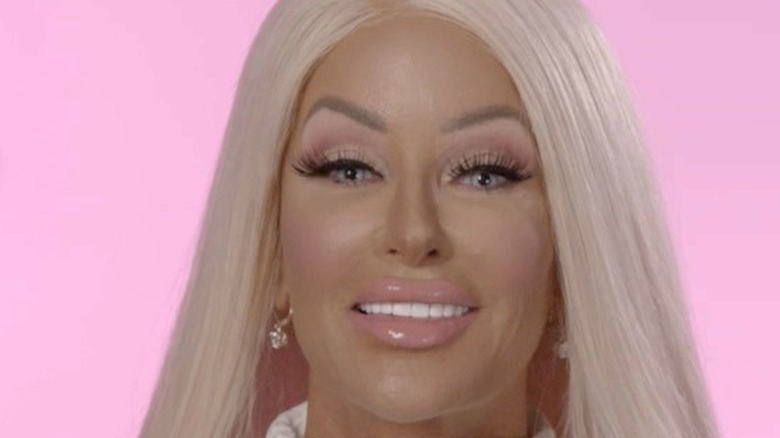 Lifetime
From the creators of "Love is Blind" and "Married at First Sight," Lifetime's latest reality show "Lookalike Love" is just as addictive — with a doppelgänger twist (via The Hype Magazine). The series follows four women who have each transformed themselves to look like Kim Kardashian, Beyoncé, Marilyn Monroe, or Barbie, creating some serious tension with their significant others. Aided by plastic surgery, hair, makeup, and specific exercise regimens, these celeb lookalikes will stop at nothing to look like their idols, even copying their way of speaking (via TV Insider). But as expected, their journey to becoming a celebrity twin is anything but easy, with husbands and boyfriends alike finding issues with the changes. Even worse? Some SOs may like them solely for their famous appearance. Here's everything you need to know about Lifetime's latest binge-ready show.
As per The Hype Magazine, "Lookalike Love" features four ladies who alter their physical appearance and copy "speech patterns, extravagant fashion, and mannerisms" of their celeb idols. That being said, although they see the possibilities for social media notoriety and fortune, their friends, families, and even partners do not always see eye-to-eye with them. Even more importantly, this show examines whether their relationships are authentic in the first place, or if they've landed significant others who are just as infatuated with their celeb lookalikes as they are.
Everything to know about Lookalike Love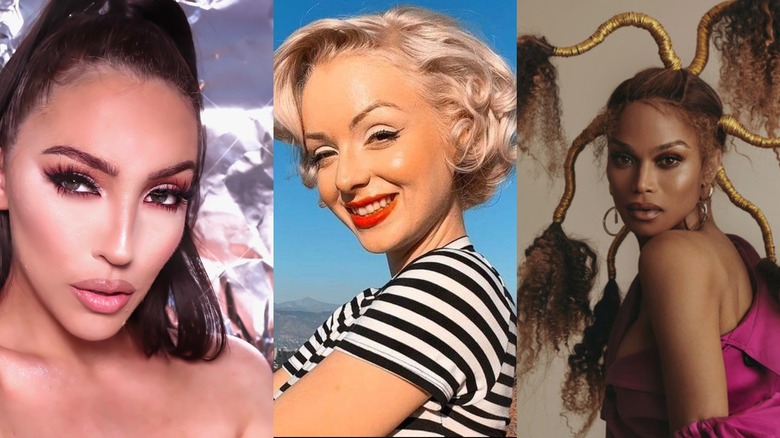 Lifetime
As People details, the show features a woman named Jasmine, whose obsession with Marilyn Monroe might be the entire reason behind her relationship. About her husband, Jasmine explains: "It's just weird because we've been married for two years and I've never met any of [his] friends. I am worried that he is hiding something." A TV Insider sneak peek shows Jasmine inviting over a medium to get in touch with her '50s-era idol. The Old Hollywood doppelgänger shares a story about hearing Monroe's voice in her home, stating, "That was the first time I really started to believe that maybe she is in the home and that she was trying to channel herself through me." While we're not sure about that, the resemblance is truly uncanny.
Another cast member named Nannette has chosen to transform into everyone's favorite doll: Barbie. With stick-straight, platinum blonde hair, the lookalike sees herself as a "living doll." Talking about what it takes to become a true-to-life impersonator, Nannette says, "I've had a lot of surgeries and there's way more to come" (via People). And Barbie's twin isn't the only one who would consider going under the knife to get one step closer to her icon. Jennifer, a Kim Kardashian-obsessed makeup artist, is shown debating plastic surgery on the show, much to her husband Aundre's disappointment. Well, that's commitment!
Fans can't wait for the celeb doppelgängers – and the drama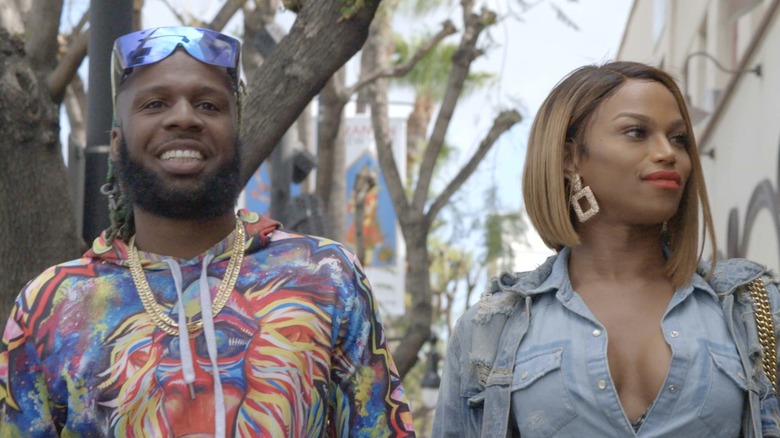 Lifetime
In an E! News preview, Jennifer is shown explaining to Aundre why she's considering surgery to look like her reality star idol. She tells him, "So, I made an appointment with a plastic surgeon ... I know that we said no plastic surgery, but I'd like to see if he offers something that's, like, non-invasive." Aundre is "uncomfortable" by the idea, saying how the situation "worries" him. Per The Hype Magazine, Jennifer met Aundre in high school when she was overweight, and he helped her lose over 60 pounds. Jennifer still suffers from the childhood bullying she endured, and now spends "thousands of dollars" on Kim Kardashian-inspired clothes and beauty.
About her possible aesthetic touch-ups, Jennifer explains, "My shape is pretty similar to Kim's already. Like, I have the booty. I have the hourglass shape, but my stomach is just not there." As she hopes for filler and Botox, husband Aundre replies, "Don't lose yourself" (via E! News). 
Then there's Yuriel Michell'e, who prides herself on looking like Queen Bey herself and isn't one bit apologetic about being a Beyoncé lookalike. After transitioning years ago, the 34-year-old is a drag performer, hairstylist, and a social media personality known as Miss Shalae on Instagram (via The Hype Magazine). 
"Lookalike Love" premieres Wednesday July 7 at 10 p.m. ET on Lifetime, and we are seriously excited for this show.