Anna Nicole Smith's Net Worth At The Time Of Her Death Might Surprise You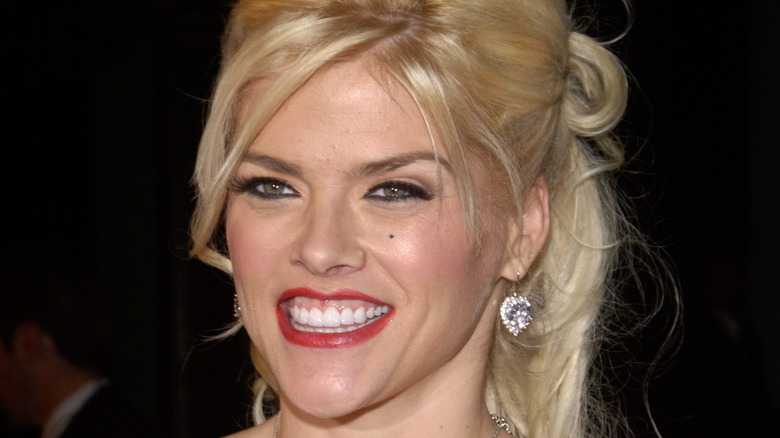 Shutterstock
Money became a big part of Anna Nicole Smith's story, although it had little to do with who she was as a person. 
The bombshell, born Vickie Lynn Hogan, came from humble beginnings. She was born and raised in Mexia, Texas and stayed in her hometown, dropping out of high school and working at a local fried chicken restaurant, per Biography. There, she met the man who'd become her first husband, Billy Smith.
Though Anna Nicole and Billy welcomed a son, Daniel, the little family didn't stick together. Tired of living the small town life, Anna Nicole moved herself to Houston and left Daniel with her mother. There, she worked odd jobs before decided to dance at a local strip club. That decision led Anna Nicole to meet J. Howard Marshall, a billionaire oil tycoon in his 80s. He invited the young startup to lunch the next day and so began their unusual relationship (per Interview).
Anna Nicole tried to fight for what she felt she deserved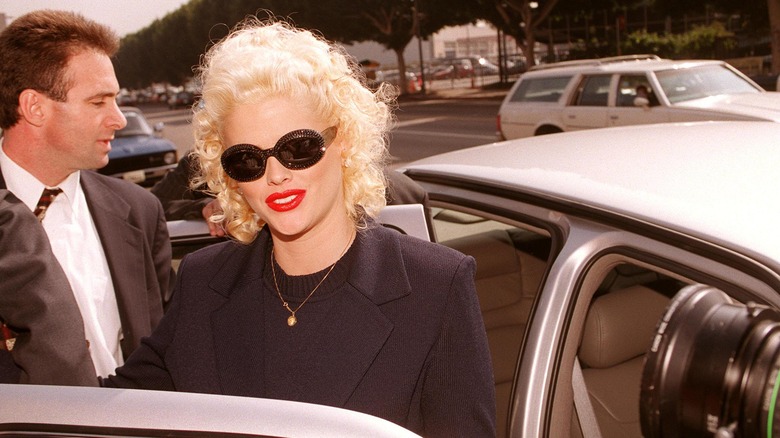 Dan Callister/Getty Images
Anna Nicole Smith and J. Howard Marshall were married on June 27, 1994 at Houston's White Dove Wedding Chapel. It came after years of Marshall asking Smith to marry him, according to Interview, though the marriage only lasted 14 months before Marshall's death on August 4, 1995.
The latest version of the 90-year-old's will had written out Smith, as well as his son Howard III. The two decided to team up to contest the will, finding themselves up against Marshall's oldest son, Pierce. Pierce maintained all Smith ever wanted was money (per The New York Times). 
During those legal proceedings, Smith filed for bankruptcy in California, citing "wrongful interference with her expected inheritance from her late husband," per FindLaw. She was awarded $474 million, but it was later thrown out by The U.S. Court of Appeals for the Ninth Circuit saying the California ruling was irrelevant to what was an ongoing matter in Texas (per Forbes).
Efforts to recover money from the estate continued past Anna Nicole's death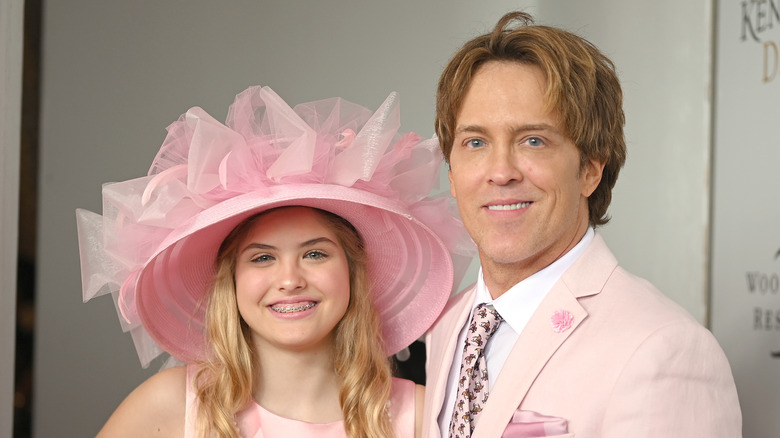 Jason Kempin/Getty Images
Anna Nicole Smith would go on to act, model, do reality TV, and more before her untimely death in February 2007. It came at an already heartbreaking time, months after the death of son Daniel and the birth of her daughter, Dannielynn Birkhead, who she shares with Larry Birkhead.
Dannielynn is Smith's legacy, but she hasn't gotten much from her mother's estate. Celebrity Net Worth put Anna Nicole's net worth at her death at approximately $1 million. However, after her death, the estate continued to fight J. Howard Marshall's estate for compensation. In August 2014, a federal judge in Orange County rejected the effort to obtain about $44 million from the Marshall estate (per NBC News).
Surprisingly, Dannielynn has an impressive net worth of her own. Between her famous late mother's estate and her father's earnings as a photographer and real estate investor, Dannielynn is worth $3 million (per Celebrity Net Worth). It may not be the fortune that other famous children come into, but it's certainly enough to get a nice start in life.