Everything We Learned From The New Succession Season 3 Trailer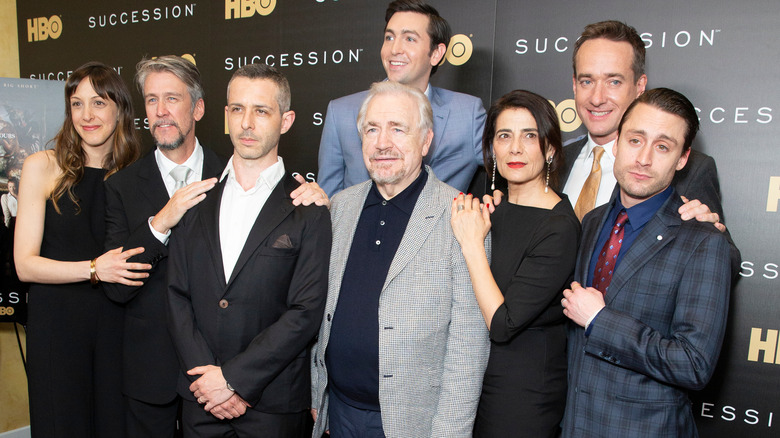 Shutterstock
It's been a minute since season 2 of HBO's wildly-addictive family drama "Succession" ended. Okay, it's been longer than a minute, with Vulture publishing a discussion of the shocking finale back in October of 2019. Of course, production was paused due to COVID-19, as Deadline reported in March of 2020. Then, joy of joys, as Esquire reports, Jeremy Strong, who plays boyish wolf-in-training and Waystar Royco CEO Logan's eldest son, Kendall Roy, was spotted filming in November.
At last, HBO announced season 3 of the show would premiere in the fall of 2021 (via Thrillist). And we will happily wait a few more months to find out how the Roys will navigate the next chapter of their messy, shocking, hilarious power dynamic. This is especially true now that "Succession" has tempted us with a new season 3 trailer that features all of our favorite, vicious-yet-lovable characters, from Sarah Snook's prim and cunning Shiv Roy, to Kieran Culkin's dark jokester Roman Roy (via IMDb).
In the trailer, which clocks in just under a minute and a half, we see Kendall is still in a battle for control of the company with his dad (via YouTube). And now, the family members have to pick sides. It's setting up to be quite the season, and leaves no doubt that the Roys didn't lose any steam during the break.
Battle lines are drawn in the season 3 trailer
The long-awaited "Succession" season 3 trailer opens with Kendall coming out swinging (via YouTube). "No drama. We're good," we hear him say, but this is so not the case, because the subsequent scenes show desks flipping, and people screaming — family patriarch Logan swears, "I'm going to f*****g kill him!"
Shiv wants to take over if she joins up with Kendall, with Logan demanding, "Are you part of this family or not?" Meanwhile, Roman's loyalties aren't clear.
As the trailer continues to highlight how contentious each family relationship has become, we hear the haunting strains of our favorite theme song in the background. Oh, how we've missed this familiar refrain. "Do you want to be on the side of good or evil?" Kendall taunts at one point.
The dialog is sharp, the acting is on point, and we aren't the only fans who are beyond pumped to see the Roys back in action.
Social media reacts to the release of the trailer
Of course, Twitter blew up with as much excitement over the trailer as Logan does when he is about to destroy someone's life. "Watched the new SUCCESSION trailer and now feel like i could run 100 miles in 10 seconds," screenwriter Karen Han commented. "Succession award season sweep coming.... again," another Twitter user said as a reaction to the trailer.
Another "Succession" fan joked, "Succession is almost back and I can't wait to log off and ignore all of you to spend time with my real family." "Succession makes me go genuinely insane nothing else out there has the drama! the tragedy! the comedy! it's shakespearean it's [sic] excellence it gives me such a high," enthused another "Succession" devotee.
Fans especially liked the scene that featured Matthew Macfadyen's Tom Wambsgans flipping over a desk (via IMDb). As one person tweeted, "so excited for tom in s3." Same.