Why Gabby Barrett Almost Didn't Land A Record Deal After American Idol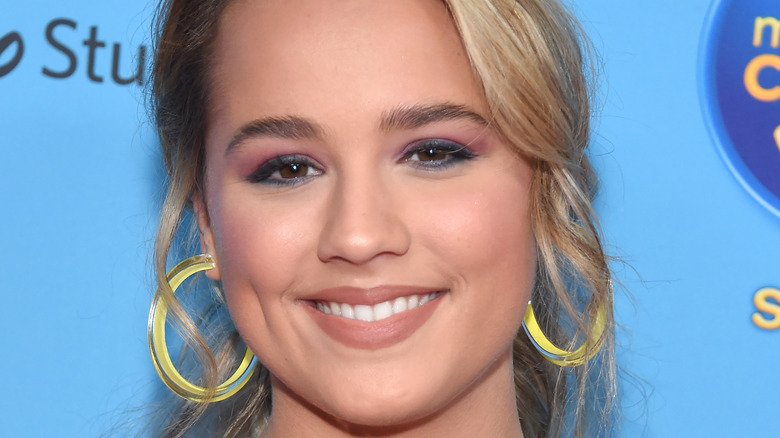 Shutterstock
Appearing on (or even winning) a singing competition doesn't guarantee a successful career in the music industry. The likes of Kelly Clarkson, Carrie Underwood, and Adam Lambert seemed to effortlessly transition from charming fans on television screens to years-long careers as some of music's most recognizable acts. But there are plenty of talented competitors whose star power flickers out before it really gets a chance to shine. That was almost the case for "American Idol" alum Gabby Barrett.
Barrett competed on the 16th season of "American Idol" in 2018 and finished in 3rd place behind winner Maddie Poppe and runner-up Caleb Lee Hutchinson (via Taste Of Country). During her time on the show, she wowed viewers with covers of songs like Miley Cyrus' "The Climb" (via YouTube) and Carrie Underwood's "Last Name" (via YouTube). Although she reliably delivered standout performances, Barrett told Billboard that she struggled to get a record deal after finishing the competition. "It was actually really hard," she admitted in 2020.
In another interview with The Boot, Barrett alluded to a potential reason for the challenges. "'Idol' is a platform that you come off of singing cover songs," the hitmaker explained. "Labels and people didn't know if I could write original music or anything."
Gabby Barrett proved herself with I Hope
John Shearer/acma2020/Getty Images
Instead of giving up, Gabby Barrett continued to pursue her dreams. She turned to fellow "American Idol" alum Carrie Underwood for advice. Underwood swept the singing competition in 2005 and became a certifiable superstar in the following years (via Taste of Country). The "Before He Cheats" siren shared some tips. "She talked about how really hard work gets it going – that you have to be willing to work really hard," Barrett told The Boot. "So I was like, 'Ok, I wanna do that. Let's do that.'"
Barrett's hard work paid off when she released her breakout single "I Hope." The surprisingly biting breakup anthem arrived in early 2019 as an independent release. The song resonated with fans new and old, and attracted label attention. Eventually, Barrett signed with Warner Music Nashville. She told Billboard that it was the perfect match for a variety of reasons. 
"There weren't a lot of females on the label, and John Esposito [WMN's chairman/CEO] is a Pittsburgh fan, and I'm from Pittsburgh," Barrett explained. "So I thought I could fit in there perfectly." With the label's help, the song continued to grow in popularity. "They saw how 'I Hope' was affecting people and streaming. They instantly sent me out to meet with radio [stations] and get the song on the radio. They acted fast while the song was rolling."
I Hope opened all sorts of doors for Gabby Barrett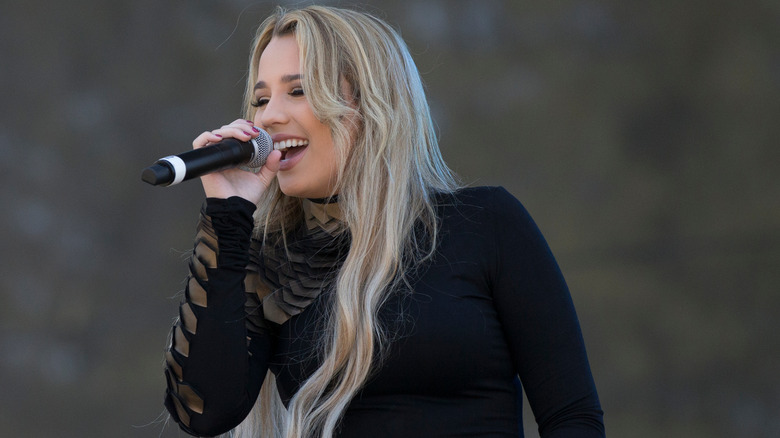 Shutterstock
It turns out that was the right decision. "I Hope" made history on Billboard's various charts. It topped the Country Airplay Chart, Adult Pop Songs, and Radio Songs charts, hit the No. 3 spot on the Billboard Hot 100 and spent 20 weeks atop the Hot Country Songs chart (via Billboard). Considering those impressive numbers, the music publication referred to the anthem as one of 2020's "defining crossover hits." 
That was thanks in part to a remix of the original song featuring Charlie Puth. Gabby Barrett shared details about how the duet came together via Instagram DMs in an interview with Variety. She also opened up about how the updated version gave the song extra life. "We have a new version of the song, which reaches an even broader audience of people. It's been doing really good at pop radio, so it's been amazing," she enthused.
Of course, "I Hope" wasn't the end of Barrett's story. Her debut album "Goldmine" peaked at No. 27 on the Billboard 200 album's chart, and she landed another Top 20 hit on the Hot 100 with follow-up single "The Good Ones" (via Billboard). All things considered, her career is off to a fantastic start despite some initial challenges!