How To Recreate Katniss' Hair From The Hunger Games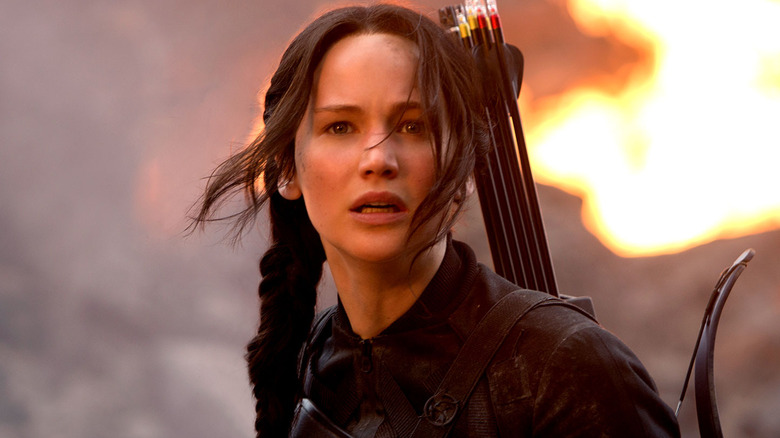 Lionsgate
Even in the series, "The Hunger Games," the character of Katniss Everdeen is an unlikely choice for a fashion icon, and yet, that's exactly what she becomes. Thrust from her foraged and hunted existence in the impoverished District 12 in the autocratic Panem into the spotlight of the battle royale known as The Hunger Games, Katniss is known to view fashion as a foreign language. While in the books and movies, it's one she learns to master to forward a political agenda of liberation, ironically, her utilitarian, lived in style has made the character a bit of a fashion icon IRL as well. I mean, who wouldn't want to look like they could shoot an arrow through a boar's eye or overturn government corruption without a second thought?
If it's Katniss's undone braid you're after, the good news is that it's a style you can do yourself, though it might take a bit of practice. As TRESemmé stylist Jeanie Syfu told Seventeen Magazine, the trick is to make sure you keep the tension in your hands loose so that the braid doesn't look too "polished."
Start by prepping your hair with a wave and curl friendly mousse that will give plenty of hold without being crunchy. Then, either curl your hair throughout with a curling iron, or encourage natural curls by twisting and scrunching your hair.
Katniss's signature braid is practical but not polished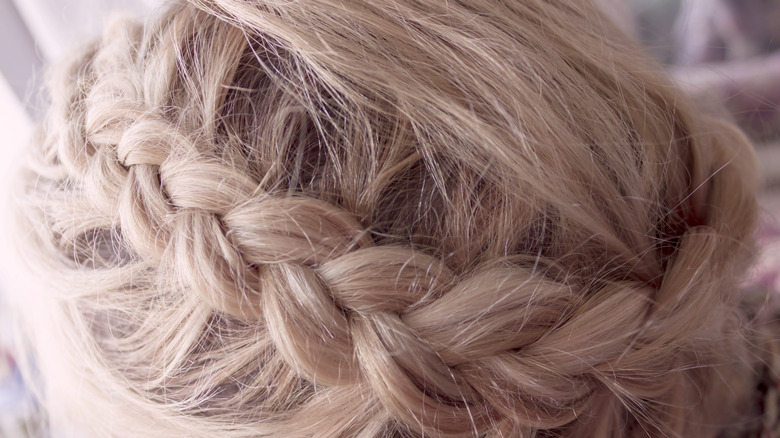 Shutterstock
The braid itself is a french fishtail, which is a woven style braid that uses four strands rather than the three of a simple braid, and incorporates more hair as you go. Start on one side of your head (Katniss's starts on the left) and separate out four sections — the outside two should be smaller than the inside two — to begin the braid. Then take one of the smaller sections and move it first over the closer larger section and then under the further one. Then repeat with the smaller strand from the opposite side, weaving it first over, then under. Each time, add a little more hair, until it's all incorporated as you go around your head, and then finish with a fishtail braid going down over your shoulder.
If the fishtail style seems too complicated, Instructables has an alternative for a dutch braid that will create a similar look. Once again, start on the left and divide hair into three sections, but here's the trick; rather than moving each section down to the center, bring it up instead by going under each strand it crosses. This makes the braid "pop" which makes it look fuller as well. Continue the braid adding more hair with each strand and finish with a hair tie.
Pull out a few pieces of a "lived in" look. Or, you know, head to the woods and bag a rabbit.