Madonna Just Fooled Fans With Her Recent Instagram Post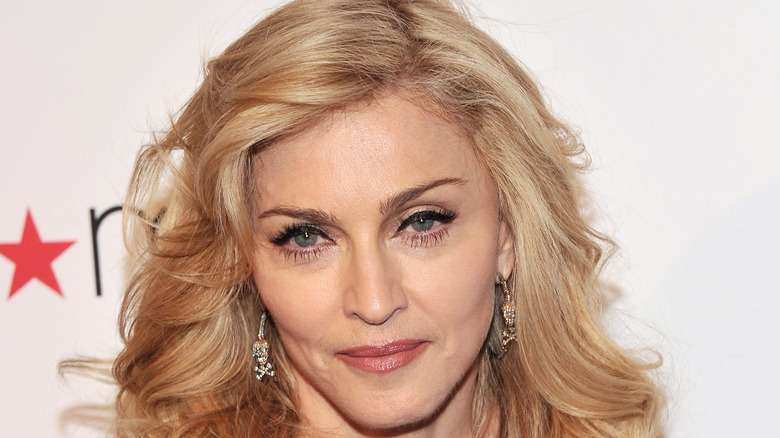 Stephen Lovekin/Getty Images
Remember when Madonna released her latest album "Madame X" back in 2019? Her fourteenth album, it took the now-62-year-old to the top of the charts again, and was accompanied by a tour that saw the music icon make her way through the U.S., the U.K., France and Portugal, per Daily Mail. While some of the planned dates were cancelled due to a combination of injury, production issues and the pandemic, there's going to be a "Madame X Tour" movie streaming on Paramount+, so fans who missed out can still get their Queen of Pop fix (via Retro Pop). 
However, when revealing the good news Madonna decided to have a little fun with her fans. On her Instagram, she shared a video from one of her most famous and best-regarded impersonators to promote the movie's upcoming release. Per Daily Mail, the TikTok video shows the impersonator smoking a cigarette and drinking wine while wearing a 1920s-style wig — in the post's caption, Madonna broke the news that the movie was to air in October on the Paramount+ streaming service, which also offers shows like "RuPaul's Drag Race All Stars" and the "iCarly" reboot (via Decider).
Her tour movie will launch on Paramount+ in October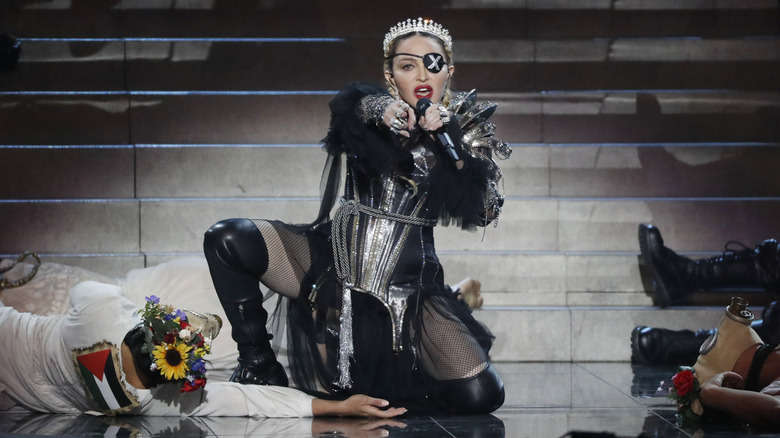 Michael Campanella/Getty Images
Madonna's impersonator is pretty popular, boasting in excess of 60,000 followers on TikTok, and was certainly pleased to be recognized by the singer herself: "So this happened today. Madonna used my video today to promote her upcoming documentary chronicling Madonna's Madame X Tour!!!" she wrote alongside the TikTok, which she reposted to acknowledge Madonna having shared it (via Daily Mail).
In the video, the impersonator sported a glamorous vintage look, with, as well as the wig, a netted black top and black spotted gloves, not to forget her dark red lips — certainly appearing to look like Madonna herself. The comments on Madonna's Instagram post were split fairly evenly between people discussing the movie's move from Netflix — as originally intended — to Paramount+ and people arguing whether the woman in the video was actually Madonna or not. There's no doubt about it, some of her fans were definitely fooled.