The Truth About Vanessa Hudgens's Skincare Routine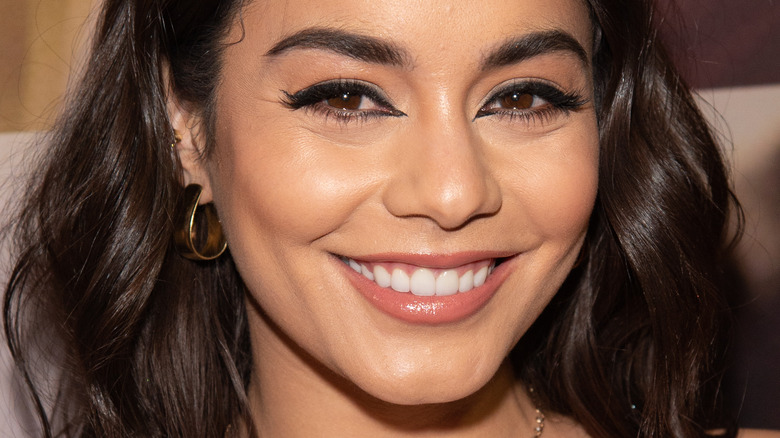 Shutterstock
Like a lot of us, Vanessa Hudgens has struggled with forming a skincare routine. Per Byrdie, Hudgens spent "years ... dealing with unrealistic expectations and inconsistent results." Although the "High School Musical" star has managed to maintain her youthful glow over the years, her skincare journey saw some bumps along the way. 
As she entered her 30s, Hudgens prioritized finding a skincare routine that worked for her and combatted aging. "Turning 30, I've realized that I don't have the skin that I had when I was 18," she told Shape in 2019. At the time, she revealed that she had quite a lengthy skincare routine. "I have 10 steps, which seems like a lot, but it's really nice to give yourself that time because life can get hectic and when you know you have time set aside for yourself, I think it's a really important thing."
Fast forward to 2021, and Hudgens has taken her skincare routine into her own hands, teaming up with singer Madison Beer to create a customized skincare line "[w]ith a focus on personalization, effectiveness, and unique skin needs," per Byrdie. Here's how the star's struggle to build a skincare routine inspired her to launch her own.
Vanessa Hudgens isn't afraid to spend the dough to get the glow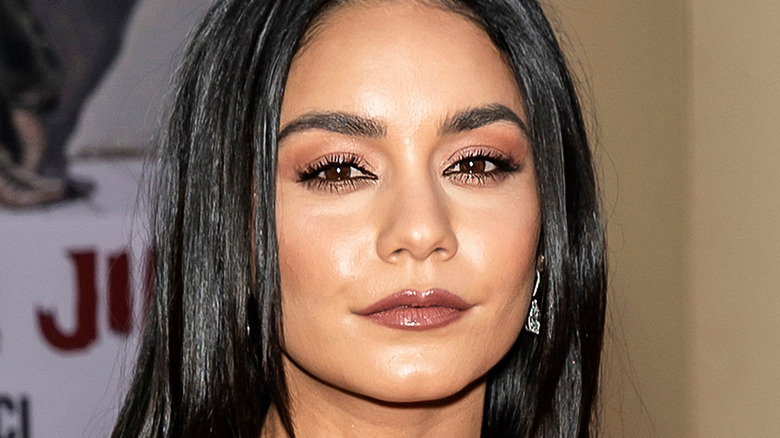 Shutterstock
In 2018, Vanessa Hudgens turned 30. While turning 30 certainly isn't the end of the world, Hudgens decided it was time to get more serious about skincare, telling Shape that she "love[s] the natural route." She explained, "I want to hold off on Botox and fillers until I really, really, really need it." Hudgens invested in cleansers, toners, serums, face masks, and eye creams to maintain her youthful glow. 
She revealed to Shape that her favorite skincare brands include Drunk Elephant and Framboos, both of which can be found at Sephora. Hudgens emphasized layering serums and recommended combining Drunk Elephant with Joanna Vargas products. She follows up her product routine with facial steaming, using "two handheld devices — the LightStim ($249) – which uses LED light therapy to help stimulate collagen production — and NuFace Trinity Facial Toning Device ($325) — which may help to reduce the appearance of fine lines and wrinkles," per Shape. 
Sure, the price of the products and tools is steep, but have you seen Hudgens lately?! She still looks like she's playing high schooler Gabriella Montez in "High School Musical." So, if you're going to invest in your skincare routine, Hudgens just might be someone to take notes from.
Another one of Hudgens's skincare musts? Sunscreen. "I always try to wear sunscreen, especially on my face, just because I think that when we're young and we're carefree about it and we don't really think twice about the fact that the sun can be damaging to our skin," she told The Cut. "I don't want wrinkles, so every time I go into the sun, I try to wear a lot of sunscreen."
From building a routine to creating her own skincare line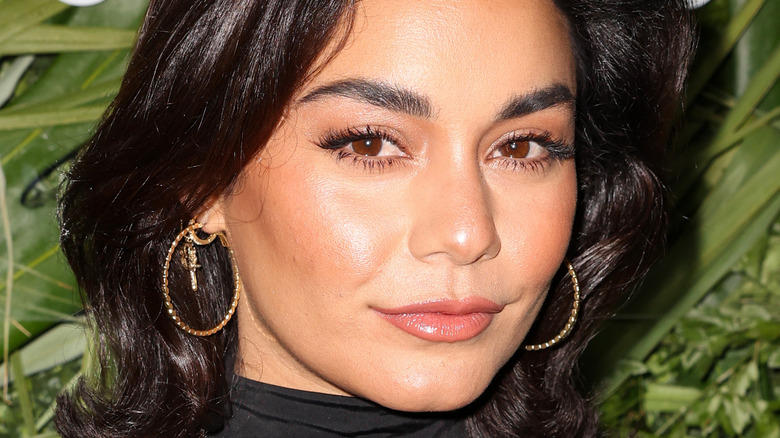 Alexander Tamargo/Getty Images
Vanessa Hudgens found a routine that worked for her through trial and error. In 2021, she teamed up with Madison Beer and Dermatologist and Chief Medical Officer Dr. Karen Kagha "to remove trial and error from the category," per Byrdie. The team's brand, Know Beauty, launched in June 2021, with the goal of providing customized skincare that takes everything from your environment to food intake into consideration. The thought is that Know Beauty will allow users to form their  own Hudgens-inspired skincare routine that's affordable, customized, and easy to stick to.
Hudgens told Byrdie, "It is your very own, personalized skincare regimen ... We give you a diagnostics test which deals with everything: your environment, how much sleep you're getting, what your skin is doing now, and a DNA test."
She continued, "It's affordable, and it gives you a full breakdown of what your skin will be like in the future. With these two things combined, you are given a regimen that is going to take care of your skin now, but also look out for it in the future." It sounds like Hudgens and Beer's line could be the start of something new for the skincare game.