Hunter Biden's Latest Hobby Is Turning Heads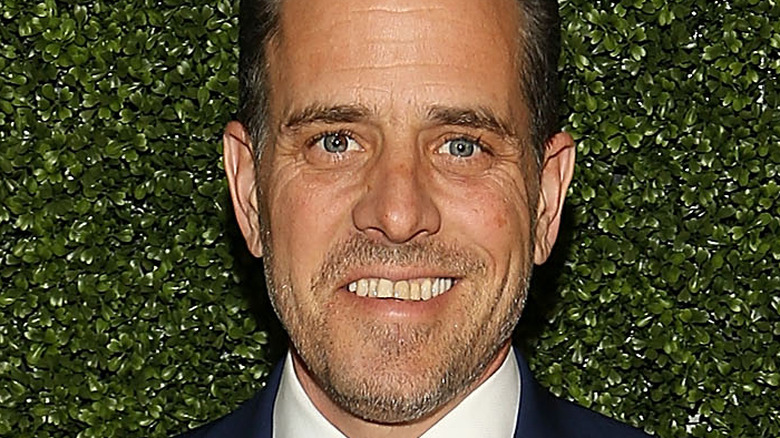 Paul Morigi/Getty Images
Hunter Biden is in the news again – and this time it's thanks to his latest passion, which he says he has turned into a profession. Since early 2020, President Joe Biden's son has been painting (via The New York Times), and in just a few months, a New York art dealer could be selling his work for as much as half a million dollars. The amount is raising eyebrows both within the art world and outside of it, not because of what the paintings show, but because there are those who feel that his work wouldn't be worth as much if he had a different last name (via The Washington Post). 
Richard Painter, who worked as chief ethics lawyer in the George W. Bush White House, told The Washington Post that the art sale was a bad idea because "The initial reaction a lot of people are going to have is that he's capitalizing on being the son of a president and wants people to give him a lot of money. I mean, those are awfully high prices."
Hunter Biden's art sale is a potential headache for the White House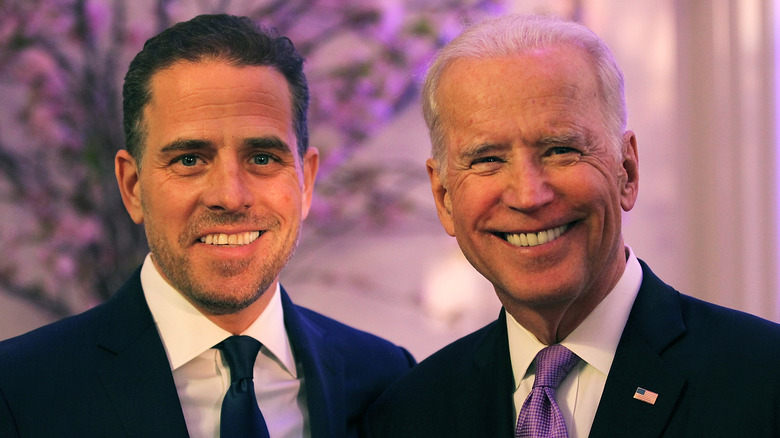 Teresa Kroeger/Getty Images
The Bush-era lawyer also thinks that the art sale poses problems for the Biden White House. Buyers may represent foreign governments or lobbyists who want to buy favors. To get around this, the White House has reached a deal under which the president's younger son will not know who bought his work, as that information will be kept confidential. But even that, an Obama-era ethics lawyer says, creates its own set of problems (via The Washington Post).
"Because we don't know who is paying for this art and we don't know for sure that [Hunter Biden] knows, we have no way of monitoring whether people are buying access to the White House. What these people are paying for is Hunter Biden's last name," Walter Shaub, who headed the Office of Government Ethics from 2013 to 2017, said.
Other ethics experts say there is nothing they can do if Hunter Biden decides to hold an art show, particularly since he is an adult and, as another Obama-era ethics expert Norm Eisen put it, "the basic presumption is adult kids are able to make a living ... as long as a reasonable amount of distance is maintained from the White House. That means things like the White House should not be promoting the art show, which as far as I know they're not doing."
Experts had positive things to say about Hunter Biden's art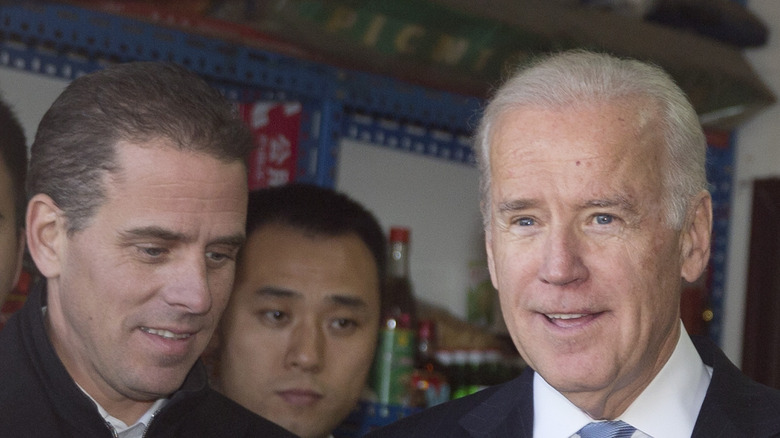 Pool/Getty Images
Also, it's not that Hunter Biden's art is the type that would make a first grader proud. The New York Post spoke to art experts who praised Biden's work and said it could potentially be worth a lot. Mark Tribe, chair of the New York City School of Visual Arts' MFA Fine Arts Department, called the work "pretty strong," adding that the mixed media paintings had "colors and compelling organic forms — it's the kind of organic abstraction that I find easy on the eyes and provokes your curiosity." New York art gallery owner Alex Acevedo, who has been in the industry for decades, has said that he's not a fan of modern art, "But I was floored by that guy. The palette was wonderful. The space was well-organized. I would buy a  couple of them."
Equally important to Acevedo was the fact that the artist "is the president's son. Everybody would want a piece of that. The provenance is impeccable." Without the Biden name, Acevedo estimated that the paintings could fetch between $25,000 to $100,000 — still on the high end for an unestablished artist.
Not everyone is as enthused about the pieces. Jeffrey Cudlin of the Maryland Institute College of Art called the pieces "fine decorative amateur work." But he admits the value doesn't rest on the quality of the paintings simply because "Things are worth whatever people will pay for things," Cudlin says (via The Washington Examiner).