The Surprising Friendship Between Selena Gomez And Jennifer Aniston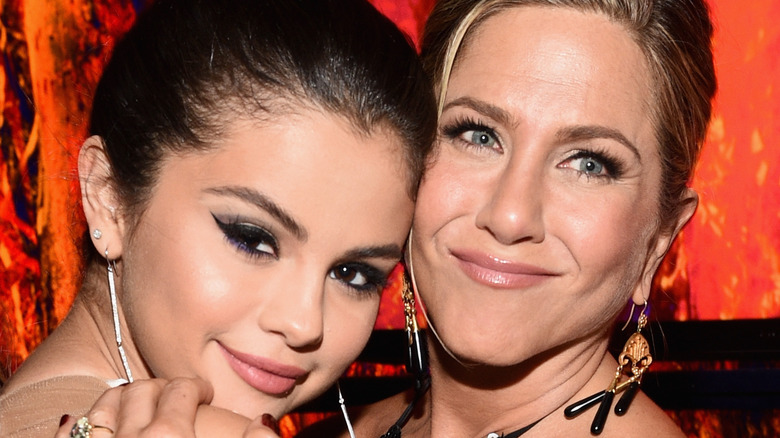 Michael Buckner/Getty Images
Selena Gomez may be 24 years Jennifer Aniston's junior, but that hasn't stopped the two A-listers from enjoying a years-long friendship. That said, when it came to their very first encounter, things were a bit awkward for Gomez, who hadn't yet made it big. Looking back at the moment as she and Aniston appeared together on an episode of "The Ellen Degeneres Show," Gomez said that she was completely starstruck when she saw Aniston at a Vanity Fair party years ago.
"You were in the bathroom wearing a black dress. I walked into the bathroom and I saw you and you were just so nice. You just walked out of the bathroom, you were going back, and my heart stopped and I freaked out and I ran to my mom and I was like, 'Oh my God, I just saw Jennifer Aniston,'" Gomez recalled of her fangirl moment, via People.
"Selena, you've always been so sweet. You really are a genuine fan and it's amazing," Aniston replied. "We've known each other for years, you've been to my house. We've had pizza."
Selena Gomez and Jennifer Aniston met through their manager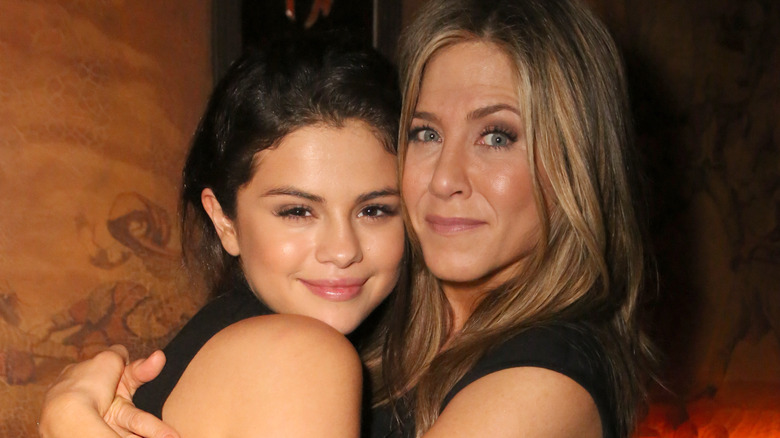 Ari Perilstein/Getty Images
During an interview with E! News in 2014, Aniston revealed that her first formal meeting with Gomez took place because they have the same manager. "She's just like a little cherub that I feel like I wanna take care of. And we've just met through our manager. She's been extremely supportive and wonderful," Aniston gushed.
That same year, Gomez paid homage to Aniston on Instagram as she encouraged her fans and followers to go see her fellow actress' then-new film, "Cake."
"I have not only been following her career as a fan since I was 8 and now get to watch her completely transform in her new movie 'Cake,' I have gotten to have real conversations with such a real heart, made my entire year," Gomez wrote.
Gomez also spoke of her relationship with Aniston during a 2015 radio interview with KTU's Carolina Bermudez. "She's very cool and very sweet. She kind of gives me a lot of, like, maternal advice," Gomez revealed, via E! News.