Meet Gregory Mecher, Jen Psaki's Husband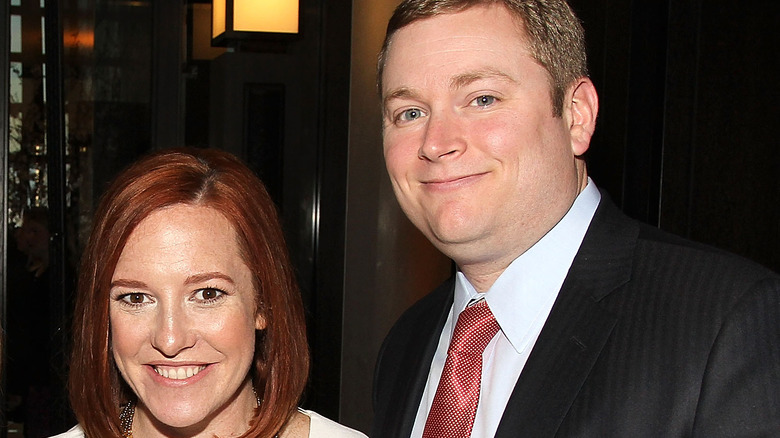 Paul Morigi/Getty Images
Jen Psaki has become a welcome face in the Briefing Room since becoming the White House Press Secretary. Born in Stamford, Connecticut, Psaki is the eldest of three daughters to retired real estate developer James R. Psaki and psychotherapist Eileen Dolan Medvey (via Greenwich Time). After graduating from Greenwich High in 1996, Psaki went on to study English and sociology at the College of William & Mary in Virginia before starting her career in politics in campaign communications for the Democrats.
Throughout her career, she's had integral roles in John Kerry and Barack Obama's presidential runs, eventually becoming Obama's deputy press secretary during his presidency. So it comes as no surprise that Joe Biden chose her to be his spokesperson and press secretary, seeing as she worked closely with him during Obama's tenure.
But what about her life outside of the White House? Well, as it turns out, Psaki's personal life is also deeply tied to American politics.
It wasn't easy to get Jen Psaki's attention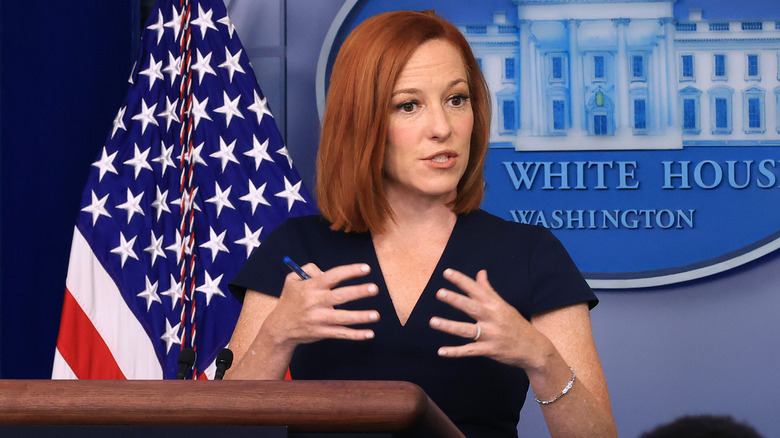 Chip Somodevilla/Getty Images
Psaki's husband, Gregory Mecher, has had a similar political trajectory to that of his wife. Mecher was raised in southern Ohio and went on to study communications and television production at Northern Kentucky University (via The Sun). He began his political career while at the university before starting an internship with Kentucky Congressman Ken Lucas.
From there, he worked for former Congressman Steve Driehaus of Ohio as chief of staff, as well as former Representative Joe Kennedy III of Massachusetts. So how did Psaki and Mecher initially cross paths?
While working for the Democratic Congressional Campaign Committee (DCCC), the two "met" over the phone when Psaki accidentally gave Mecher the wrong directions to an event (via Washington Post). The couple eventually met face to face, and Mecher immediately thought Psaki was "cute."
When they were back at the Washington, D.C., headquarters, Mecher described how hard it was to get Psaki's attention. "When she's at work, she's very focused — it's like tunnel vision," he said (via Washington Post). "Whenever I would do it, she had the headset on, talking on the phone, the BlackBerry she was typing on and the actual computer in front of her where she was talking to someone else ... so there was no way to accidentally get her attention."
The couple have two young children
He eventually did get her attention, though, and plucked up the courage to ask her on a date. "I actually got really nervous," Mecher said (via Washington Post). "Which was really weird. I was 30 years old. I've asked a few girls out before. I've never been nervous about it in my life."
Their dating life soon picked up, and they quickly became serious. "I felt very comfortable, Psaki told the Post. "We got along very well, and our personalities meshed very well." Despite having to do a bit of long-distance over BlackBerry during Psaki's position in the Obama administration, the couple made it work and moved in together following the 2008 election (via Heavy). Mecher then proposed in March 2009, and the couple were married three months later.
"It may seem cliché, but I just kind of knew," Mecher said (via Washington Post). "We got together and got along very well and it just sort of worked. And it was good."
Psaki and Mecher have two children, a five-year-old daughter and two-year-old son (via PopSugar).