Amanda Knox Shares Heartbreaking Update About Her Life Today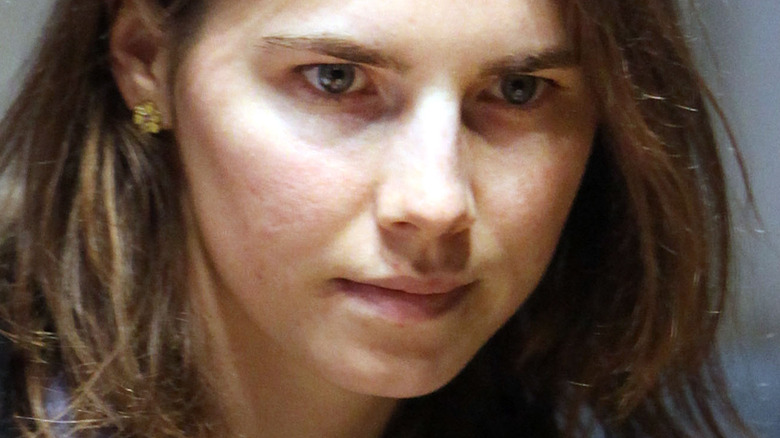 Amanda Knox, who is most known for her guilty conviction and later acquitted of the murder of U.K. student Meredith Kercher (via BBC News), has revealed that she recently experienced a miscarriage and didn't know that it occurred at the time. According to People, Knox opened up about the miscarriage on an episode of her "Labyrinths" podcast, during which she also discussed her fertility journey with her husband of one year, Christopher Robinson. Once the media coverage of her legal proceedings died down, Knox and Robinson began planning for the next stage of their life together: starting a family. 
Speaking on the podcast, Knox revealed that she "got pregnant very fast" after having an IUD removed, while Robinson explained that the pair were initially under the impression that "it was a straight line from unprotected sex to baby." After falling pregnant, the couple shared the happy news with their families on Mother's Day in May 2021. However, during a subsequent ultrasound appointment, the doctor failed to find the baby's heartbeat and Knox revealed that she "knew something was wrong." A week later, the couple returned for a follow-up appointment, and, sadly, the outcome wasn't what they had hoped for.
Knox shared her disappointment surrounding her miscarriage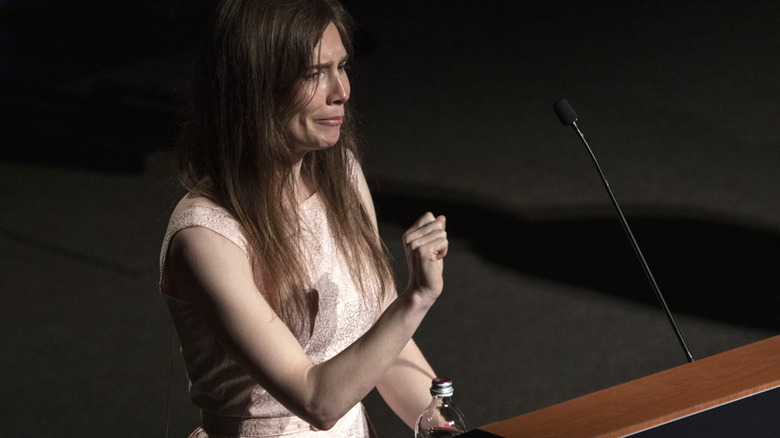 Emanuele Cremaschi/Getty Images
As People reported, Amanda Knox continued her story by sharing that she went back to the doctor after a week, but the baby hadn't experienced any growth. There were other signs that something was wrong once the hospital staff began the appointment, but she and her husband Christopher went into the appointment unaware of the situation. "It didn't have a heartbeat," she said, adding, "That was confusing to me, because I thought, 'Why would there be a dead baby just hanging out in there? If it wasn't viable, why wasn't it going away?' My body didn't even know, and that felt weird to me ... I didn't know that you could have a missed miscarriage."
According to the Daily Mail, Amanda Knox also questioned whether or not she was to blame for what happened during her pregnancy, and discussed the possibility that something she experienced during her time in Italy may have contributed. She didn't provide any details of what she was referring to, but the pain behind the experience was clear. "I did feel incredibly disappointed that was the story of my first ever pregnancy," Knox said on her "Labyrinths" podcast (via People). "Why? Do I have bad eggs and I never knew? Am I actually too old?" she asked, adding, "Did something happen to me while I was over in Italy?"
Per BBC News, Amanda Knox and her ex-boyfriend, Raffaele Sollecito, were found guilty of the murder of Meredith Kercher in 2009. Two years later, in 2011, the pair had their convictions overturned and were released from prison.
What is a 'missed miscarriage'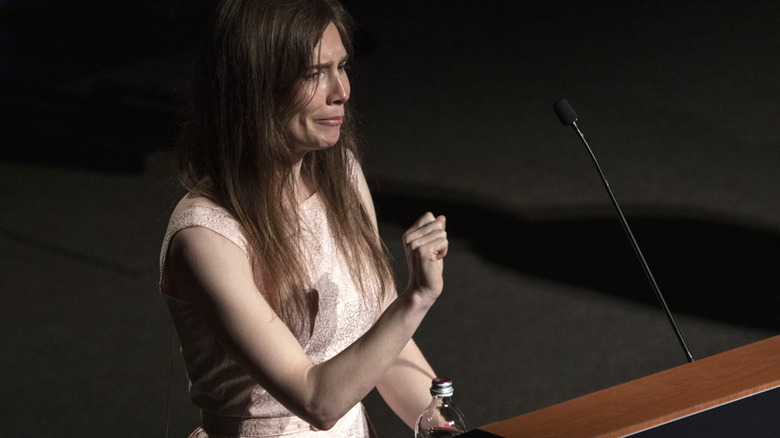 According to the American Pregnancy Association, a miscarriage is not as simple as a single, explainable event; it can also be a process that occurs without the expectant parents' knowledge. What's more, this particular experience like Amanda Knox's, known as missed miscarriages, is not entirely uncommon. As in her case, women can experience a miscarriage without realizing it.
The American Pregnancy Association described a missed miscarriage as a type of miscarriage "when embryonic death has occurred but there is not any expulsion of the embryo." There is no known cause for this sort of miscarriage, but signs can include a loss of pregnancy symptoms and the absence of fetal heartbeats on an ultrasound.