The Truth About Loretta Lynn's Husband Oliver Lynn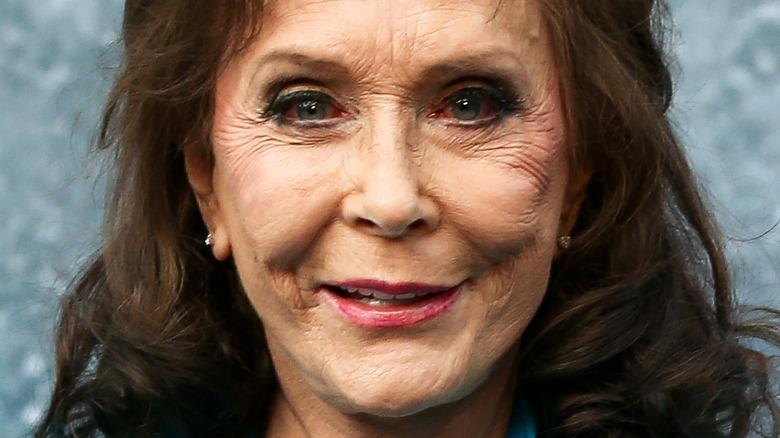 Shutterstock
Loretta Lynn honored her late husband, Oliver Lynn, on Instagram earlier this year with a sweet tribute on what would have been their 73rd wedding anniversary. 
In the heartfelt post, which was shared on Jan. 10 and included Loretta singing "I Can't Hear the Music" — a single from her 2000 studio album "Still Country" – the country singer applauded Oliver for being the "only man" she ever loved. "Today would be our 73rd anniversary. I can't believe it's been that long. We fought hard and we loved hard. He was my biggest fan and the real force behind my career. He's the only man I ever loved. I miss you, Doo," she wrote, giving a nod to Oliver's nickname, "Doolittle."
Although Loretta has spoken highly of her late husband in recent years, as Taste of Country confirmed, the couple actually had a very tumultuous marriage, plagued not only by violence, but also infidelity.
Oliver Lynn was more than the husband of Loretta Lynn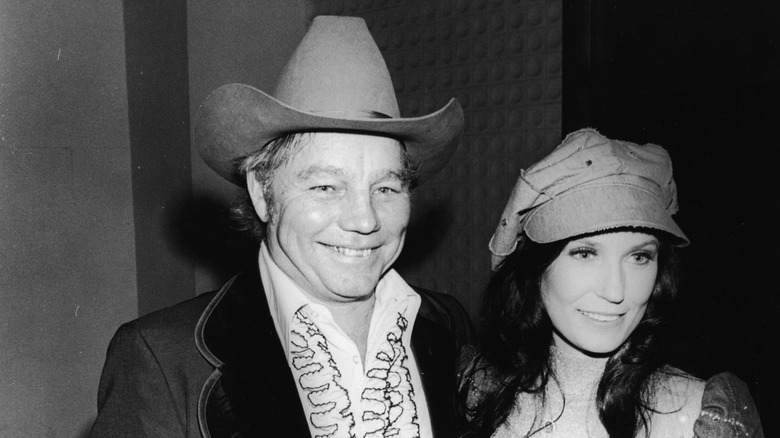 Hulton Archive/Getty Images
Per Country Thang Daily, Oliver Vanetta Lynn was born in Butcher Hollow, Kentucky. He made a name for himself as a coal miner and moonshiner runner — hence his nickname "Mooney." He'd also served in the Army during World War II. According to a report from the Associated Press, Oliver's life changed immensely after he married Loretta when he was 21 and she was 13 (reports on her age when she married Mooney vary, with some outlets reporting it as 13 and others as 15).
As fans may know, it was Oliver who gave Loretta her first guitar. "You're just as good or better as most of them girls that are singin' and makin' money, so let's make us some money," he told her. "I had never sang in front of anybody until my husband pushed me out there," Loretta explained in 2010, per Do You Remember?. Loretta was reluctant to sing in public, but Mooney helped her get a start in the business. Per AP, he approached a bandleader when the young couple lived in Washington state. 
"Hey, I got a girl here tonight who's the best country singer there is, next to Kitty Wells, and I ain't kidding," Mooney told him. One week later, the bandleader allowed Loretta to take to the stage. Her husband sometimes traveled with her on her concert tours, on occasion. When at home, he ran the 1,140-acre Loretta Lynn Dude Ranch, which he and Loretta purchased in 1967.
Loretta Lynn credits her career to Oliver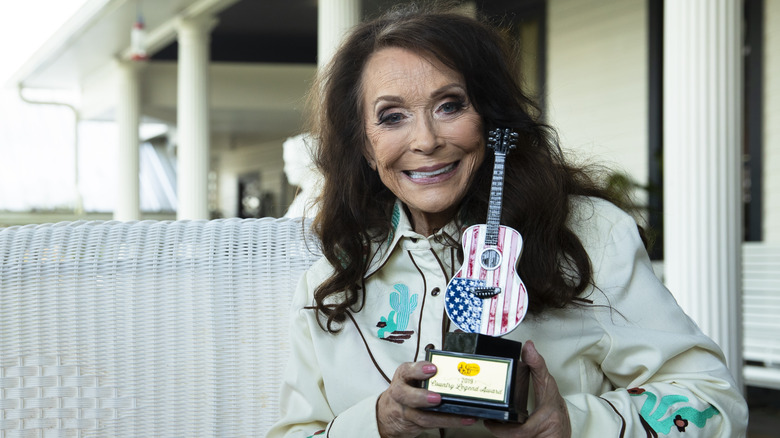 Brett Carlsen/Getty Images
While Oliver Lynn didn't always have the best reputation, Charlie Dick, the widower of Loretta's fellow country star, Patsy Cline, once said he "took care of Loretta" and "watched over her" (via AP). According to a report from Do You Remember? in 2019, Loretta Lynn remained dedicated to Oliver, despite his abuse and cheating, until the day he died in 1996. That said, she didn't exactly hide his abuse from the public. In fact, she once said that "every time Doo smacked me, he got smacked twice." On another occasion, Loretta, who admitted that Oliver often became upset if dinner wasn't properly prepared, recalled pouring an entire skillet of creamed corn over his head and hitting him. "I heard teeth hittin' the floor and thought, 'Ooh, I'm dead. He not gonna put up with this.' But he laughed."
Although many encouraged Loretta to leave her violent marriage, she is believed to have stayed with him because she credited him for her career. "Whatever else our marriage was back in them days ... without Doo and his drive to get a better life, there would have been no Loretta Lynn, country singer," Loretta, who shared six kids with her late husband, reasoned.
Oliver Lynn died in 1996 at the age of 69, per Country Thang Daily.