Here's Why You Should Wear A Sleeping Cap To Bed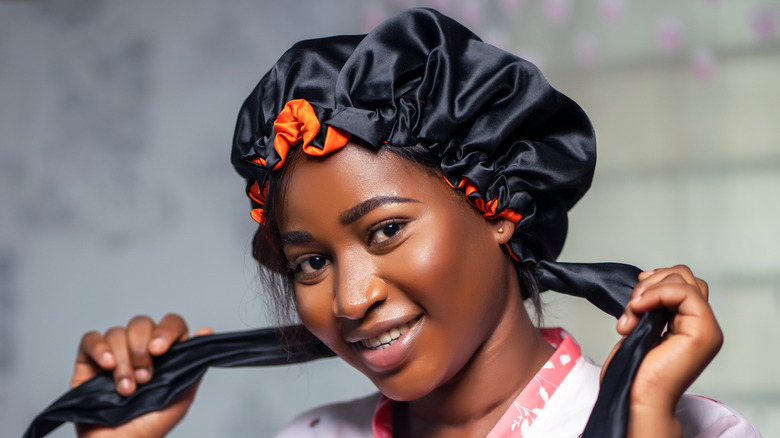 Shutterstock
While you may not wear one (yet), you've probably seen them worn in movies or even touted on the gram. Sleeping caps, or hair bonnets, are a type of head covering worn during the night to protect your tresses as you toss and turn. Typically made from silk, the bonnets have been worn for centuries and have multiple functions. PopSugar reports that for Black women, wearing a night cap is as common as teeth brushing; however, thanks to social media, women of all ethnicities are learning about the beauty benefits of the bonnet.
According to Moms, one of the most essential hair care items in your arsenal should be a silk or satin sleeping cap. If for no other reason, you should invest in a quality sleeping cap to protect hairstyles from coming undone, whether you've paid for an updo, braids, a blowout, or curls. The cap can prevent your 'do from getting messy, frizzy, and undone. 
A sleeping cap can protect your hair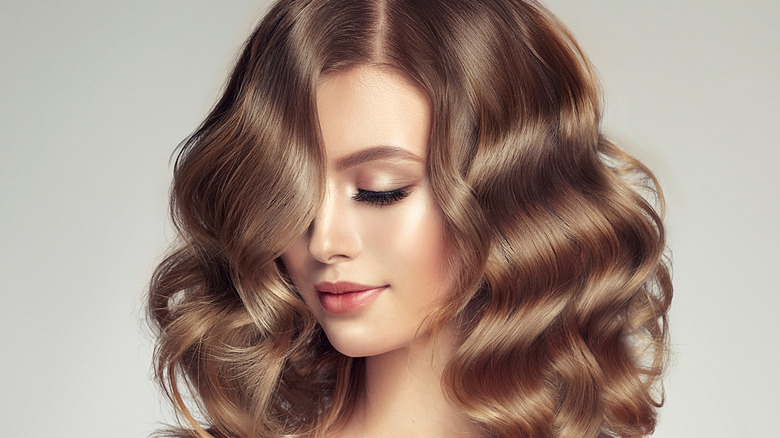 Shutterstock
According to Grazia, a sleeping cap helps prevent tangled tresses, which can cause breakage. When the hair is tucked safely into the cap, it decreases the likelihood of waking with tangled, knotted hair, making your morning routine smoother. Another perk of donning a sleeping cap — less frizz and split ends. It protects your hair from friction as you sleep, which minimizes frizz and breakage, decreasing the risk for split ends.
Cotton pillowcases often absorb the oils and natural moisture from your hair, but a silk or satin hair cap can help your hair retain moisture. Dry hair is the culprit of many damaged locks and keeping the hair hydrated can reduce the risk of frizz, itchy scalp, and even hair loss (via Moms).
As an added bonus, wearing a sleeping cap can let you sleep longer. Because silk bonnets can keep your hair intact all night, you'll need less time in the morning to get ready (via Hair Extensions Magazine).