Olympian Eliud Kipchoge's Net Worth May Surprise You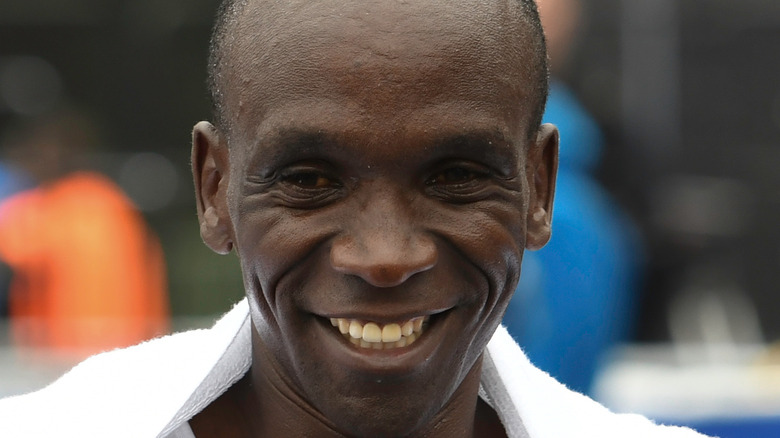 Shutterstock
Kenya's Eliud Kipchoge is best known as the fastest marathon runner in the world — a title he seeks to defend during the Tokyo Olympic Games. He currently holds the world record for the long-distance event after winning the 2018 Berlin Marathon with a time of 2:01:39, according to Guinness World Records (though he has completed a marathon in quicker time than that, although not recognized by the International Association of Athletics Federations). The athlete loves running so much, he told the Flotrack podcast he hopes to run all of the world's major marathons. He's already participated in marathons in Berlin, London, and Chicago, and he's focused on competing in the Olympics before he tackles world-famous marathons in Boston, New York, and Tokyo, as noted by Runner's World.
When he was just 18, Kipchoge first set records competing in 5000 m races. In 2004, he won a bronze medal in the 5000 m final at the Olympics in Athens, Greece, according to Players Bio. As one of the world's top athletes, it should come as no surprise that Kipchoge, now 36, has managed to build a sizable net worth from his athletic career.
Eliud Kipchoge has a reported net worth of $3 million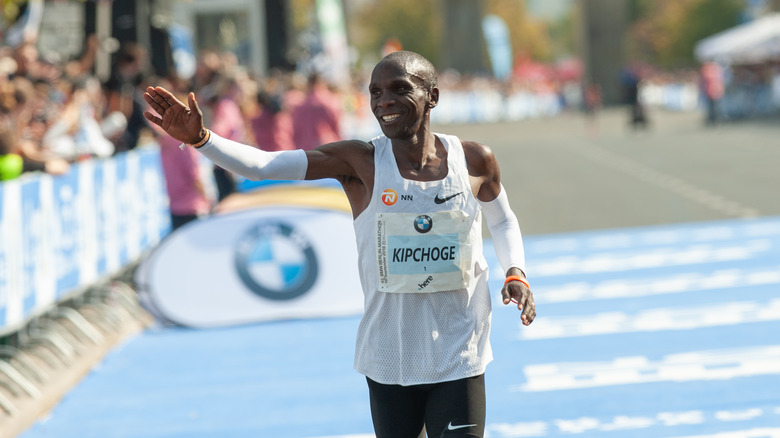 Shutterstock
While his salary isn't known, long-distance runner Eliud Kipchoge has an estimated net worth of $3 million, according to Players Bio. In the past, he has received annual sponsorships to compete, including a deal worth seven million Kenya shillings from Isuzu East Africa — which equates to approximately $65,000 (per The Standard). His Instagram page shows numerous images of the athlete donning gear from Maurten — a sports drink company — and NN Investment Partners, suggesting he has benefited from sponsorships with those companies, too. 
As a favorite to win a medal in the upcoming Olympic games, Kipchoge's net worth could grow if he sets another world record during a long distance event. He is known as one of the world's most impressive athletes, and regardless of whether or not he brings home gold, he told the Flotrack podcast he plans to tackle other competitions once the Olympics are finished. 
On his impressive performance that shattered the two-hour benchmark for marathon running, The New York Times wrote that Kipchoge "achieved a sports milestone granted almost mythical status in the running world." If one thing is clear, Kipchoge has and continues to aim for the stars. When he's not running, Kipchoge spends his free time with his wife, Grace Sugutt, and their children.