Princess Diana's Nieces Have Something To Say About Their Late Aunt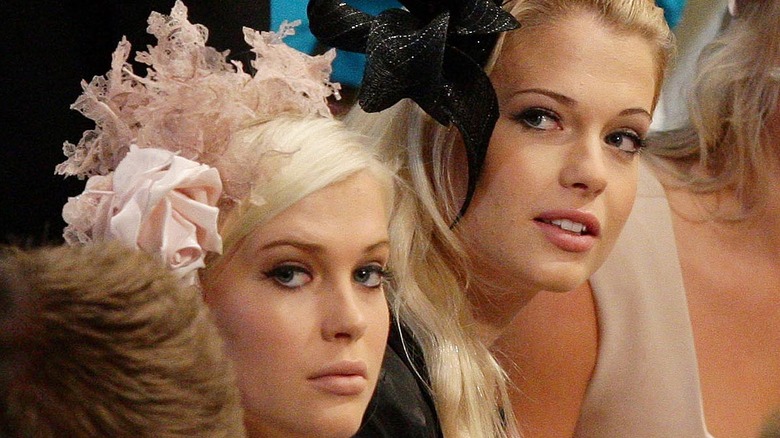 Wpa Pool/Getty Images
The twin nieces of Princess Diana, Lady Amelia Spencer and Lady Eliza Spencer, have opened up about the "precious memories" they have of their late aunt. As the Daily Mail reported, the pair are the daughters of Diana's younger brother, Earl Charles Spencer, and during an interview with Hello!, Amelia and Eliza opened up about what they remember of the Princess of Wales, revealing that they were "very young" at the time of her death in 1997. 
"Sadly we were very young when she passed away, we were only five ... Of course, I would have loved to have been able to spend more time with her. I do have some special memories of her. I can't explain why, but they've stuck very clearly in my mind," Eliza told the publication. 
Although the Spencer daughters have spent much of their lives living in South Africa, Diana's nieces have now both relocated to the U.K. to live in London full time. Speaking on Instagram back in June 2021, Amelia's fiancé, Greg Mallett, discussed their plans to move to the United Kingdom. "My fiancé and I decided to relocate to the UK and are currently in transit in France! Whilst it may seem like we got lucky (in many ways, we did), moving countries is difficult," he wrote. 
Lady Amelia and Lady Eliza have big plans for their future
Per the Daily Mail, Lady Eliza Spencer has followed in her twin sister's footsteps and also made the move to central London, where she currently lives just 20 minutes away from Lady Amelia Spencer.
According to Hello!, the Spencer daughters are now both signed to Storm Model Management and are currently ambassadors for The Little Princess Trust. Speaking to the publication about their ambitions in London, Amelia expressed interest in becoming a wedding planner, while sister Eliza revealed that she has dreams of being an interior designer. 
"We can't wait to see what the future holds. I've always imagined I'd end up in the UK, it just took a little longer than I'd planned. We're thrilled to finally be here. For me, this is where my future is," Amelia said of her recent move to London, while sister Eliza added, "Wherever we go, our sibling bond is unbreakable. The future is bright and this is only the beginning." Looks like both Spencer daughters inherited their late aunt's sense of adventure and career-defining ambition. We can't wait to see what the future holds for them both.