Will Kids Be Wearing Masks To School This Fall?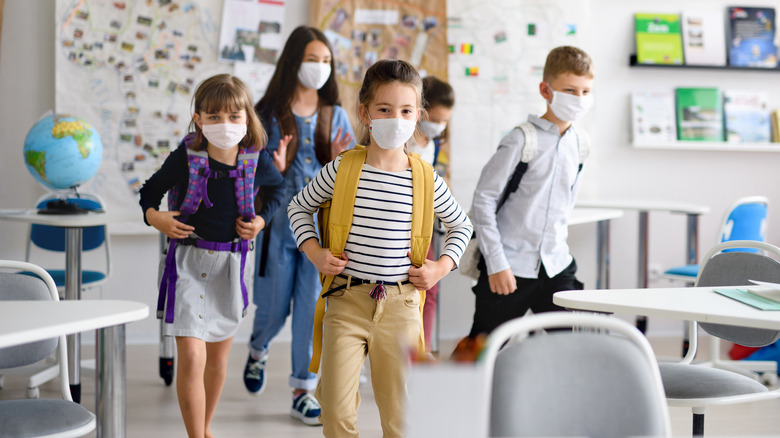 Shutterstock
It was a tough year for kids in school who were learning while coping with unique circumstances due to the pandemic. For many families, a return to school this fall marks an opportunity to have some normalcy injected back into daily life, with The Wall Street Journal reporting America's largest school districts, from San Francisco to New York City, plan to offer full-time in-person learning.
The good news is that 48 percent of the U.S. population is fully vaccinated according to NPR. Another NPR story notes the vaccine has proven very effective for kids over the age of 12, with 7 million adolescents having been at least partially vaccinated as of last month. Meanwhile, kids between the ages of 5 and 11 will likely be eligible to receive their first shots by early fall (via KATV).
Of course, these latest developments beg the question of whether kids should wear face masks when they go back to school in just a few short weeks. The Centers for Disease Control have shared new guidance to help parents with this important issue.
Masks are not required, but that may depend on each school district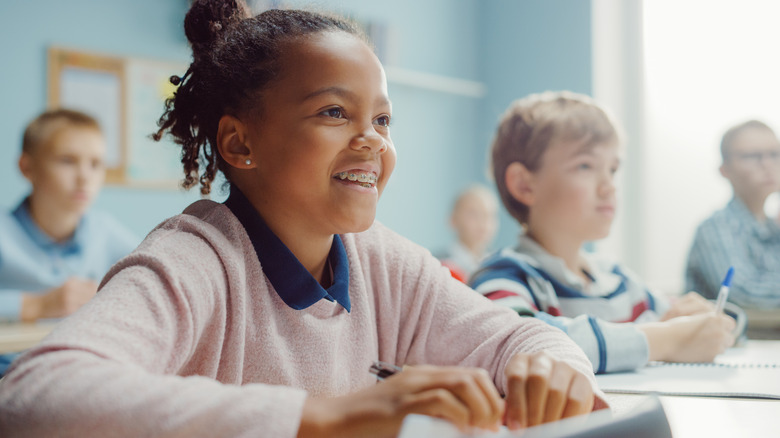 Shutterstock
According to NBC News, the CDC has said kids who are fully vaccinated, which means they are 14 days past their second shot, do not need to wear face masks in school this fall. This guidance would follow what the CDC has recently said about fully-vaccinated adults not having to wear face masks indoors.
This guidance on face masks applies to fully-vaccinated teachers as well, as People reports. It's important to note 3 feet of physical distancing, good ventilation, and thorough hand washing is still strongly urged.
The CDC further asserted in its most recent guidance that in-person learning benefits students, and that vaccination is our best weapon against the spread of COVID-19.
It's important to note that each school district can still make its own rules about face masks, with some deciding they should be optional for all students, vaccinated or not (via District Administration).