The Best Way To Wear Gladiator Sandals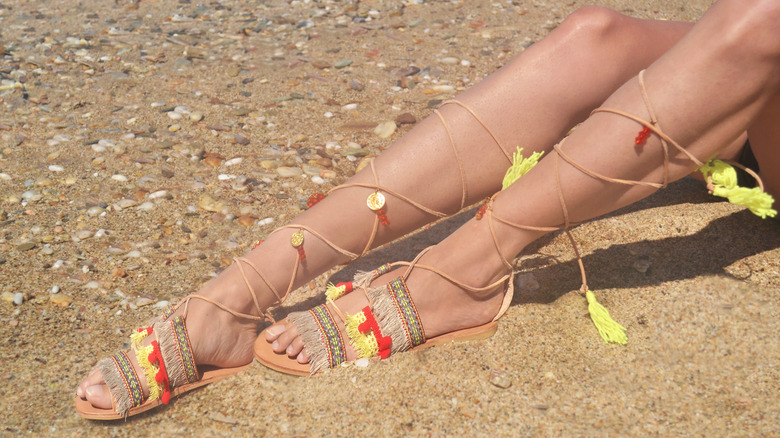 Shutterstock
While footwear designers come up with different sandal trends every season to cater to the needs and demands of shoe lovers across the globe, there are certain types of designs that rarely go out of fashion. One such example is that of gladiator sandals, which have survived the ebb and flow of the fashion industry for decades (via Catwalk Yourself).
Gladiator sandals have existed since ancient times and, as the name suggests, they were first worn by Roman and Greek gladiators when they went to war. In terms of design, gladiator sandals usually have flat soles, though they sometimes come with short chunky heels too. According to Pagonis Greek-Sandals, these sandals became part of the mainstream fashion industry in the 1960s. This was the time when miniskirts were also extremely popular. Thus, pairing gladiator sandals with short skirts helped people pull off a very stylish look.
The most distinctive feature of gladiator sandals are its long, wide straps that hold the sole to the foot. These straps are tied to the ankles, shins, and calves in a criss-cross manner. Depending on the make of the sandal, you could tie up the straps as high as your knees or up to your ankles. The straps could be made up of sturdy materials like leather or braided thongs. Sometimes, the straps are also made up of delicate materials like ribbons. 
Best outfits to pair with your gladiator sandals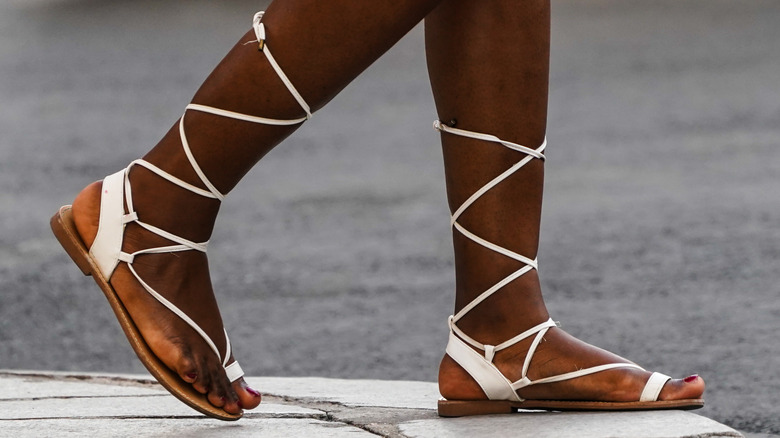 Edward Berthelot/Getty Images
Gladiator sandals are surely versatile, but they only go with certain types of outfits. We've already mentioned that they look gorgeous with short skirts – consider a denim miniskirt or a short skater skirt and pair it with the sandals to accentuate your legs. You could also team up your gladiator sandals with a mini-dress or a dress shirt (via Just the Design).
If you don't want to wear miniskirts or short dresses, you can pair your sandals with long skirts too. Long skirts with a side or front slit will look fabulous as you will also be able to show off your legs. According to Just the Design, while you can easily pull off your gladiator sandals with a long or knee-length skirt, it would be best if the straps are tied up to the ankles instead of knees. You can also pair your gladiator sandals with denim shorts and a loose tunic to pull off a very chic look (via Become Chic).
If you are someone who likes to wear pants and jeans and don't feel comfortable wearing skirts, though, you don't have to give up on gladiator sandals. According to Just The Design, ankle-length gladiator sandals will look great with skinny jeans or even capri pants. While you will look great in flat gladiator sandals, you can also try ones that come with heels. If you are not afraid of experimenting, try your ankle-length gladiator sandals with flared pants. Even Victoria's Secret models like Bridget Malcolm have opted for that look and ended up looking stunning (via E! News).