How Florence Pugh And Scarlett Johansson Bonded On The Black Widow Set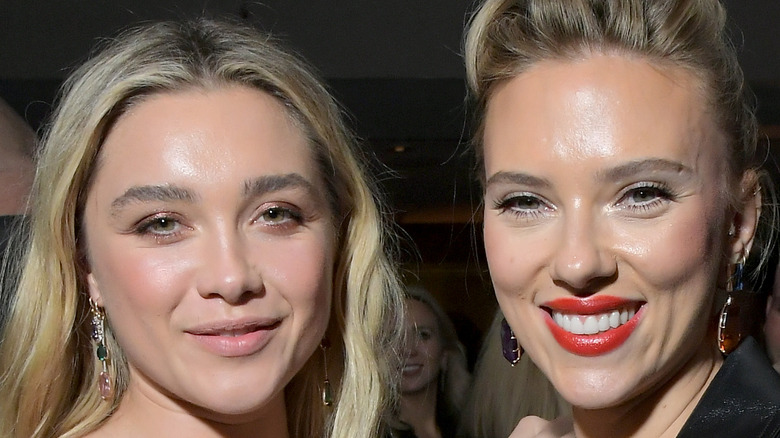 Charley Gallay/Getty Images
Scarlett Johansson has been playing Natasha Romanoff aka Black Widow in the Marvel Cinematic Universe in seven different movies over ten years, and a standalone film featuring Black Widow's origin story has finally been made (via ABC News). Alongside Johansson is Florence Pugh, playing Yelena Belova — a little sister-like figure to Romanoff; both were trained in Russia's Red Room to become master spies (from CBR). And while rehearsing, the two actors bonded in an unexpected way.
In a movie with so much action and so many stunts, the two were thrown into the rehearsal process — literally. And it had its benefits. "[T]he real bonding happened on the first or second day of Florence's work," Johansson told The Hollywood Reporter, "when we immediately slammed each other into door frames and cabinets. It was so physical, and it was a real icebreaker."
Pugh elaborated on one such ice-breaking moment as they worked on their fight scenes: "The moment where I totally died was when we were doing a scene and Scarlett put her hand in my armpit. And I just died because I knew how sweaty it was. So Scarlett looked at me and went, 'That's a sweaty pit.' I was like, 'Oh, no! That's it. It's over. R.I.P. Scarlett Johansson tested my sweat.'"
Florence Pugh and Scarlett Johansson are friends in real life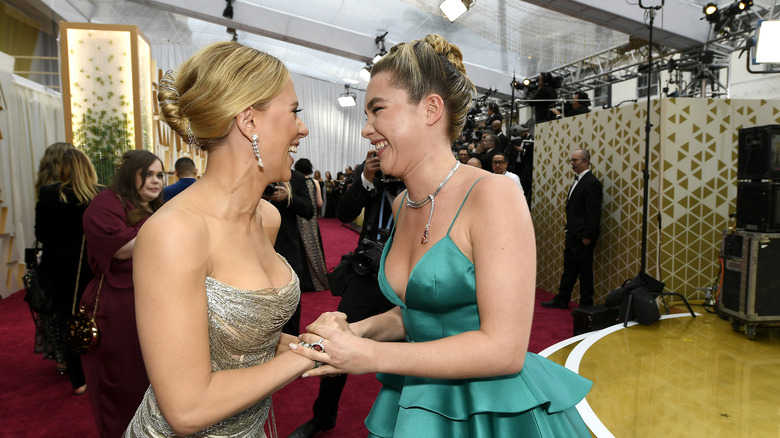 Kevork Djansezian/Getty Images
While Pugh is certainly no stranger to big films — she starred in "Midsommar" and "Little Women" — Marvel is another level. "With any franchise it's always slightly daunting because of what you're going to bring and what are you going to play," Pugh told Marvel. "I think for any actor that is automatically going to be a big deal."
As a Marvel veteran, Johansson gave Pugh some advice. "I did say to Florence in the beginning that this is a long job. She was particularly frustrated with something she wasn't landing or whatever, and this is such a long job that you have to preserve yourself physically. And selling things — the emotional grit behind it — is a much more valuable way to spend your time" (from The Hollywood Reporter).
And while they may fight on-screen, off-screen, it's completely different. "She's someone that I've looked up to for a long time," Pugh said. "So sharing moments like doing my first Marvel movie with her being there, or stepping onto my first Oscars' carpet and her being there, are moments that I'm so grateful to have had her there for. And I hope that doesn't end" (from ABC 11). And it's a mutual admiration society. "Florence is such a talented actor and she's the real deal," Johansson told Entertainment Tonight. "She's an amazing scene partner and she has a fresh take on everything and just meets you right there. It's awesome."