Is Ariana Grande Still Friendly With Ex-Boyfriend Pete Davidson?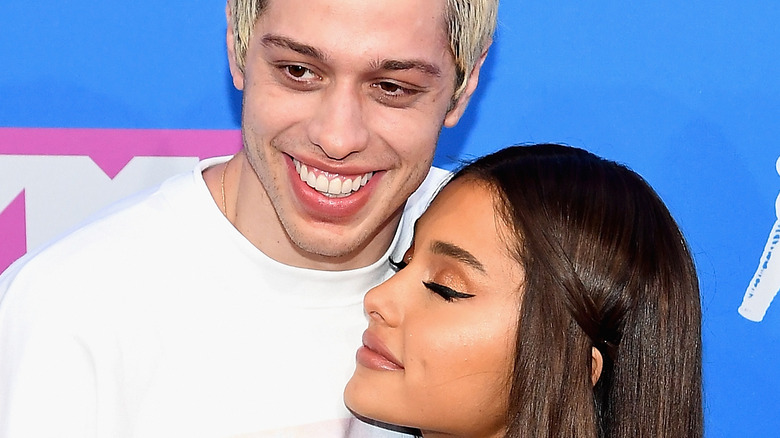 Nicholas Hunt/Getty Images
After a whirlwind romance and short-lived engagement, this unlikely couple called it quits. A lot has been said about the relationship and its aftermath, but you may be wondering if Ariana Grande is still friendly with ex-boyfriend Pete Davidson. Both of them have used the breakup to fuel their work, be it music or comedy, and have spoken publicly about the breakup. 
Grande and Davidson announced their relationship in 2018 and quickly went on to make things official by moving in together and getting engaged. Matching tattoos, numerous public appearances, and sweet social media postings came out of those few months. But before wedding bells could toll, they were history. Sources broke the news of their split in October 2018 with an unnamed person close to the couple telling People, "It was way too much too soon. It's not shocking to anyone." 
Both Grande and Davidson have dated other people in the years since, with Grande going on to get engaged and married in 2021. And each has spoken out about their relationship in the years since it ended, but many fans are left wondering if they are on good terms now. 
Ariana and Pete have thoughts about their relationship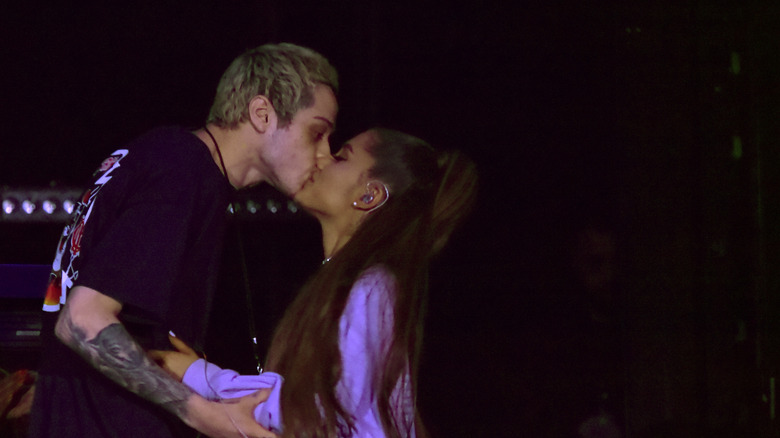 Kevin Mazur/Getty Images
Speaking with Charlamagne Tha God "Live Your Truth," Pete Davidson shared that he knew his time with Ariana Grande was over when he ex-boyfriend Mac Miller passed away in 2018. "I totally got it," he said. "She would even tell you this. I was like, 'Listen, I get it, do whatever you've got to do, I'll be here.' I think I said, 'I'll be here until you don't want me to be here.' I pretty much knew it was around over after that. That was really horrible, and I can't imagine what that s**t is like."
Davidson continued, "All I do know is that she really loved the s**t out of him, and she wasn't putting on a show or anything. That was f**ked up. Prayers to his family and all of his friends."
For her part, Grande went on to describe her relationship with Davidson as "a distraction," in a 2019 interview with Vogue. Davidson responded to the comment in his comedy special, "Pete Davidson: Alive in New York." 
"Can you imagine if I did that s**t? Like, 'Yeah, I was just f**king her because I was bored and then Fortnite came out,'" (per The Hollywood Reporter). After joking about enduring the song "Thank U, Next," he called Grande a genius and told fans that they weren't competing. While they may not go on to have hangout sessions, it sounds like the two are at least on joking terms. So, that's something.