The Surprising Reason The Details Of Princess Diana's Funeral Were Planned Before Her Death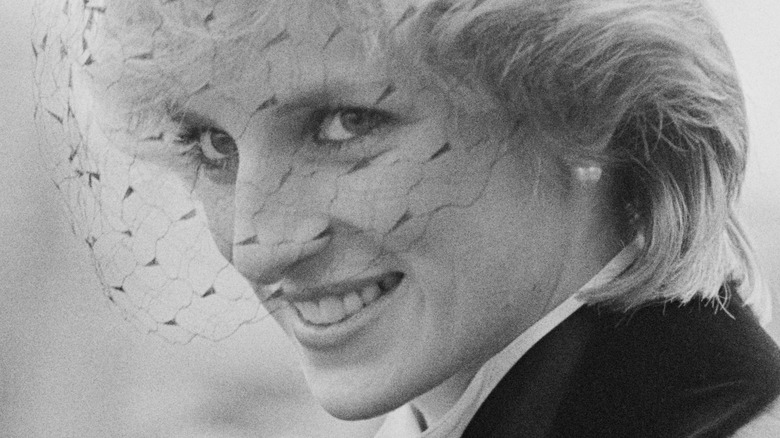 Len Trievnor/Getty Images
Princess Diana and Prince Charles divorced in 1996, and the next year, she died in a car crash. The accident happened in Paris' Pont de l'Alma tunnel on August 31, 1997. Her rumored boyfriend, Dodi Fayed, and her driver, Henri Paul, also died in the crash, while her bodyguard Trevor Rees-Jones was injured but survived (via The Sun).
Days later, on September 6, Diana's funeral was held in London and was watched by millions of people around the world. The same day, a private ceremony took place, as she was buried at her childhood home, Althorp in Northamptonshire (via Reader's Digest).
Diana's death was a sudden tragedy, and no one could have predicted that such a beloved public figure would die at her prime. There are certain traditions that must be upheld during a royal funeral, and while Diana was technically no longer a member of the royal family at the time of her death, she was granted every formality during the ceremony. Even though Diana was only 36 at the time of her death, the funeral had actually been planned out for over two decades ... just not for her.
Princess Diana's funeral had been rehearsed for 22 years as Operation Tay Bridge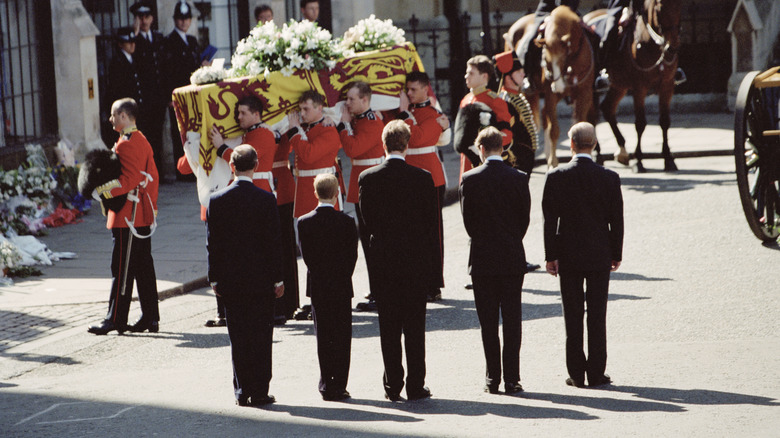 Colin Davey/Getty Images
Even though she was a former member of the royal family, Diana Spencer was honored with a royal ceremonial funeral. According to Rachel Bowie, the host of "Royally Obsessed," the details of the funeral had been planned for 22 years at that point, but was designed for the Queen Mother's death (via Express).
Traditionally, royal funeral plans are handled by the Earl Marshal and College of Heralds members, and they use codenames to distinguish between the different plans. Elizabeth Angela Marguerite Bowes-Lyon, Queen Elizabeth II's mother, was 101 when she died in 2002 — she was the longest-living British royal family member at the time of her death. Her funeral was nicknamed Operation Tay Bridge, but that was the funeral that Diana ultimately received, as reported by Express. "Pretty wild that she saw her own funeral play out in real time," said Bowie of the experience, as the Queen Mother attended Diana's funeral (via CheatSheet). 
The codenames referring to different royal funerals usually have to do with the person's titles. For example, the Duke of Edinburgh's funeral plans were called Operation Forth Bridge, Prince Charles' are Operation Menai Bridge, and Queen Elizabeth's is Operation London Bridge. When she passes, the information will be conveyed with the phrase, "London Bridge is down."