Royal Expert Reveals His Thoughts On William And Harry Spending The Holidays Together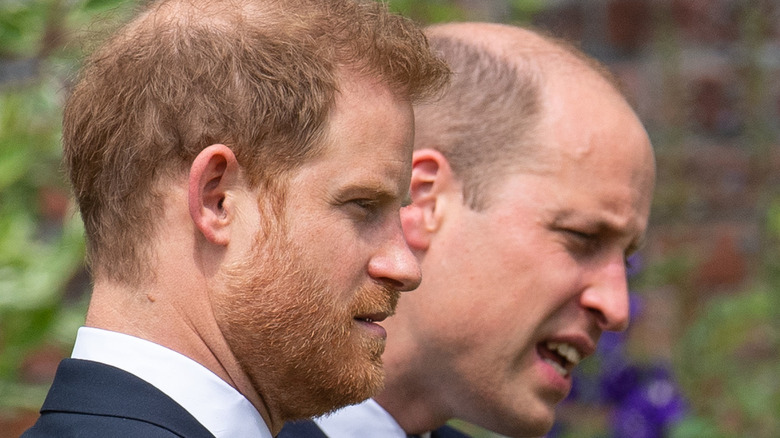 Wpa Pool/Getty Images
In the aftermath of the Duke and Duchess of Sussex's bombshell interview with Oprah Winfrey back in March, Prince Harry and Prince William's relationship appeared to be beyond repair. 
However, according to Us Weekly, many royal spectators have been holding out hope that the once inseparable siblings are on their way to patching things up, especially after the birth of Harry and Meghan's daughter, Lilibet, and their recent reunion at the unveiling of Princess Diana's statue in London — which was the first time the brothers had interacted with one another since the funeral of their late grandfather, Prince Philip (via the BBC). 
Despite any progress the pair might've made with their relationship in recent weeks, royal expert and London correspondent, Jonathan Sacerdoti, doesn't believe that Harry and William will be breaking bread over the holidays just yet. "It's perhaps unlikely that they're going to be spending what we would think of as quality family time together at Christmas and New Years and birthdays," he explained to Us Weekly. 
The Queen won't be meeting her new granddaughter anytime soon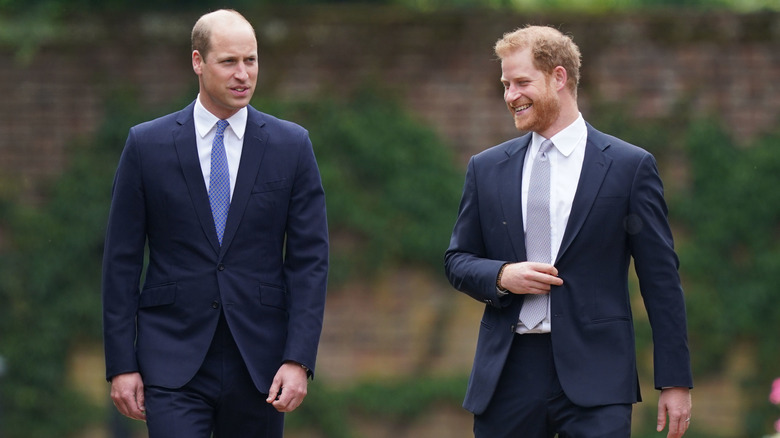 Wpa Pool/Getty Images
Commenting on Prince Harry and Meghan Markle's relationships with the rest of the royal family, royal expert Jonathan Sacerdoti added that there is still a great distance between the couple and other senior royals, revealing that Queen Elizabeth has yet to meet baby Lilibet and it "doesn't seem likely that she's going to anytime soon."
"On a human family level, forgetting them being the royal family, there's already quite some frostiness and distance there. So I suspect if things can go well, [then] maybe they'll have the occasional meeting, but I don't think it seems very high on anyone's agenda," the royal expert told Us Weekly. 
Despite the psychical and emotional distance between Harry and the royal sphere, sources recently divulged that the Duke of Sussex and Duke of Cambridge have started "the healing" process with their relationship following the unveiling of Princess Diana's statue, which was created in honor of the late Princess of Wales' 60th birthday (via Vanity Fair). 
"William and Harry spent the morning before the statue unveiling looking through old keepsakes, notes from Diana, and bonding ... They have absolutely turned a new page in their relationship and have started the healing," a royal source told Us Weekly.