How COVID-19 Has Changed The Office Dress Code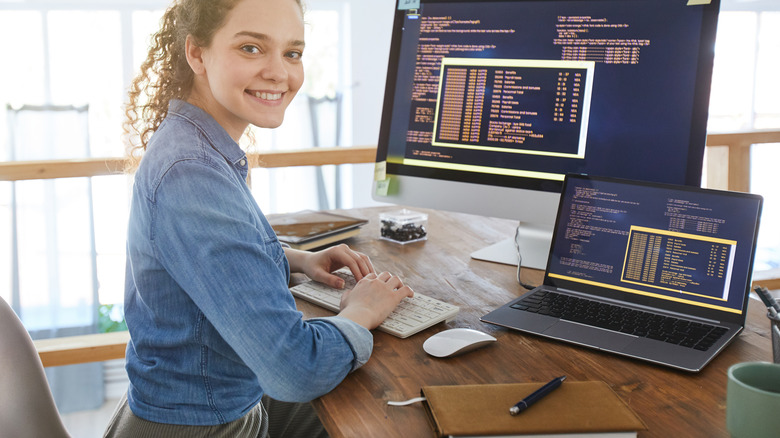 Shutterstock
After a year of pajamas, sweats, slippers, and Zoom meetings where one could only be seen from the neck up, the workforce has been emerging from their homes and returning to an office environment as more people become vaccinated against COVID-19. 
However, the comfort of working from home has not been something people want to give up so easily. The isolation may have been hard for some, but the lack of a rigid and more formal dress code was not.
That means office environments and company rules have been adapting to a new and more casual world where work can still get done without the rigidity of dress code requirements. After all, work got done for over a year with nobody in the office at all. No, people aren't showing up to work in their nightwear, but they are opting for a much more comfortable wardrobe, according to The Washington Post.
Women are keeping their elastic waistbands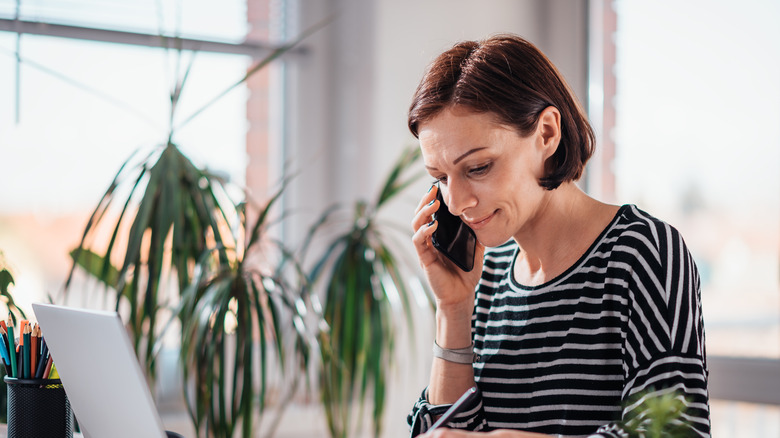 Shutterstock
In the past, a typical office dress code for women would consist of skirt or pantsuits, dark and neutral colors, and white button shirts in a more formal business environment. A business professional dress code typically included skirts and slacks, a button down shirt in any neutral color, and a neutral blazer. Business casual allowed for slacks or khaki pants and blouses that didn't have to be button down, but also in neutral colors and not low cut (via Money Crashers). All that has changed in 2021 as people head back to work.
The Washington Post reports that women may be wearing skirts and slacks, but are now opting for versions with elastic waists. Dresses have become looser and more flowy, and retailers have learned to accommodate.
The apparel industry took a blow when the pandemic first began, seeing an 87% sales drop during the first two months of people staying at home and working from home. Retailers selling business wear, including Brooks Brothers, J. Crew, and Ann Taylor Loft all filed for bankruptcy over the last year. That left companies scrambling to create clothing for a pandemic and post-pandemic world. For example, Banana Republic is offering dresses with removable belts and adjustable straps.
"We are seeing hybrid dressing: workwear meets eveningwear meets leisurewear," Banana Republic's Ana Andjelic told The Washington Post. "All bets are off."
Comfortable clothing options are causing dress code confusion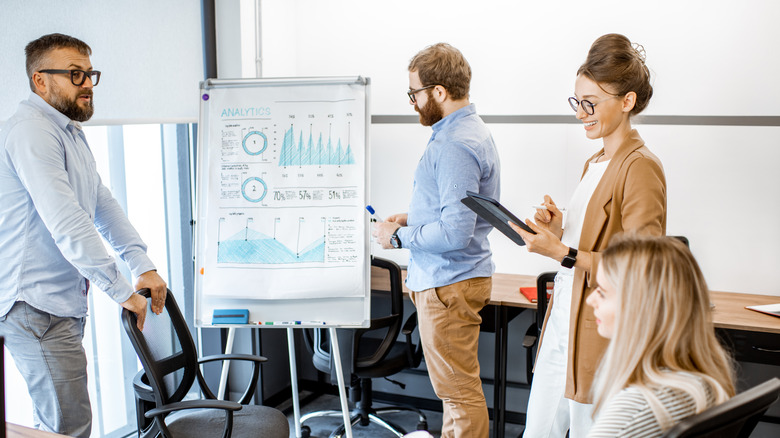 Shutterstock
Many newly-returned workers are wondering what comfortable clothing they can get away with. While it's generally agreed that flip flops and short shorts are off-limits, other items that were not usually seen in business environments are not.
The Washington Post reports that sales for items like polo shirts, leggings, tunic tops are projected to grow over the next year, while traditional suit sales are expected to drop.
"It sounds great: We're going to be more casual when we go back to work," Fokke de Jong, founder of Amsterdam's Suitsupply told the outlet. "But it's complicated, actually, for a lot of people. The hoodie won't work. But if you're going to do something between that and a suit, it leaves a lot of options." 
As North Carolina copywriter Abby Slattery put it when talking to The Washington Post: "We're testing the waters, trying to figure out where the cutoff line is," she explained. "How can we push the office to be a little bit more casual than before? Do we need to be wearing dresses and slacks, or can we get away with jeans and T-shirts?"