This $7 Halter Top From Amazon Is Blowing Up On TikTok Right Now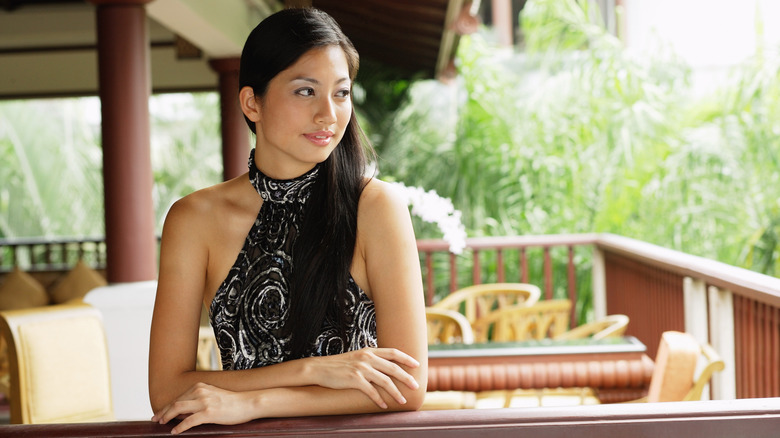 Shutterstock
We may receive a commission on purchases made from links.
If it's hot where you live, chances are you're wearing a lot fewer clothes than you do during cooler months. Halter tops are an excellent way to leave your shoulders and upper back bare while still providing ample coverage. 
According to the Encyclopedia of Fashion, the style started in the 1930s as a neckline for formal gowns. From there, it showed up in swimsuit designs and then shirts. Now, it's a readily available neckline style in a variety of outfits and dresses — in fact, halter tops are a wardrobe staple for countless celebs, including Kylie Jenner and her famous older sisters. They're also all over TikTok this season. 
If the heat doesn't last too long, though, you probably aren't interested in spending a fortune on clothes that you'll only wear a few months out of the year. But here's the great news: PopSugar reported that a viral halter top from TikTok is available on Amazon, and the price will likely leave you smiling. 
Here's how to style the $7 TikTok-famous halter top from Amazon
According to PopSugar, the Amazon halter top that went viral on TikTok sells on the popular site for a mere $7. The machine-washable top comes in a variety of styles, colors, and prints. Although the publication noted this top is satin, it also comes in other stretchy fabrics. With sizes XS through XL, this style works for a variety of bodies. Several versions of the affordable shirt also allow for different ways of styling, which can leave more or less skin showing, depending on how you wrap it. 
PopSugar noted that the garment had a 1990s vibe and suggested you pair it with cutoff denim for a comfortable and stylish warm-weather outfit. The seller — Naranjaburbuja — notes that the fashionable halter works well with various styles, from date night to daily wear and more. Plus, it's TikTok approved. With so many different types available and at such a great price, you might as well add a few options to your cart and see which one you like the most!