Here's What You Need To Know Before Watching 90 Day Fiance: Caribbean Love
Another "90 Day Fiancé" spinoff is on its way. Following years of success on the TLC Channel, the hit franchise is coming to Discovery+ with a brand new set of couples in "Love in Paradise: The Caribbean, A 90 Day Story." And, according to the upcoming series' trailer, via a report from Showbiz Cheat Sheet, it will follow four Americans who struck up romances with locals during their visits to tropical locations.
In the upcoming episodes of the show, the four couples will be seen in various phases of their relationships as they transition out of their steamy hookups and into real life situations and real-life issues, including the challenges of a long-distance relationship and decision making about their futures.
After filming the new spinoff in Jamaica, the Barbados, Costa Rica, and Panama, fans were introduced to the couples, including Aryanna and Sherlon, who met while Aryanna was on vacation in Sherlon's hometown in Jamaica and ended up conceiving a child. According to the report, Aryanna is in love with Sherlon but worries about his career working at a swingers resort where he admits "crazy stuff goes on."
Commitment issues plague the cast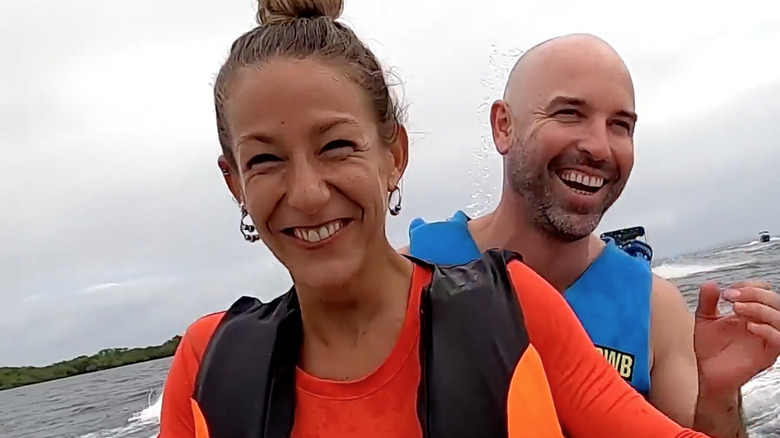 Discovery +
Also featured on the new series are Martine and Steven, who met on a cruise in the Barbados. According to E! Online, Martine is worried about Steven's lifestyle as a DJ because "people always try to throw themselves" at him. Still, as he expresses fears about committing, she makes it clear that she's hoping for an engagement ring.
The third couple included on "Love in Paradise: The Caribbean, A 90 Day Story" is Mark and Key, who initially fell in love in Panama as Mark helped Key recover from an overdose. In one preview clip from an upcoming episode, Mark says, "I let Key get away one, and I'm not going to let that happen again." Mark then gives Key an ultimatum to either relocate to California or end the relationship.
The fourth and final couple is Amber and her Costa Rican fiancé, Daniel. While Amber is ready for marriage after spending three years with Daniel, she fears he's only with her for her money.
"Love in Paradise: The Caribbean, A 90 Day Story" begins streaming on Sunday, July 18th on discovery+.