The Real Meaning Behind Halsey's Unique Baby Name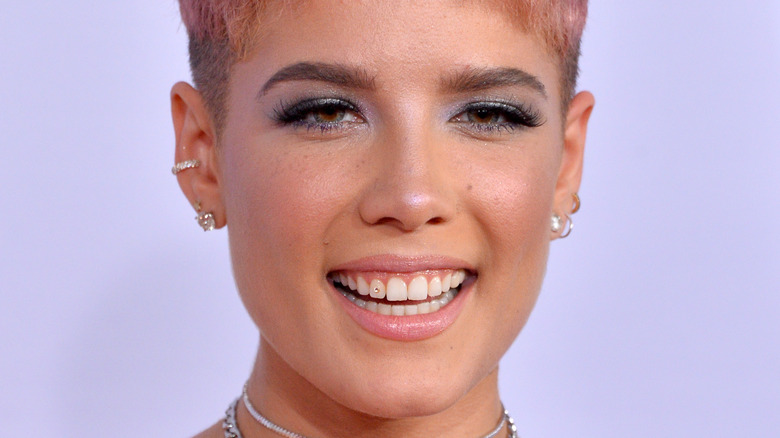 Shutterstock
Halsey announced via Instagram that she has given birth. The singer and her boyfriend, Alev Aydin, welcomed Ender Ridley Aydin into the world on Wednesday, July 14. The news came with sweet black-and-white family photos, and the caption on her social media post read, "Gratitude. For the most 'rare' and euphoric birth. Powered by love."
Halsey shared that she was expecting her first child in January, after years of struggling to get pregnant. She previously opened up about her endometriosis and surgeries, as well as stated that she had been pregnant and then had a miscarriage (via People).
When the singer first broke the news about being pregnant on Instagram, she tagged Aydin. Though their relationship has been kept private, Halsey told Us Weekly that the pregnancy was planned. This producer, director, and screenwriter has been in her life for years, and they took their relationship to the next level with matching tattoos in 2020.
Halsey gave her baby a meaningful name
Halsey is an anagram for Ashley, as this singer's real name is Ashley Frangipane. The name Alev — as in Halsey's boyfriend, Alev Aydin — means "flame" in Turkish, as stated by babynames.com. So what does their child's name mean?
On Instagram, the star shared that their new bundle of joy is named Ender Ridley Aydin, and in the caption, she wrote that she had gratitude "for the most 'rare' and euphoric birth." Ender is another Turkish name, which translates to "very rare" (via Capital FM). The middle name, Ridley, is from Old English, and it means "reed meadow," according to The Bump.
So not only is this name a unique and beautiful one, it is also meaningful. This baby's parents are talented in their fields, with numerous projects and awards under their belts, making them quite distinct. And while Halsey and Aydin have seen great success professionally, they have now started on a new and exciting adventure. After years of waiting and trying, they are now parents to one special little baby.