This TikTok Makeup Hack Uses One Unusual Product To Contour Your Whole Face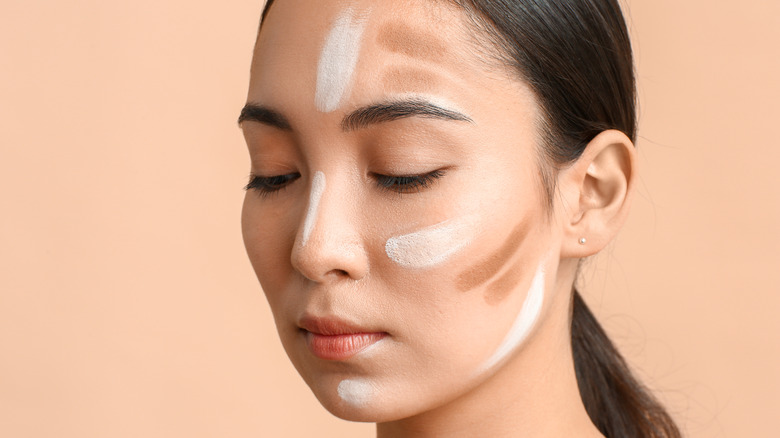 Shutterstock
With TikTok taking over every waking moment of our lives, it's only natural that we get the latest beauty trends from the social media platform. From somewhat questionable techniques such as using sunscreen to contour to this downright bizarre use of a potato to fight acne (yep), these TikTok beauty trends come and go, so it's hard to get excited about Every. Single. One. But when one TikTok video racks up nearly 900,000 likes, it's time to take note. 
The video in question belongs to TikTok superstar Lenkalul, whose contouring video went viral on the platform, after she recreated the look from makeup artist Sellma Kasumoviq –- who "started the viral blush trend" (via TikTok). And guess what? The viral TikTok contouring technique uses just one (rather unusual) beauty product. We all know that blush placement can affect the shape of your face, but what about blush contouring — with a product you already have in your makeup bag.
The TikTok red lipstick contour hack actually works
This time, it's lipstick's turn. Smearing red lipstick all over your face might seem counter-intuitive, something you may have done as a child raiding your mom's makeup bag. But by applying lipstick in the right places — says makeup artist Felicia Marie (via Refinery29) -– you are left with a more radiant and sculpted base.
First, choose a lipstick that's bright red but warm-toned for a gentle flush (via Grazia). Sweep it across the cheekbones, nose, and forehead — basically anywhere the sun might naturally hit. Then, blend it all in, baby. At this point, it may look like you've spent too much time in the sun (especially on paler skin tones), but trust the process. Add additional contouring with a darker brown tone, on the edges of your nose, under the cheekbones, under your bottom lip, and around your temples, as demonstrated by Lena (via TikTok). Next, add your usual foundation, concentrating on the apples of your cheeks and the middle of your forehead, and get to blending once again. After a serious amount of blending, your result should be a glowy lit-from-within look.
Whilst a pretty cool trend to try, Grazia points out that the look could be achieved without using lipstick, as lipstick isn't intended for your skin, so it's more likely to clog your pores (via Grazia). Likewise, you could get a similar dewy effect from using a cream blush. But whichever way you choose to blush going forward, it's always fun to give something new a try, right?