Why Mitch McConnell's Recent Comment On COVID-19 Vaccines Has The Internet Divided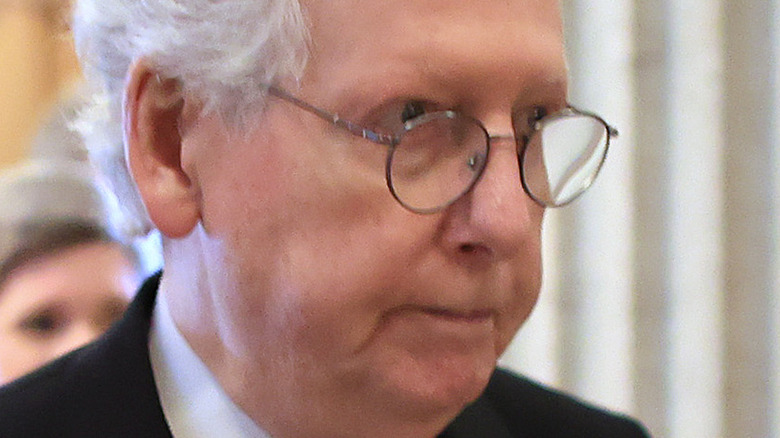 Chip Somodevilla/Getty Images
When Senate Minority Leader Mitch McConnell held his weekly meeting with congressional reporters, one thing appeared to weigh heavily on his mind: COVID-19's delta variant, now sweeping across the country. 
"These shots need to get in everybody's arm as rapidly as possible, or we're going to be back in a situation in the fall that we don't yearn for, that we went through last year," McConnell stated, per The Washington Post. "I want to encourage everybody to do that and to ignore all of these other voices that are giving demonstrably bad advice."
What McConnell didn't say is that his consistent push for supporters to get the coronavirus vaccine made him an outlier, because most of the "demonstrably bad advice" was coming from within his own party. Senator Josh Hawley, whose home state of Missouri, has said it is not a good idea to push for vaccine mandates because the move would not sit well with GOP voters, even though he admits that he is tracking the COVID case count daily and "it's not good." 
On July 19, per The New York Times, Twitter suspended Representative Marjorie Taylor-Greene's account for 12 hours, citing "sharing misleading information about the coronavirus," specifically tweeting that COVID-19 wasn't a problem unless someone was obese or over 65 years old and that the vaccine shouldn't be a requirement.
CDC director Rochelle Walensky says we're in a "pandemic of the unvaccinated"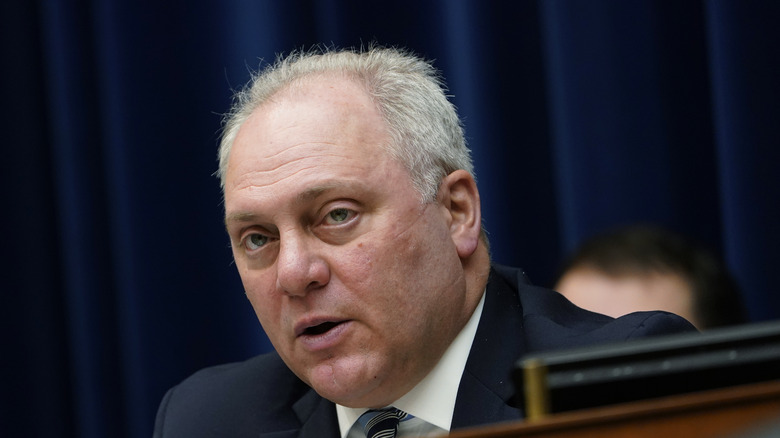 Pool/Getty Images
In Congress alone, a CNN survey conducted in May showed that all House Democrats have been vaccinated, while only 44.8% of House Republicans have admitted to have gotten the shot. In the Senate, all 50 Democratic senators are vaccinated, while only 46 out of 50 GOP Senators have done the same. CNN also said that Wisconsin's Ron Johnson and Kentucky's Rand Paul weren't planning on getting vaccinated because they had already gotten sick and didn't need the extra boost. 
The number of unvaccinated congressmen changed over the weekend when the GOP's No. 2 House member Steve Scalise was vaccinated with his first dose and asked his supporters to do the same. After months of downplaying the seriousness of COVID-19, Scalise said he decided to get the shot with the spread of the delta variant, as well as rising caseloads across the country. He was also adamant that politics had nothing to do with his decision to get the shot (via The Washington Post).
While numbers are well below what they were when the disease peaked in December 2020, CDC director Rochelle Walensky is calling the recent wave of COVID-19 infections a "pandemic of the unvaccinated," and has said it was imperative to get fully vaccinated to protect everyone around them. "Do it for yourself, your family and for your community," she stated per The New York Times. "And please do it to protect your young children who right now can't get vaccinated themselves."
The abrupt change in the GOP's stance on vaccines is turning heads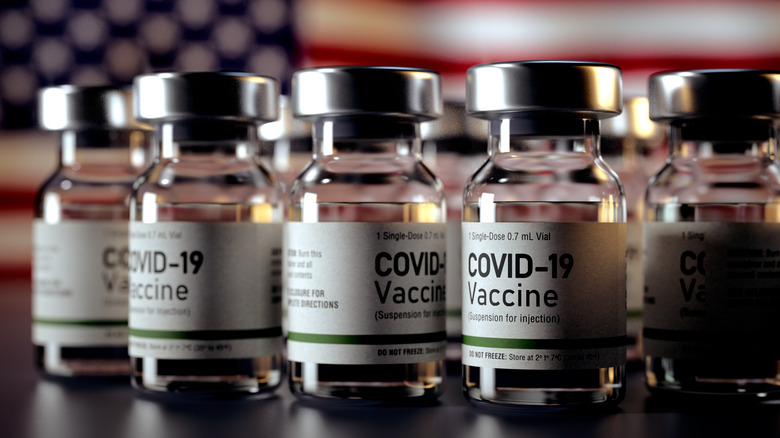 Shutterstock
The GOP's sudden about-face with regard to vaccines has social media's head spinning. "Why the sudden change from the GOP towards a pro vaccine stance?" one social media user tweeted. Another guessed "The gop (sic) is only vaccine positive now because the stock market plunged due to the spread of #DeltaVariant."
One Twitter user invited social media to give GOP leadership the benefit of the doubt. "This is how leadership should look like. so..u should applaud then, don't question their motive. Cus every time the GOP encourage people to take the vaccine, they're saving lives by engaging, inspiring n motivating people. Which is great for our children n the country as a whole," they wrote. 
But one user continued to insist that the GOP's vaccine hesitancy was to be expected. "Buddy, this is the same vaccine that was developed under Trump. They started administering it before January 20th but it was only after that date did the vaccine become ok,"  the Twitter user raged. "Wonder why? We know damn well if Trump was still in office dems would be rallying against the vaccine."