Why A Royal Expert Says Lilibet's Christening Could Put The Queen In A Tricky Spot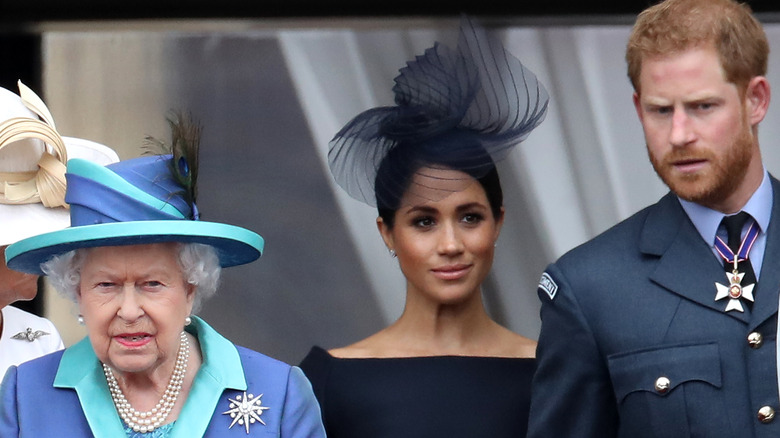 Chris Jackson/Getty Images
Although Prince Harry and Meghan Markle are living a decidedly un-royal life in Montecito, California and their second child, Lilibet Diana, was born in the United States on June 4, 2021, royal insiders have said it's possible that Duke and Duchess of Sussex will want to christen their daughter at Windsor Castle in the United Kingdom, according to the Daily Mail. If Harry and Meghan do opt to christen Lili in England, this could put Queen Elizabeth in a difficult position, as Harry would expect his grandmother to attend the event.
In fact, when Harry traveled back to England for the unveiling of Princess Diana's statue in early July 2021, sources said he would be happy to delay the christening "until circumstances allow" (via the Daily Mail). However, royal experts say it's unreasonable for Harry to think that the queen would attend the christening of her great-granddaughter for a variety of reasons. First, she wasn't in attendance for Prince Louis' christening, William and Kate's third child, nor did she attend Archie's christening, Lilbet's older brother. And of course, there is that famous rift between the Sussexes and the rest of the royal family that could keep her away.
Royal experts warn that Lilibet's christening could be awkward for Meghan and Harry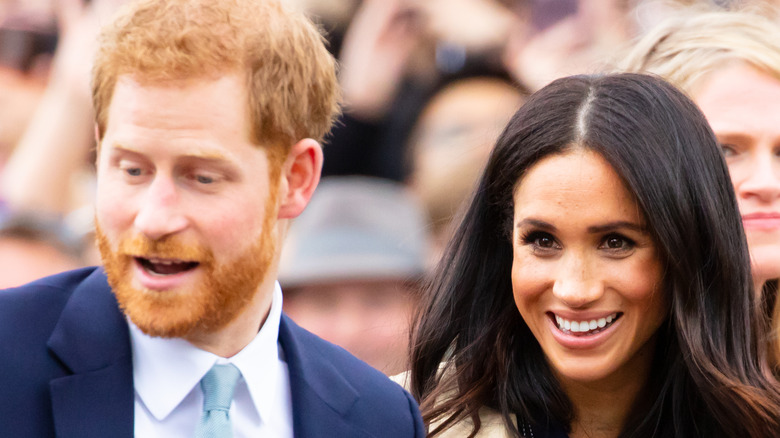 Shutterstock
Prince Harry and Meghan Markle didn't win themselves any added fans within the royal circles when they told Oprah Winfrey all sorts of issues they had with Harry's family during a CBS interview in March 2021. Instead, they alienated people, and their daughter's christening could be an extremely tricky event.
"It will be definitely awkward," The Mirror editor Russell Myers told Today. "Meghan isn't flavor of the month with the family. Certainly, the family has always said they will be much-loved members of the family. However, we're still talking about the fallout of the Oprah Winfrey interview, Emmy or no Emmy nomination," (via The Toronto Sun). 
During the Oprah interview that shocked the world, Harry and Meghan accused the royal family of racism against Meghan, as well as against their young son, Archie. The duchess also said she felt suicidal while pregnant with Archie (via CNN).
However, the Daily Mail pointed out that Myers also assessed that Harry wanting to christen his daughter at Windsor Castle could be a sign that he wants to keep a connection with his family, despite the rift between them that prompted his move to California.