Love In Paradise's Amber Dishes On Falling In Love In Costa Rica - Exclusive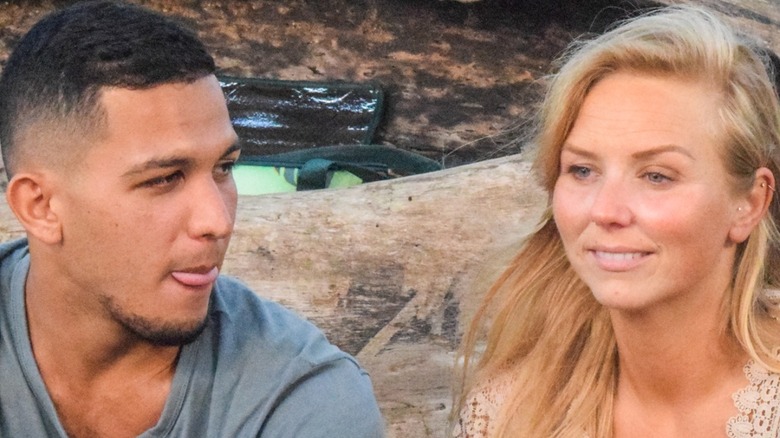 discovery+
While falling in love on a tropical island sounds like The Dream, oftentimes it's not all it's cracked up to be. Which is exactly what TLC's new show is all about. "Love in Paradise: The Caribbean, a 90 Day Story" follows several international couples that met in various Caribbean locations — like Amber and Daniel. "I was traveling and I ended up going to Costa Rica," Amber, a Florida resident, told The List in an exclusive interview. "Amongst my travels, I met Daniel and as the time went on, things got more serious between Daniel and I." Amber and Daniel are now filing for a K1 visa so that they can get married and live together in the United States, but they're running into some challenges — like, as Amber said, "long distance international relationship, cultural differences, language differences."
However, as difficult as the relationship may be sometimes, Amber and Daniel are deeply in love. How did they get that way? Amber from "Love in Paradise" dishes on falling in love in Costa Rica — and it's just as romantic as one would imagine.
Amber details the night she met Daniel in Costa Rica
How does a waitress from Florida meet a Venezuelan living in Costa Rica? On vacation, of course. As Amber put it, her and Daniel's first night together was all about "partying and drink and having a good time."
"I had been traveling with some friends and they just met some guys and we were like, do they have any friends?" Amber dished to The List. "One thing led to another and we all started drinking together and then he shows up and would I say love at first sight? No, but at that moment I was like, oh, he is so fine." That one night stand turned into three days and three nights together, but then Amber had to leave Costa Rica for Australia to continue her trip.
Luckily, Daniel wasn't done with her yet. "I was in Australia ... [and] he called me," she went on. "I was visiting a kangaroo park and so when I answered it, I'm just sitting next to the kangaroo. He was so moved by that ... I was able to not just give him [that experience], but share with him, it just clicked at that moment." Talk about romance, right? Oh, it gets better: "There hasn't been a day that he hasn't texted me or called me since then, three years later," Amber finished.
Amber reveals what turned Daniel from a one night stand into her forever man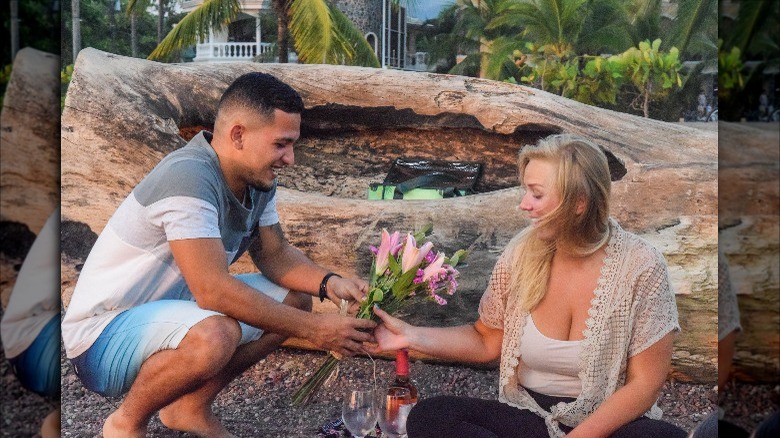 discovery+
Besides the unforgettable romance of falling into one another's arms in Costa Rica and sharing an incredible moment while she was in Australia, there was one particular thing that turned Daniel from a one night stand into the man Amber wants to spend the rest of her life with. "Daniel was really eager to know about me and who I was as a person," she explained. From her experience, most of the men she'd met at home in Florida or out on her travels were "only [looking] for one thing, to hook up." But, as she put it, "Daniel was different. He really wanted to know who I was."
And when he was learning who she really was, they discovered that they share a love of learning. "I love to learn stuff and I love to learn facts about this and that and he loves to learn too. He'll tell me something, I'm like, oh, I didn't know that," Amber went on. And that's not all — Amber also can't get enough of the fact that Daniel can't get enough of her. "He's the lighter to the gasoline ..." she revealed. "It lights the flame ... I've never had anybody to be so swarmed by me. It makes me feel beautiful."
New episodes of "Love in Paradise: The Caribbean, a 90 Day Story" drop weekly only on discovery+.