Inside Hayden Panettiere's Relationship With Brian Hickerson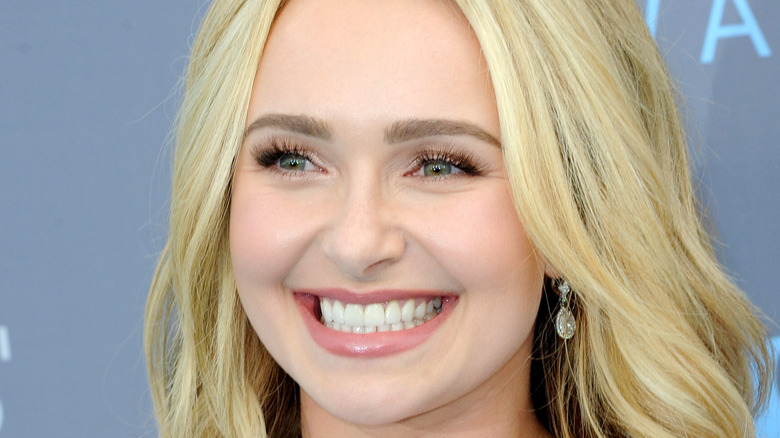 Shutterstock
On July 17, "Heroes" actress Hayden Panettiere was spotted with her ex-boyfriend, Brain Hickerson, at a restaurant in Los Angeles' Sunset Strip. A few days later, the former couple returned to the restaurant to watch the NBA finals, according to People Magazine. While this situation might have been relatively normal for other former couples, the tumultuous nature of the relationship that existed between Panettiere and Hickerson has sounded alarm bells for many.
According to Us Weekly, Panetierre began dating Hickerson in August 2018, just shortly after calling it quits with ex-fiancé Wladimir Klitschko with whom she shares a daughter. At least at the beginning of their relationship, the pair seemed totally infatuated with one another. Just a month after they began dating, a source who saw the couple interact at a restaurant told Us Weekly that they seemed to be enamored with each other. "When their two friends went exploring the space, they stayed behind and remained close to each other talking and kissing," the source told Us Weekly.
Unfortunately, that magic seemed to fade quickly. In October 2018, authorities were called to investigate a domestic dispute at the home of Hickerson's father. Though it was initially believed that Hickerson had brought harm upon his father in some way during the altercation, charges were never filed, per Us Weekly. Just a month later, those close to Panetierre began to worry about her safety in the relationship – and for good reason, it turns out.
Hayden suffered through an abusive relationship with Brian
Just months after Hayden Panetierre gushed about her then-boyfriend to Us Weekly, telling the publication that she intended to marry him in the future, Brian Hickerson was arrested for domestic violence in May 2019. 
According to the outlet, the police found marks on Panetierre's body that suggested that she had been physically assaulted by Hickerson. Throughout the remainder of 2019 and the first portion of 2020, the pair got into other altercations that eventually led to Hickerson pleading no contest to two felony counts related to this domestic violence in April. Hickerson was sentenced to 45 days in county jail.
Hickerson served time in county jail and was released in May. Hickerson spoke to E! News about his recent reunion with Panetierre at the Sunset Strip restaurant. "We went to a new restaurant that is Texas-based, and being a Southern guy, I'm a big fan of country music," Hickerson told the outlet. "So yes, there was some line dancing involved. Hayden and I are not back together but are working on a friendship. We have a long history together, and the first step in my recovery as an abuser is making amends. That's exactly what Hayden has been gracious enough to allow me to do."
If you or someone you know may be the victim of child abuse, please contact the Childhelp National Child Abuse Hotline at 1-800-4-A-Child (1-800-422-4453) or contact their live chat services.