Joe Biden Shares Harsh Words For Anyone That Downplays The Capitol Riot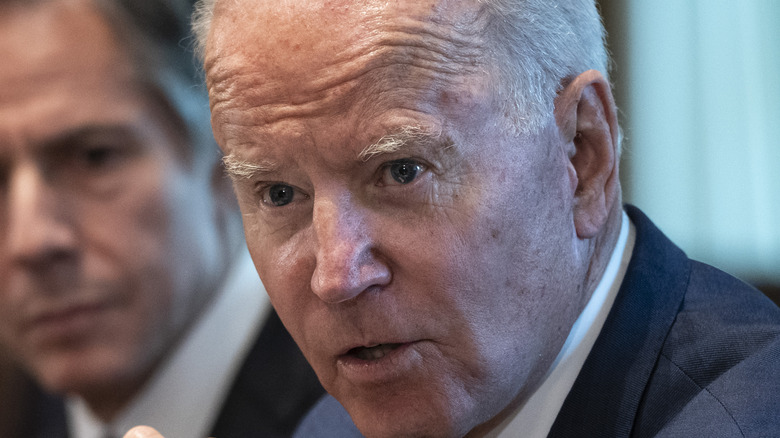 Drew Angerer/Getty Images
The bloody January 6 riot at the United States Capitol has been described in different ways by leading voices in the Republican caucus. Wisconsin Senator Ron Johnson called it a largely "peaceful protest." Arizona House Representative Paul Gosar has called those who participated in the event "peaceful patriots" (via Forbes). And in his most interview which ran in Vanity Fair, former president Donald Trump not only called the group the largest crowd that he had ever addressed, he also called the protesters "a loving crowd ... There was a lot of love. I've heard that from everybody. Many, many people have told me that was a loving crowd."
But President Joe Biden did not sugarcoat the way he felt about the January 6 insurrection, which saw police officers being dragged into the crowd and either trampled, assaulted with building material, or maced. The Associated Press reported that five people died due to the attack, and two committed suicide afterwards. The president, who is a devout Catholic, said, "I don't care if you think I'm Satan reincarnated. The fact is, you can't look at that television and say nothing happened on the 6th. You can't listen to people who say this was a peaceful march. No, I'm serious. Think about it. Think of the things being said," via The Enquirer. Biden's comments came as House Speaker Nancy Pelosi blocked the appointment of two Trump allies to a bipartisan commission investigating the event (via The Washington Post). 
Joe Biden's comment divided the internet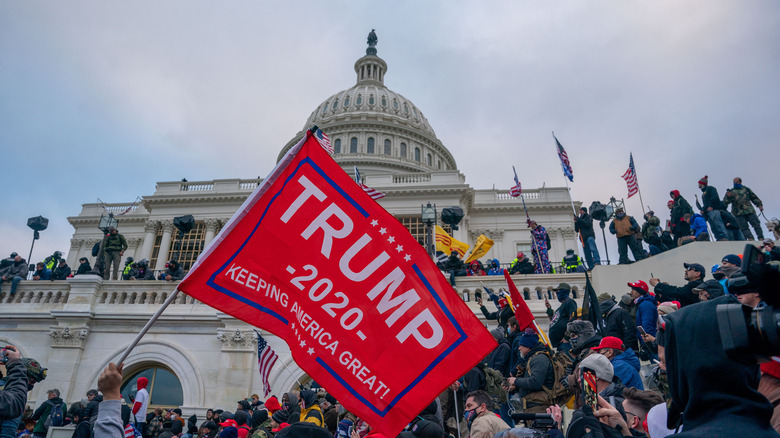 Shutterstock
Biden supporters took to Twitter to cheer the president on for calling out those who denied that January 6 was anything but a peaceful protest. One social media denizen said, "He was not my 1st, 2nd, or 10th choice, but once the party picked him, he was my only choice and I LOVE HIS HUMANITY. Thanks @potus! you aren't satan — you beat him like a drum last Nov." Another quoted Officer Michael Fanone, a member of the Washington, D.C. Metropolitan Police, who called out the former president, saying: "'Donald Trump's description of Jan 6 ... is a lie. That was not what I experienced. What I experienced was incredibly brutal hand-to-hand combat.' — Officer Michael Fanone."
But not everyone was in lockstep with Biden's assessment of what happened on January 6. One Twitter user called on investigators to look for the cause of the violence elsewhere, saying, "Investigate BLM and Antifa if you want to find real 'domestic terrorism.' Organizations that support the Castro regime and have done, MILLIONS, of dollars in property damage to their own communities." Still others took Biden at his word. One Twitter user (who could not have been a Biden fan) huffed, "Joe Biden said on his Town Hall on @CNN that he did not care if we thought he was SATAN reincarnated. Guess what Joe? We do think you are SATAN REINCARNATED!"