How Cara Delevingne Is Connected To This Surprising Royal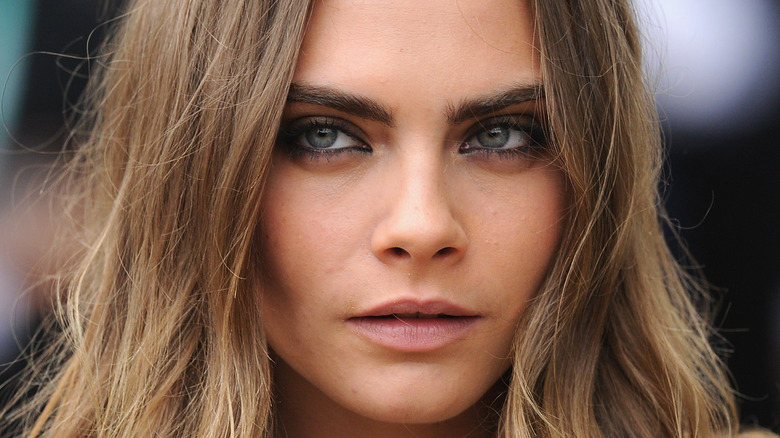 Stuart C. Wilson/Getty Images
Cara Delevingne has a lot of famous friends, which, given her status as one of the most famous models in the world, is hardly surprising. Over the years, we've seen her hang out with Rihanna (via Cheat Sheet), Miley Cyrus (via Elle), and Kendall Jenner (via Daily Mail), among a myriad of other stars. But the 28-year-old has more surprising connections, too — including with royalty.
You might imagine her to be familiar with some of the younger royals, and you wouldn't be wrong. Indeed, she attended Princess Eugenie's wedding in 2018 (via Harper's Bazaar), and reportedly once even prank-called Prince Harry while hanging out with "Suicide Squad" co-star Margot Robbie (via Wonderwall) — but what about their grandparents? 
While there's a rather large age gap spanning several decades between the model and the older royals, there's a surprising connection you might not know about. Here's how Cara Delevingne is connected to the late Prince Philip. 
Cara Delevingne's grandmother knew Prince Philip
Cara Delevingne belongs to a rather successful family. Her father is property developer Charles Hamar Delevingne, and his side of the family features politicians and socialites, while her mother's side of the family boasts a number of magazine and newspaper proprietors (via Evening Standard). 
Not only that, but her grandmother on her father's side, Angela Delevingne, met Prince Philip back in 1930, as Cara and her sister, Poppy, revealed on Instagram (via Page Six). They both posted the same black-and-white photo of Angela with the late royal from 1938, which was taken on a Venice beach by Angela's husband, Edward. Angela, who died at the age of 102 in 2015, was born into aristocracy, and her aunt was the stepmother of Lord Mountbatten's wife. Lord Mountbatten was not only Prince Philip's uncle, but the queen's second cousin once removed as well. 
Who knew that the Delevingnes had been rubbing shoulders with royalty for so long?