Why This Familiar Face From The Olympic Opening Ceremony Has Twitter In A Tizzy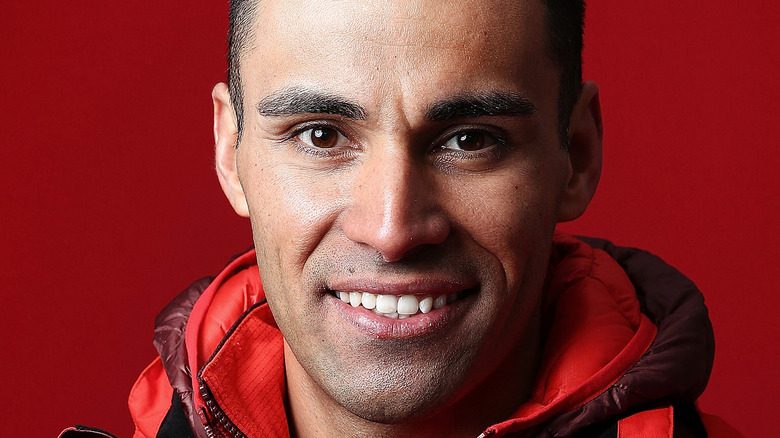 Marianna Massey/Getty Images
Pita Taufatofua is a three-time Olympian. When the summer Games come around, he's Tonga's man to beat at the Korean martial art of taekwondo; in fact, he's already repped his country during the 2016 Rio Games (via The New York Times). In between Olympic taekwondo cycles, he moonlights as his tropical country's Olympic cross-country skier. He placed 114 out of 119 entries in the 2018 Winter Games, per The New York Times which — all things considered– is a decent result. 
But to us mere mortals, he's simply Pita the Tongan, or "the shirtless dude in Tonga's national costume," who never fails to wow and take social media by storm when he walks across the global stage carrying his national flag during the opening ceremony.
Pita returned to Tokyo 2020 sporting the same iconic look that made him a global celebrity — his country's national costume and, in the words of one Twitter user, "... so much oil that the US is thinking of invading the place." And to the delight of social media users, Pita wasn't the only Olympian who embraced his right to bare abs, because he had competition in Vanuatu's rower RII Riilio, who looked equally as eye-catching (via People).
Pita's return set Twitter on fire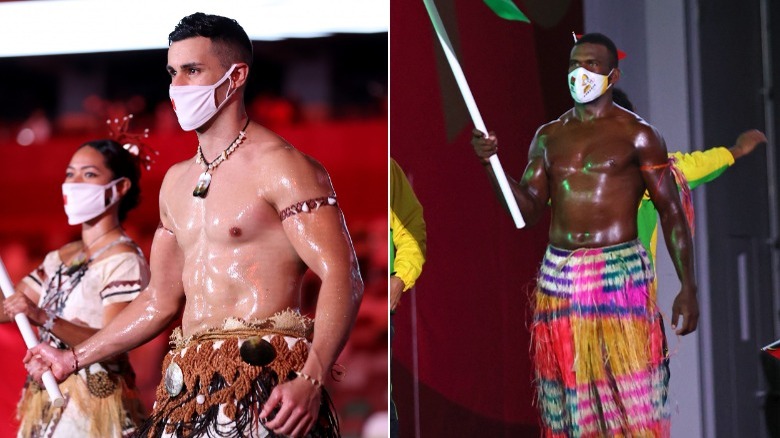 Jamie Squire, Jamie Squire/Getty Images
When Pita the Tongan appeared, all was forgotten. The angst brought up by the pandemic, the trials of the last 14 months, all gone with the site of his abs — and for one brief moment, many around the world were united in the simple joy of seeing Pita the Shirtless do his thing. "Is it even an Olympics ceremony now without Pita Taufatofua and his oiled-up torso?" HuffPost wondered aloud on Twitter. "Tonga never fails to disappoint at the opening ceremony," one social media user, who appears to have mastered the art of the understatement, said. 
There was appreciation for the "Battle of the Bearers," as a third Twitter user provided expert commentary on the scene that unfolded on televisions around the world, saying "Vanuatu v Tonga in the intense shirtless oiled flag bearer competition." A fourth warned, "BREAKING NEWS: Tonga flag bearer has been asked to step outside by the flag bearer for Vanuatu."
And there were the cynics too — this member of the Twitterverse wasn't amused by what he was seeing, and he made his displeasure felt, saying, "So that's Tonga and Vanuatu going head to head. How many more Olympics until the opening ceremony turns into a competitive oiled torso contest?"
While the cynics will say what they will, Pita the Tongan did something we should applaud him for — he brought a touch of normalcy (and Olympic eye candy) to an Olympics (and a year) that has been far from ordinary.