Why A Recent Photo Of Phoebe Dynevor's Younger Sister Has Bridgerton Fans Doing A Double Take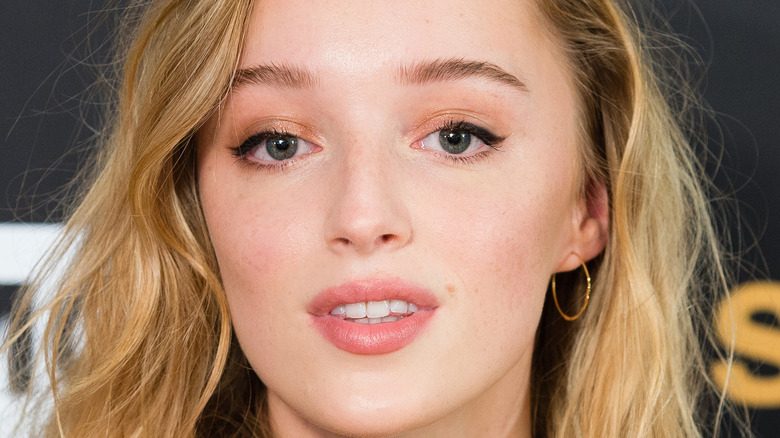 Jeff Spicer/Getty Images
With such a busy schedule, we can't really be surprised that "Bridgerton" star Phoebe Dynevor didn't join her family on vacation recently. A COVID-19 outbreak on the set of the hit Netflix period drama threw a spanner into the works (via Deadline) and meant that she didn't join her parents and siblings on the trip. Meanwhile, we still don't have a release date for "Bridgerton" Season 2 (via Daily Mail). 
However, Dynevor will definitely be able to see what her family was up to during their time away because her mom, fellow actress Sally Dynevor, shared a number of family snaps on Instagram. The 58-year-old was joined by her husband, Tim; her 24-year-old son, Samuel; and her younger daughter, 17-year-old Hattie. However, fans could be forgiven for thinking that Samuel and Hattie's older sister was on the trip after all, with many of them doing a double take when seeing the photo of Hattie on vacation. Here's why.
Phoebe Dynevor's sister bears a striking resemblance to the actress
Sally Dynevor, who has played Sally Metcalfe on the British soap opera "Coronation Street" since 1986, shared a number of family photos on Instagram, including one in which she's seen next to her younger daughter, Hattie (via Daily Mail). In the snap, the teen — with the same light yet piercing eyes, fair skin, and fair hair — bears a very close resemblance to her big sister, Phoebe Dynevor, leading fans to remark on how much the two look alike, despite being eight years apart in age.
Present in the other photos were Sally's husband, Tim, and son, Samuel, as well as a couple of friends. Sally captioned the post: "Home from a wonderful trip away, with wonderful family and friends." 
Meanwhile, various members of the "Bridgerton" team have had to isolate while filming has come to a halt (via Deadline). So, it doesn't look like Phoebe has been having as relaxing a time as the rest of her family as of late.