What To Know Before Trying The Thermage Skin-Tightening Treatment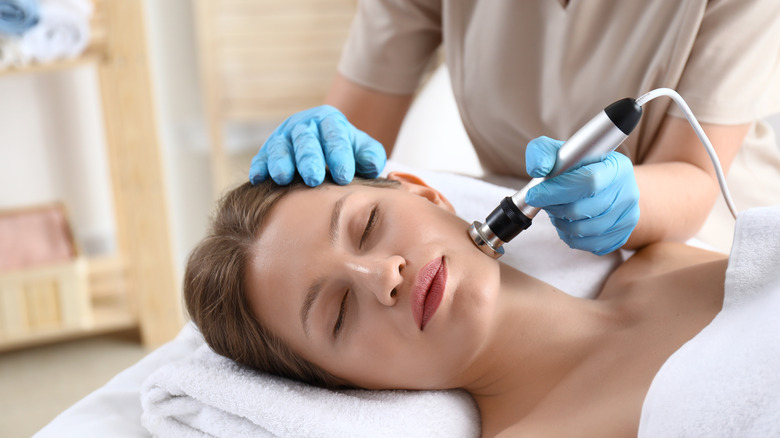 Shutterstock
Skincare may be a difficult science to master, but it can have incredible benefits for your skin. It can make you glow, keep your skin hydrated, and even do internal things like helping the blood flow to your face (in retinol's case). 
Having said that, skincare can be confusing. New products are always popping up — apparently, moringa oil and eucalyptus oil are two such popular skincare products of the moment — and so are new trends.
One skincare trend that's becoming increasingly popular is the Thermage skin-tightening treatment. "The Thermage system is a non-invasive radiofrequency (RF) therapy that can help smooth, tighten, and contour skin for an overall younger-looking appearance," explains the Thermage website. This process works by tightening the collagen in your skin, which, in turn, tightens your skin overall, making you look visibly younger (via Caring Derms). It also makes you produce more collagen, which contributes to a youthful look. Some of the most popular places on your body to get a Thermage treatment include around your eyes, abdomen, upper neck, and jawline.
Here's everything you need to know before trying the Thermage skin-tightening treatment.
Thermage is the annual treatment you didn't know you needed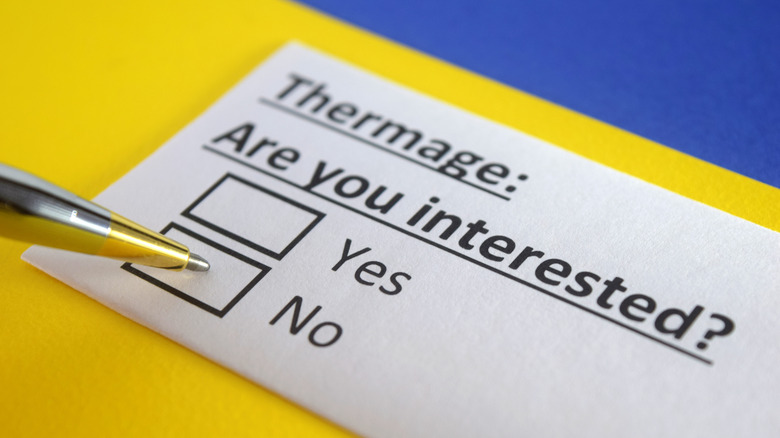 Shutterstock
Thermage might be all the rage, but you should still go into the treatment knowing a good amount about it. For example, according to the Thermage website, the procedure doesn't require downtime or rest; you're able to live your life regularly while getting this treatment. Furthermore, while its effects are long-lasting, it's recommended that you get this treatment once a year.
Now, while there's no downtime, you might be wondering how long this treatment takes. According to Thermage, the process only takes about 30 to 90 minutes, depending upon which part of the body you're treating. This, combined with the fact that you only need it once a year, sounds like a total beauty game-changer, right? Just as the procedure's time depends on the area of your body that you're getting treated, so does its cost. According to Real Self, the average cost of Thermage is $2,475, but it can range from $1,000 to $4,200.
Thermage is delivered via a radiofrequency wand. While part of the machine warms and stimulates your collagen, its tip cools your skin to keep you comfortable. The treatment generally causes no side effects, although some patients get redness or swelling at the treatment site. These side effects typically go away within 24 hours, per Thermage.