The Bachelor's Raven Gates Shares Exciting Family News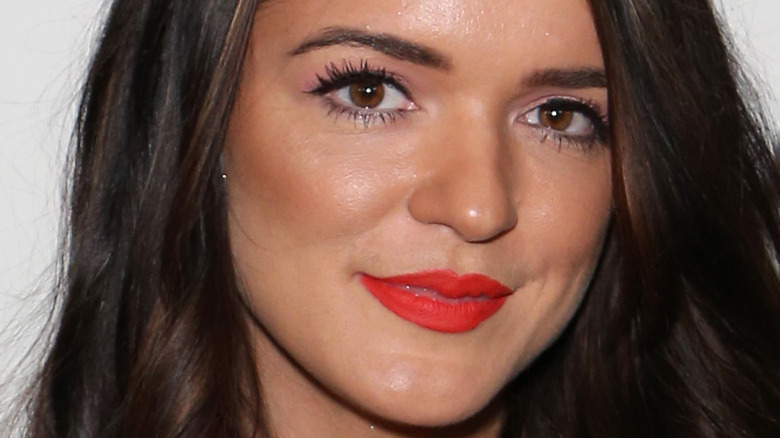 Gabe Ginsberg/Getty Images
It has been a very exciting year for "The Bachelor"'s Raven Gates and Adam Gottschalk. The reality stars, who met on "Bachelor in Paradise" in 2017, and got engaged in 2019, tied the knot in April — after first postponing their nuptials due to Covid-19 (via People). Now, the couple is sharing more happy family news, with Gates taking to Instagram to announce they are about to be new parents.
"OVER THE MOON EXCITED TO SHARE THE NEWS!" the soon-to-be mom wrote as a caption to a photo of Gottschalk lifting her up, as she holds a series of ultrasound images. "Our Honeymoon baby will be here in January!" Gates added.
She also shared a super-sweet sentiment about their bundle of joy, writing, "I've loved you before you were in my womb!"
More photos in the carousel revealed the baby's due date — January 26, 2022, as well as how pumped the stars are to welcome their little one early next year. In one photo, the soon-to-be new dad is seen leaping in the air with joy.
Adam Gottschalk is excited to be a dad, but there's a catch
Gates also talked to People about her pregnancy, saying, "It's so exciting. We found out right after the wedding. I've wanted to be a mom for a long time. And I always imagined creating a family with someone I love so much. And expanding my love with Adam into a human, I can't even imagine!"
She also updated fans that she is experiencing aversions to food, as well as telling the outlet, "And the lack of energy is probably what I've struggled with the most. It's tough."
Meanwhile, it seems Gottschalk, who said he too is looking forward to their special delivery, also admitted he is happy to have a minute, telling People, "I have nine months to get ready!" 
He also shared the couple's news via Instagram, writing, "Beyond excited to announce our little baby into this world. Your Mom has already started to like Daddy's food groups and I think that's a great start. Cheers to fatherhood."