This Is Why Dr. Fauci Thinks Even The Fully Vaccinated Might Need To Start Wearing Masks Again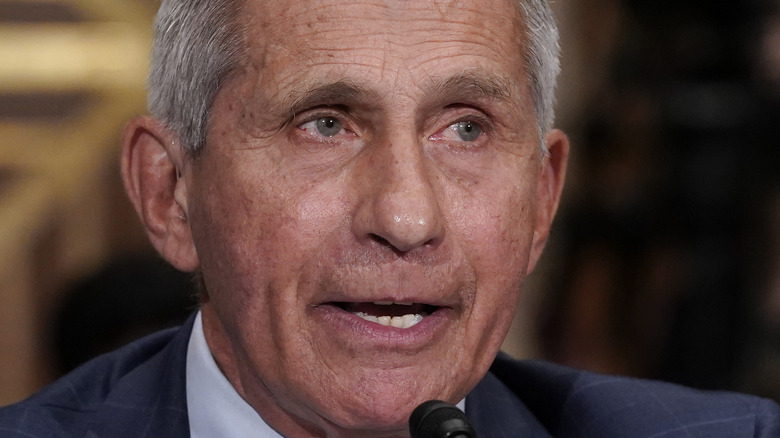 Pool/Getty Images
As the Delta variant helps Covid-19 once again surge across the United States, Dr. Anthony Fauci believes that it's possible the Centers for Disease Control (CDC) may re-evaluate their stance that fully vaccinated people don't need to wear masks when indoors. Fauci, the director of the U.S National Institute of Allergies and Infectious Diseases appeared on CNN's State of the Union on July 25, 2021 and said this is something the CDC was already discussing.
Fauci told CNN's Jake Tapper that he'd been in meetings where conversation has turned to changing the mask guidelines issued by the CDC in May, adding that the changes are "under active consideration." On May 13, 2021, the CDC said that fully vaccinated people could shed their masks even when around unvaccinated people, but that unvaccinated people need to continue to wear them (via Reuters), essentially putting Americans on some sort of honor system.
However, at the time that recommendation was made, the pace of Americans getting vaccinated was higher than it is as of this writing. The slower pace of vaccinations means there are not yet enough people vaccinated against Covid-19 to create herd immunity and the fewer people vaccinated means there will be more breakthrough infections. In a two-week period, Covid-19 cases have increased by 171% nationally, according to USA Today.
Dr. Fauci says country is going in the wrong direction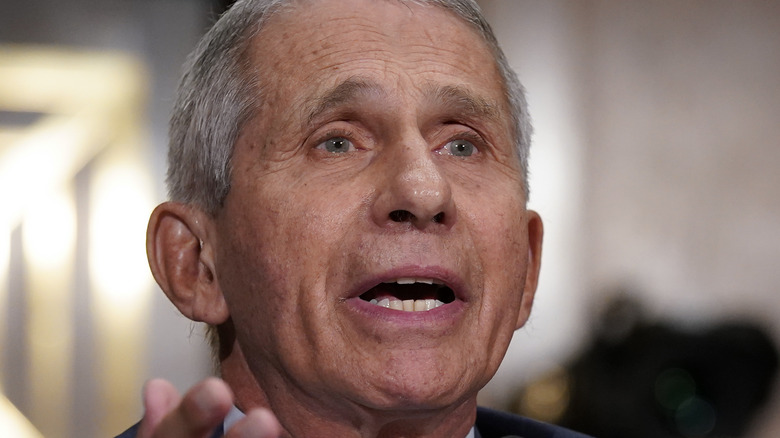 Pool/Getty Images
Dr. Anthony Fauci explained to CNN that the country is "going in the wrong direction" and only having about half of America fully vaccinated is an issue, while pointing out that many areas with a high resurgence of Covid are already issuing local mask mandates.
"If you look at the inflection of the curve of new cases and, as you said in the run-in to this interview, that it is among the unvaccinated. And since we have 50% of the country is not fully vaccinated, that's a problem," he said. "We're seeing that in L.A. We're seeing that in Chicago. We're seeing that in New Orleans," Fauci said. "The officials there, many of them are saying even if you are vaccinated, it's prudent to wear a mask indoors."
Just days before Fauci told CNN that the CDC is considering recommending masks for all Americans again, he explained to CNBC that the Delta variant is much more contagious than previous ones. He also said vaccines are the best way to beat Delta and other variants that may come after.
"Viruses don't mutate unless you allow them to replicate and spread in the community, you give them ample time and ample opportunity to mutate and you got a new variant," Fauci said. "The easiest and best and most effective way that we can prevent the emergence of a new variant and crush the already existing Delta variant is to get everyone vaccinated."